Q&A: I'm in West London and I want something steep!
Question
Hey @LondonHiker we fancy a trip this weekend, just a day trip from west London.

We have a car but fancy something steepish. Any ideas?
Answer
I'd suggest a trip to Ivinghoe Beacon.
It's a prominent hill in the Chilterns, an Area of Outstanding Natural Beauty. From the top, you get brilliant panoramic views.
Ivinghoe Beacon is the start (or end) of The Ridgeway National Trail.
It sits within the National Trust Ashridge Estate which also contains ancient woodland and many footpaths to explore.
You can get there via Tring railway station from Euston.
Here's a great circular walk from Tring from the Saturday Walkers Club, which takes in the Beacon.
Alternatively, you could drive to the National Trust Ashridge estate car park, and walk from the Visitor Centre (here's a list of walks and trails).
Do you have a question? Contact me and I'll do my best to answer it!
Permalink | More hiking ideas!
Hosteling in Lakeland
When the sun comes out after weeks of rain it makes me crave the Lake District. I think about stepping off the train at Oxenholme, waiting for the next train to Windermere and feeling full of excitement for the days ahead, thinking of the fells I'm going to climb and breathing in the fresh air. Here's how, one year, a chance find in a book shop in London led Catherine Redfern to an amazing week of hiking.
One year, I'd managed to book a week away in the Lakes by myself. But apart from knowing that I was going to be using Youth Hostels to save costs, I wasn't sure what to actually do with my walking when I got there.
Should I just be spontaneous each day and just wander about following whichever paths seemed nice? Should I follow an existing trail or route, like the Cumbria Way?
On the one hand, I had Wainwright's voice resounding in my head – the bit that was always repeated at the start of the Coast to Coast series with Julia Bradbury – the bit about "aimless wandering" being a waste of time and "one must always have a destination in life as in walking" (something like that).
On the other hand, I had to admit a bit of aimless wandering sounded quite fun. I've never really just gone aimless wandering. Wouldn't it be cool to actually just aimlessly wander on that path or this one on a whim, humming Ramble On by Led Zeppelin?
In fact, I decided, I didn't feel like slogging up hundreds of fells. I wanted to wander, get lost, take my time and go slowly if I felt like it.
However, it gradually dawned on me that in the Lakes, if you don't book ahead, accommodation can be a bit of a nightmare. So I thought at the very least I had to book my hostels in advance, which meant I simply couldn't be totally spontaneous unless I camped, which I wasn't going to do.
Whilst pondering what to do, I stumbled upon the answer whilst browsing in a really great second-hand bookshop in Wimbledon.
In a small shoebox filled with random postcards and old pamphlets, I found Youth Hostel Lakeland by J.B. West (see above picture), which I bought for £2.
This was published in 1947 by The Saint Catherine Press. It had a map on the front cover, and was part of a Footpath Guide series, designed to "go into the hip pocket".
Excellent! I'd use J.B. West's 1947 advice, pre-Wainwright of course, as a basis for my holiday!
Well, it seemed like a good idea at the time.
The pamphlet starts with a slightly ominous, unattributed poem:
The hills are calling, calling to their own

And I was born beneath a northern sky.

And they who once that secret speech have known,

Shall hear it till they die.
Blimey!
West then goes on to talk generally about what's required for hiking in the Lakes:
As regards equipment for a hostel tour in the Lakes, your first need is of a good stout boots [sic], comfortable and broken in
Check!
(if you are one of those people who have to break them in) before you arrive
Oh I definitely am.
nailed, but not over-nailed.
Um. Well, I can safely say my boots are definitely not over-nailed.
Secondly, a good light waterproof; I prefer oilskins. Some people use cycling capes; personally I do not like them – they are always awkward and sometimes dangerous in high wind.
No cycling capes. Got it.
Socks are important, too. My advice is to take as many spare pairs as your coupons will allow.
Coupons?
The rucksack should be waterproof and if it is of the frame type all the better, but do not over-load yourself.
Well, some advice never changes.
Each chapter describes a suggested route from one hostel to another. The first thing you notice is that there are no distances mentioned at all! This leaves you totally clueless about how long it might take you, or how hard each day would be. Anyway, taking into account West's suggestions, I decided on a route, which had some differences to his original 1947 plan (which would take about two weeks to complete).
The walking was gentle and relaxed, and I could do as much or as little as I wanted – as long as I made it to the hostel each night.
So here's what I did:
Day 1: Windermere to Ambleside.
Go up Orrest Head, of course.
West suggests then walking along the road to Ambleside, but I avoided the road and went via Troutbeck, then up and over Wansfell.
That night I stayed at the excellent Ambleside Backpackers independent hostel.
Day 2: Ambleside to Grasmere.
West recommends walking to Grasmere via Miller Bridge and Rydal, but I decided to go via Loughrigg and then down to Red Bank, and Grasmere.
I stayed at Thorney How YHA that night, which is now an independent hostel too.
Enjoying a cup of tea after dinner:
Day 3: Grasmere to Patterdale
I went via Great Tongue and Grisdale Tarn.
"Sallying forth from Grasmere Hostel, ready for another day of walking,"
says West,
"we see across the valley in the east the hills which stand between us and Patterdale, our next hostel. Shapely and colourful in their bracken garments, they invite rather than challenge."
On this day I followed his advice to the letter.
The route does not go up and peaks today, because the next day is planned to be quite strenuous.
And of course, I stayed at Patterdale YHA, and watched The Apprentice with a large group of schoolboys in the lounge.
Day 4: Patterdale to Keswick.
I had planned this to be a rest day for shopping. I thought "I'm not walking all the way to Keswick today!"
But once I got going I just couldn't stop.
This was a long day, and I did end up walking all the way to Keswick, just making it in time for last orders on evening meal.
West suggests going over Helvellyn via striding edge, then to Keswick via White Side, Thirlspot and St. John's in the Vale.
But with my large rucksack, I wasn't sure I wanted to be wobbling around on the edge. So I ended up going the long way round via Glenridding and then White Side.
But eventually I made it up Helvellyn!
Then, I came all the way down to Thirlmere…
…and walked via St John's in the Vale all the way back to Keswick through buttercup filled fields.
This was a very long and tiring day indeed!
Keswick YHA was probably a lot different from West's day as it's one of the more modern hostels in the area.
Day 5: A rest day at Keswick
I spent a lot of time in the wonderful shop Temporary Measure, which I highly recommend, if only for their hilarious set of cards based on 1970s and 80s photos of children, often hiking.
I pottered about the shops, explored the second hand bookshops and wandered on the shores on Derwentwater.
Day 6: Keswick to Thirlmere
Today I departed from West's advice completely as I had to make it back to Windermere to get the train in the evening.
So, I walked from Keswick to Thirlmere, and then to the road near Thirlspot to get the bus back to Windermere.
It was pouring down, so was not the best of days, but I'd had excellent weather the rest of the week, so I couldn't complain.
So, thanks J.B. West! This is a fantastic, no pressure way to explore the Lakes. You can choose your own route between hostels and take it as easy or as hard as you wish.
I'd highly recommend it if you want to do a bit of "semi-aimless wandering" sometime….!
Permalink | More hiking ideas!
Focus on… Constable Country
Steve Hallam introduces us to 'Constable Country' in North East Essex. It's an area of the country he knows well – and he gives details for a two day walk accessible by train from Liverpool Street.
Why should Londoners visit Constable Country (North East Essex)?
This question is a double-edged sword for us – why risk spoiling this delightful and quietly overlooked backwater by publicising its special attractions? Only 50 minutes from Liverpool Street, or 35 minutes from the M25, the sweeping valleys (did you know that the part of the Stour valley is an Area of Outstanding Natural Beauty?), broad estuaries, many nature reserves and hidden architectural gems all mean that this is an area that repays patient and reflective exploration.
It is the place that inspired John Constable to put brush to canvas. There's plenty of good pubs, too!
What's special about Constable Country (North East Essex) in terms of hiking and scenery?
The specialty of this area without doubt lies with its rivers and their valleys. Broad sweeping vistas, with a perhaps surprising degree of pasture and woodland, provide a gentle, understated but always interesting and pleasurable perspective. Insignificant watercourses turn suddenly into magnificent tidal estuaries on a grand scale, many of which provide miles of remarkably remote walking.
One of the special attractions of Essex and Suffolk are the architectural jewels of ancient halls, farmhouses, hamlets and villages tucked away throughout the countryside – sometimes accessible only to the country walker. Throughout the area a dense network of paths means that walkers can flexibly plan expeditions to suit your time, stamina and interests.
For the walker who is interested in wildlife we can provide interest all year round – waders, wildfowl and thrushes in the autumn and winter, Nightingales and warblers in the spring, and butterflies and wild flowers in the summer.
And finally, and not to be under estimated, we have the lowest rainfall in the country – lower, even, than Jerusalem. Who wants to walk all day in the rain?
How can Londoners get to Constable Country (North East Essex) by public transport?
This is one of the great strengths of the area. For most of any day there is a minimum of four trains per hour from Liverpool Street to Colchester, with nearly as many to Manningtree and Ipswich. There is also a good service from Stratford, for connections from all of the east side of London.
At the time of writing a return fare from Liverpool Street to Colchester, going out on Saturday morning and returning on Sunday evening, and booked one week in advance, would be about £16.
There are also five National Express coaches a day from London Victoria to Colchester, and four to Ipswich.
At the time of writing a return fare from Victoria Coach Station to Colchester, going out on Saturday morning and returning on Sunday evening, and booked one week in advance, would be about £26, according to the National Express website.
What's the best walking weekend in the area?
My suggestion for a lovely two day walk, taking in some of the best scenery in the area, potentially staying at a fantastic gastro-pub overnight, and without the need for a car, is to walk from Colchester railway station to Manningtree station via the Colne valley, the Woodland Trust's Fordham Hall estate, a hill (yes, in Essex!), the Stour valley and the heart of Constable Country. In total the two day walk is around 20 miles long and none of it involves any urban mileage.
Details of the route, along with places to stay and things to see, are in this PDF I've prepared:
Download the PDF route details here
(Note: this walk has not been checked by londonhiker.com – follow instructions at your own risk)
You will need to OS Landranger map 168 for Colchester; or the OS Explorer maps 184 (Colchester) and 196 (Dedham Vale).
The Google map below shows points of interest and where the various accommodation and pubs are located. Click the coloured pins to bring up the details.
To see the map in a larger window, click on the little square in the top right hand corner.
Where can people find out more about hiking in Constable Country (North East Essex)?
Good sources of information are:
---
Steve Hallam has lived in Colchester for over 25 years and has spent much time exploring the area and its wildlife. He is keen to share this interest with others. So he has developed an app which helps the non-botanist to identify wild flowers and berries, and then read fascinating facts about what they have found. "It's all about enjoying country walks more."


The app, called Naturetale, is currently available for the iphone and ipad (with an Android version coming shortly). More information can be found at www.naturetaleapp.com The app can be downloaded from itunes.
All photographs are copyright of and used with permission of Steve Hallam.
Escape London - click here now!
Welcome! Do you live in London and love walking? I help frustrated London-based hikers to get out on the hills by providing inspiration, ideas, practical advice and encouragement. Satisfy your hill walking cravings! Read more here

Latest Updates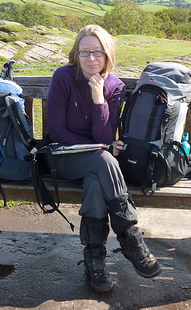 Sponsors
As Seen In: