8 London Walking Facebook Pages to Follow
Here are 8 great Facebook pages you'll love if you're a Londoner who loves walking.
---
1. Walk London
If you Like this page you'll receive regular news about free organised walks, mainly in central London, plus loads of interesting snippets and shares.
---
2. Saturday Walkers Club
Follow this page for beautiful photos from the brilliant Time Out Book of Country Walks, whose website are maintained by the Saturday Walkers Club, and news about organised informal walks you can join.
---
3. Greater London National Park City Initiative
News about the campaign to make Greater London the world's first National Park City – but also, lots of interesting information and news about green spaces all over London.
---
4. The Royal Parks, London
Photos and news from the 5,000 acres of Royal Parks. A great place to find out about some great outdoorsy events and activities.
---
5. London Wildlife Trust
News, information and events about London's wildlife.
---
6. Ramblers – Inner London Area
News about London walks but also interesting campaigning and lobbying activities relevant to London walkers.
---
7. National Trust London
News and photos from the National Trust's 10 London properties/estates! Many outdoor activities are listed here along with news and information about their properties.
---
8. South Downs National Park Authority
The closest National Park to London, this page is updated with news, photos and articles to inspire you out into the Park.
---
And of course…
Yep London Hiker is on there too! Follow my page for articles from this website plus any interesting London walking news I notice around the web.
See you there!
---
Permalink | More hiking ideas!
Utterly Gorgeous Greenwich
A walk around Greenwich is almost mandatory if you want to walk the best of London!
The views from Greenwich Park were voted the second best view on a London walk by 24 London walking experts (coming in close behind Richmond Park!).
So if you haven't made it there yet, what are you waiting for?
---
Watch this beautiful video for some of the best sights in Greenwich Park:
Getting there
An ideal walk around Greenwich Park would take in all of these…
1. The famous views of the city
2. Admiring the deer in 'the wilderness' enclosure, at the southern end of the park:
3. The beautiful flower garden and rose garden:
4. And of course no trip to Greenwich would be complete without stepping over the famous Meridian Line:
---
Permalink | More hiking ideas!
How well do you know walking in London?
Try out this quiz and see how knowledgeable YOU are about walking in and around London!
Sponsors
Escape London - click here now!
Welcome! Do you live in London and love walking? I help frustrated London-based hikers to get out on the hills by providing inspiration, ideas, practical advice and encouragement. Satisfy your hill walking cravings! Read more here

Latest Updates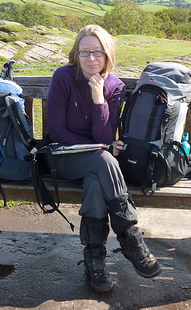 As Seen In: