Packing for a hiking weekend?
So you're going on a weekend hiking trip and you're writing your packing list.
Waterproofs?
Check.
Map, compass, guidebook?
Check.
Ok clothes… shirts, trousers, boots…
How many days are you walking? Two…
So you write down TWO pairs of socks.
Right?
Wrong.
Trust me on this one!
You need an extra pair of socks!
I know because I made this mistake once, on one of my many weekend hiking trips away from London.
I was walking on Saturday and Sunday, and travelling back to London on the train on a Sunday night.
Unfortunately, it was a very wet weekend.
I don't mind getting wet in the rain, and waterproofs kept most of me dry, but both pairs of socks got soaked, and my boots were soggy too.
When I got back to Windermere station I shoved my wet waterproofs into a plastic bag and into my rucksack.
No problem.
But… my boots and socks were sodden.
And I didn't have any dry ones with me.
I ended up travelling on the train back to London for 3 hours – and THEN another hour to get home on the tube – in wet, soggy (not to mention stinky) socks.
By the end of the trip my feet felt utterly disgusting and I was extremely uncomfortable. When I finally peeled them off at home, my feet were like prunes.
YUK.
(I know, it is disgusting! But I am only telling you this to save you the same pain!)
So: don't make the same mistake I did!
Pack a spare pair for your journey home.
Even if your boots are still damp, a change of socks will make the journey back much more pleasant.
Want to do more hiking weekends from London?
Find out how to do this – without a car – at Walk Your Weekends
Permalink | More hiking ideas!
6 reasons to walk in Osterley Park
Osterley Park is a National Trust run Georgian country estate in West London.
It's well worth a trip, and here's 6 reasons why!
---
1. It's only about 30 minutes away
Situated in the Borough of Hounslow, the Park can be reached in about 30 minutes from central London.
2. The parkland is one of the largest open spaces in west London.
There are many walks and paths taking you around the estate past the lakes, long walk and great meadow.
You can also camp in the parkland each July!
There's also a natural play trail for children in the park.
Many combine their visit to Osterley park with a walk which also passes the Hounslow flight of locks on the Grand Union Canal.
3. There are also beautiful formal gardens to explore.
As well as the mansion, if you can be persuaded to venture indoors!
4. In Spring, Osterley is famous for its bluebells.
5. You'll wonder if all this is really in Zone 4…
6. And of course it's nice to know there's a National Trust cafe nearby…
---
Permalink | More hiking ideas!
The Best North Downs Way Views from Google Trekker
The Google Trekker project recently completed a 'streetview' style walkthrough of the whole of the North Downs Way!
Here are some of the best viewpoints from the trail as seen in Google Trekker.
---
1. St Martha's Hill, Guildford
Nearly at the top…
View from the top:
2. Box Hill
Box Hill is a classic viewpoint and a must do for any London walker.
There are many lovely paths around the main viewpoint with wonderful views south.
3. Wye Crown
A short climb up from the village of Wye brings you to Wye Crown, a chalk crown carved into the hillside to commemorate the coronation of Edward VII.
From here you can see the North Downs stretching away into the distance, and if you've been walking the trail, appreciate just how far you have come.
Grassy paths lead on over the lovely, quiet Wye downs.
4. Devil's Kneadingtrough, near Wye
Again on the Wye section, the trail takes you past another significant viewpoint, the Devil's Kneadingtrough, a 'dramatic coombe' and nature reserve.
5. White Cliffs of Dover
As you approach the end of the trail on the Hollingbourne to Dover loop, the iconic white cliffs come into view.
6. Canterbury Cathedral
The Hollingbourne to Dover via Canterbury loop is another option for finishing the trail.
Of course, you get to see the beautiful Cathedral as you head out on the last few days of your walk along this wonderful trail.
---
---
If you liked this you might also like…
---
Sponsors
Escape London - click here now!
Welcome! Do you live in London and love walking? I help frustrated London-based hikers to get out on the hills by providing inspiration, ideas, practical advice and encouragement. Satisfy your hill walking cravings! Read more here

Latest Updates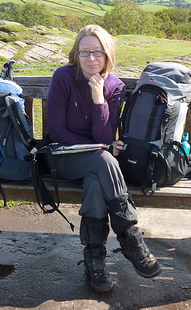 As Seen In: