10 reasons to stay in a hostel on your next hiking trip
When you next book a weekend away to the hills, why not stay in a hostel?
Sure, if you want luxury and a four-poster bed, then hostels probably aren't for you.
But if you don't need all the frills, and can cope with something a little more basic, hostels can be a gateway into some of the UK's most spectacular walking areas.
Here's 10 reasons why you should consider it, if you have never stayed in one before.
1. They can save you money
One of the main obstacles for those of us in London is the cost of a trip to the hills.
Of course, there are many reasons why spending your money in the countryside is well worth it (such as supporting local businesses who rely on tourism).
But if you want to save some cash (and presuming camping is a step too far for you!) a hostel is the obvious choice.
Staying in a B&B or a hotel could cost you upwards of £30 per night. Staying in hostel could cost you roughly £18-25 per night.
When you book, check to see whether breakfast is included or extra; some independent hostels include free tea and coffees in the price and even sometimes a continental self-service breakfast is included too.
Of course, you can become a member of the YHA or SYHA and save money on all your stays. Becoming a member also means that you have an incentive to get out more in order to make your membership worthwhile!
Keep an eye on the YHA website for special deals.
2. You CAN get some privacy
Most hostels in particular now have double or family rooms. I once stayed in one that had a double bed in it!
The only thing with these rooms is that they are very limited so you will have to book in advance to make sure you secure the room (they usually cost a little bit more as well).
If you are lucky they might have a kettle and tea making facilities in the room too!
By the way, a standard dorm room looks kind of like this:
3. Experts on tap
The staff are usually keen hikers themselves and can offer advice on the local area, transport, places to eat or other information about the local area.
If your Plan A has been dashed by the awful weather, the staff will happily help you come up with a Plan B.
4. Warm, dry clothes!
Ok I've got to admit that some drying rooms can be better than others. But there's no denying it's a useful benefit of a hostel compared to most B&Bs.
Just hang up your dripping waterproofs, stuff newspaper in your boots and try not to breathe in too deeply… and with any luck your gear will be toasty warm in the morning!
5. You are amongst your tribe
You won't feel out of place here! No funny looks if you're covered in mud, no feeling embarrassed about wearing scruffy hiking gear when you roll up to the reception desk.
If you're on your own, hostels are great too. No-one will bother you if you want some quiet time to chill out and read. On the other hand if you do fancy a chat, there are usually willing people around to swap stories with.
It is a little weird sleeping in the same room as other people, especially when you're not used to it. But honestly, it's fine. Often, I've had the whole room to myself (which is also slightly weird in its own way…).
But if you're in with other people, just take follow some simple guidelines:
Take some ear plugs and use them!
Get everything you need for bedtime ready when you make up the bed so you don't have to rustle around in your bags and disturb everyone who has gone to bed earlier than you…
If you have the bottom bunk, keep your stuff tidy so the person with the top bunk has somewhere to put theirs!
Be courteous and tiptoe around the room!
Switch the light off before you get into bed. Especially if you're the last person in!
6. They can read your mind…
Hostels are designed for hikers so they'll have anticipated everything you need to know.
They usually have the daily weather forecast pinned up, so you can check out all the information before you head out into the hills.
A map of area is often displayed, as well as local information, and suggestions of walking routes.
They usually sell useful stuff hikers might need, such as plasters, other first aid items, snacks and other useful kit.
7. The ethos
The ethos of the hostel movement is something to support! They were created to provide accessible accommodation to those who may not otherwise afford to travel to these places or go on holiday.
Check this out:
What a great thing… and in this day and age, surely needed just as much as ever.
8. Use them or lose them.
Sadly, many UK hostels are being sold off or closed by the YHA and SYHA as usage declines.
Luckily, many were saved from closure are now run as independent hostels.
These fantastic facilities would be a real loss, so it's good to support them while you can.
9. Food, glorious food!
If you prefer to make your own meals (maybe you have particular dietary requirements?) hostels are ideal.
Otherwise, the hostels often make a big effort to use local suppliers and produce too, and most now sell beer and wine.
You usually have to book your breakfast and evening meal in advance. Some hostels will ask you to choose in advance what you would like to eat, some don't. Some hostels give you a token to hand in in exchange for your meal, others don't. In some hostels you queue up like in a canteen, in others they bring it out to you.
The individual quirks of each hostel makes the whole experience a bit charming, in my view.
10. The scenery. Of course.
Wake up deep in the heart of the hills, a stone's throw from fells or step on to a trail outside the door…
Perhaps the best reason of all.
Permalink | More hiking ideas!
Q&A: Two days on the North Downs by Oystercard?
Question
Hello there. We are students on a very tight budget! I'm wondering if its possible to get to do a 2-day walk on the North Downs Way with travel to and from covered by Oystercard?

I don't mind walking a couple of miles from station to trail, and we'd like to camp.
Answer
Ooooh… interesting question.
The North Downs Way is a perfect walk to visit by train, as it splits easily into great day sections along various train stations, so makes it perfect for day walks from London.
However, the nearest trains stations are outside the Transport for London 'zones'.
So, if you want to travel to stations in Oystercard zones only, and want to camp as well, it's a little trickier… but I've done some research and here's a possible two day plan for you, below.
Some caveats, though:
It has to be said that this is not necessarily the nicest section of the North Downs Way; it follows motorways for much of the route, especially on day one. But, it is the one that meets your criteria!
There are two options for day two, and I've explained both. Both are very long days, but would be possible for someone who is used to walking long distances carrying their camping gear, and in summertime.
Of course, you could do the walk in the opposite direction, too.
And finally, do check train times before traveling as trains will be infrequent from these stations.
Day One (10 Miles):
Travel to Tadworth station in zone 6, via East Croydon. Walk from here 2 (ish) miles to the North Downs Way, then follow the North Downs Way until just after the M23, after Merstham.
Take a path north, to the Alderstead Heath Caravan Park, where you can camp (telephone first to check!).
If you didn't want to camp, you could look for accommodation in Caterham.
Day 2, option A (17 miles):
This is quite a long day, especially carrying camping gear. But, if you're used to long days walking, you could manage it, and you'll be having an early start as you'll be camping.
Walk from Alderstead Heath back to the North Downs Way, but at Tatsfield, join the Tanbridge Border Path and follow this for 5 miles to New Addington (which is on the Croydon tram system).
Day Two option B (21 miles):
Ok this is a VERY long day so is only for the hardcore long distance hikers! But, if you're camping you'll get an early start, and it's summertime, it's certainly possible to do, if you're fit enough (but do bear in mind you'll be carrying your gear, as well).
Walk from the campsite at Alderstead Heath back to the North Downs Way, then walk 12 miles to Knockholt Pound. Head north along footpaths and quiet roads to reach Knockholt station in zone 6, where you can return to London Bridge.
Permalink | More hiking ideas!
21 tips for fantastic hiking photos
Helen Agarwal's beautiful blog, Dixon Hill, documents her life in the Pennine Hills. The images on her blog have frequently taken my breath away, so I asked her to share some of her secrets.
Before you set out
1) Make sure your camera battery or phone is fully charged. I know. Obvious, right?
2. Keep your camera handy. Nature is constantly shifting. By the time you've undone your rucksack and unearthed your camera, the deer will have scarpered or the rainbow faded. So keep your camera in a handy (but watertight) pocket.
Remember
3. Your camera can shoot both landscape (horizontally) and portrait (vertically). Simple point, sometimes forgotten.
4. Shoot what you're drawn to, not what you feel you SHOULD shoot. Sometimes I'll be standing before a spectacular view but what I actually feel drawn to photograph is the clump of grass by my feet. Follow that instinct. If something speaks to you, the photograph you take is more likely to speak to other people.
Composition
5. What's your focal point? Before you even begin to compose your shot, ask yourself, 'What exactly is it I'm shooting?' This is particularly important when photographing 'a nice view'. Try to find one thing in the panorama around which to build your shot.
6. Leave Stuff Out. Just as important as what you include in a picture is what you leave out. Take a good look at what's in frame before you press the shutter, especially around the edges. If shifting your angle slightly can exclude those ugly power lines, then move!
7. Remember the Rule of Thirds. If you haven't come across this famous design rule before, just imagine a noughts and crosses grid superimposed on your viewfinder (some cameras will actually do this for you). Put simply, your photos will be much more interesting if the important elements in your shot are arranged along those horizontal and vertical lines… and especially at the four points where they intersect.
8. Consider the foreground. When you're shooting landscapes, something interesting in the foreground of your shot gives the viewer a way in to the picture… as well as creating a sense of depth and perspective. It doesn't matter what it is – it can be your dog, a plant, a rock. And if you can 'frame' your photo by shooting through the branches of a tree or through a hole in a wall, your picture will be the richer for it.
9. Leading Lines. Lines of any kind are another way of helping the viewer 'into' the picture. Your line might be a path, a wall, a fence, a bridge, a river, a branch or a shaft of sunlight. There may well be several lines in your picture. Try to arrange them in such a way that they direct attention to the most important element in your shot. Or let them carry you on a journey through the photograph.
10. Keep your horizon straight. A horizon that's slightly off-kilter can ruin an otherwise great shot; so, unless you're deliberately going for an artsy, seriously wonky picture, keep the horizon level.
11. Think about the sky. Horizons are usually best placed along one of the horizontal 'rule of thirds' lines. So take a look at the sky. If it's bland and there's not much happening up there today, try sticking your horizon on the upper third line so more of the landscape is seen. If, on the other hand, the sky is filled with drama, lower your horizon and let the sky tell its story.
12. Take your time and choose your angle. Don't shoot everything from your eye level. Climb on a rock; get down on the ground; shoot upwards or downwards. Move about until you find the most interesting shot.
What to shoot
13. Light. Whether it's the golden light of early morning or dusk, the dappled light falling through leaves, reflections in water, the play of shadows, or even a dreary landscape that seems devoid of light…..light is what photographs are about. Becoming aware of light will take your pictures to another level. Notice the direction from which the light falls and learn to use it (there are whole books written on the subject). And watch out for areas of shadow which will interfere with the picture you're trying to take. On a seriously grey day, bump up the contrast on your camera and shoot in black and white.
14. Colour, texture, contrast, pattern. Learn to look beyond the actual landscape. Or rather, to see it in new ways.
15. The Nitty Gritty. Sometimes your subject – be it a human, a flower or a building – will benefit from being shown in context. But often the story is in the details. Don't be afraid to get in close. Showing just part of someone or something sometimes says it all.
Ideas
16. Shoot with a theme. It gives a focus to your photography and means you wind up – after one walk or several – with a set of photos that constitute a collection. Maybe you've chosen a walk in the woods because it's the time of year for bluebells or mushrooms. Or perhaps you step outside on a dank day and find shimmering spiders' webs stretched along your path. You could simply look for red things – obvious and not so obvious, big and small. Or make a habit of photographing every unusual stile you come across. Or every cat. It doesn't matter what your theme. Just focus your attention on SOMETHING.
17. Shoot the same view. If you take the same walk regularly or even just every few months, consider shooting the exact same view at different times of day or different times of year.
Tips
18. Photograph animals at their eye level, not yours. It makes the viewer feel as if they're actually there in the picture. Or, to make an animal even more imposing, shoot from below its eye level and give it yet more presence. And while we're talking creatures, if an animal or bird is moving – or looks like it's about to move – put it at one side of your picture, leaving it visual space to 'move into'.
19. Keep things steady. If you're hiking, you're probably not lugging around a DSLR and tripod. You're more likely to be carrying a point and shoot or using your phone camera. If it's windy and you're struggling to keep your hands still….or you're frozen and shaking….or the light is low….then prop your camera on the ground or on a wall in order to keep it as steady as possible. Point and shoots generally stand up by themselves; phone cameras don't – so I usually carry this little gadget with me. Then set your camera's timer and let it do the work. Of course, this also applies if you want to get yourself in the picture.
20. Get to know your camera. When I'm shooting with a DSLR, I'm interested in pin sharp focal points and beautiful, bokeh backgrounds. If my iPhone's in my hand, then I have favourite apps to alter the mood of a photo. I used to have a very cheap point and shoot which was brilliant at capturing the colours of sunsets. Play to the strengths of your camera.
21. Take LOTS of photos. Even the professionals don't get it right every time. They take lots of shots and just show you their best ones! BUT TAKE NOTE: if you're out on an all day hike and your only camera is also your phone, don't get carried away and use up all the battery so that the phone's no good in an emergency!
---
Helen Agarwal's beautiful blog, Dixon Hill, documents her life in the Pennine Hills and her travels elsewhere.
She is the creator of the Falling Into Place e-course, through which she shares her favourite ways to connect with the landscape.
All photographs copyright Helen Agarwal, used with permission.
Escape London - click here now!
Welcome! Do you live in London and love walking? I help frustrated London-based hikers to get out on the hills by providing inspiration, ideas, practical advice and encouragement. Satisfy your hill walking cravings! Read more here

Latest Updates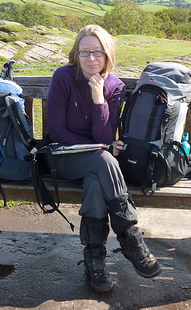 As Seen In: