3 London campsites in Zones 1 – 5
With help from Jade Attwood, we suggest three special places for a night under canvas.
---
Living in London, it really is hard to go back to basics. Surrounded by skyscrapers, living in busy streets, and with a non stop lifestyle, there is seldom a chance to really escape to nature (apart from the odd park of course).
For those who love camping, a long journey is usually necessary to find a spot to pitch up. With travel time included, camping trips out of the city usually mean taking some time off work to really enjoy your time.
But what if you didn't have to go so far afield to have a picturesque night under canvas?
Here are three top class campsites, in zones 1-5 to get your fill of nature and really relax on your camping holiday.
1. Abbey Wood
Nestled in South East London, is the quaint Abbey Wood site. Within Zone 4, the site boasts a quick 35 trip by train from Abbey Wood station into central London.
For those that want to fully escape the hustle and bustle of central London, take in the sites around Greenwich. Full of quirky pubs and restaurants, Greenwich is a metropolis in itself, with a distinctly heritage feel.
A short walk from the site you'll come across the National Maritime Museum, a option for those looking to explore some nautical history. Or take in the sun on a relaxing river cruise to Tower Bridge, Westminster, or even Kew, for a truly nature filled day out.
2. Lee Valley
Accessible from Ponders End (Zone 5) or Edmonton Green (Zone 4), lies Lee Valley Campsite in Edmonton. A highly modern site, with its own cinema and ice rink, it's a haven that seldom needs to be left for the duration of your stay.
With everything on site you would need, this site is one which you can truly immerse yourself in, away from the throes of tourists in central London.
With beautiful cycle and walking riverside routes to sample, there will be plenty of opportunity to fully embrace the great outdoors, and entertainment in the evenings to make your stay even more enjoyable.
Perhaps you enjoy a spot of golf? The site even boasts its very own golf course, perfect for those who like to take their walks while enjoying their favourite sport.
3. Crystal Palace
Lastly, but by no means least, is the the Caravan Club's Crystal Palace site (nearest station Crystal Palace, Zone 3). Perfect for those who want a country retreat but not feel completely isolated from the city, a quick trip on the number 3 bus will take you straight to Oxford Street, via Brixton and Trafalgar Square.
Situated right next the beautiful and expansive Crystal Palace park, once home to the palace itself, the pleasure gardens are perfect for a relaxed walk or an evening stroll. Crystal Palace is also home to many up and coming eateries, a whole new area to explore for enthusiastic foodies.
So there you have it, three options to escape the city and embark on your very own camping mini break.
Camping in your own tent is a great cost-cutting alternative to a expensive European city break, and takes nowhere near as much hassle. All that is left is to prepare everything you need, to make your trip as stress free as possible.
Aside from your tent and camping gear, it's important to invest in some good quality tent insurance: for every camping eventuality.
All that is left is to grab your Oyster, hop on the tube, and escape the city (well almost!).
---
---
Permalink | More hiking ideas!
How a Richmond Ramble became something much more
Jean Straus explains how a simple ramble round her favourite London park grew into a annual fundraising event.
---
What began as an individual challenge for me as a fundraiser and hiker has turned into an annual event. Here's my story.
Three years ago I was working at Action on Hearing Loss as a winner of the Vodafone World of Difference competition. Despite being retired for several years, I had jumped at the chance of some short-term paid work where I'd get to know the workings of a charity that looks after the interests of, among others, people like me, who lost my hearing (not completely) suddenly.
I was engaged to learn the ropes of a large charity, and during my few months there, I watched as colleagues signed up people to abseil down a tower, as someone swam the English channel, others ran the London Marathon and a few daring cyclists cycled up and down mountains in California.
As someone whose stamina boils down to typing 100 words per minute for a few minutes, I could only be asked to donate to rather than participate in such activities.
But I wanted to do something as well that would stretch but not destroy me.
I love walking. I love Richmond Park.
And over the years I've discovered it can be extremely satisfying simply to walk the perimeter of the park, which is 7.4 miles.
How about if I set myself the task of walking the perimeter twice?
The rest is history.
Friend Pauline joined me for the first lap; friends Christine and Anne came along for the second, and I managed to raise more than £1000.00.
Soon after, Action on Hearing Loss decided to approach the park to make this an official walk; I think the charity liked the idea, as have done families, and participants who were not used to being fit enough to take part in active charitable events.
Eighteen people came along to the second walk, including young children whose parents feared the walk would be too hard for them but were pleasantly surprised. Moreover, I think many contributions came in from people who could actually imagine that they could take part even if they were not free to do so on this occasion.
I was sure the possibility of a stop along the way to get an ice cream was a strong drawing point, along with the opportunity to view deer in the open, or to gaze out from the viewpoint over St Paul's Cathedral, ten miles away, but actually feedback has been that people just enjoy the ramble and getting to meet new groups of people.
The third year brought in people who'd heard about it through twitter, the Action on Hearing Loss website, audiology clinics, even university billboards, and how rewarding it has been to see it grow from being one person's walk to something shared in a community.
Last year the Mayor of Richmond agreed to come along, and we handed him a ribbon to cut after he made a short speech. Then off we went!
I'm looking forward to this year's gallivant.
It would be great to be joined by new people and past participants. See you there, rain or shine!
---
---
Permalink | More hiking ideas!
Walking with the ancients
To the west of London, in Buckinghamshire, lies an 540 acres of ancient woodland which is – intriguingly – managed and owned by the City of London, about 25 miles away.
It's called Burnham Beeches, and was secured for the recreation of Londoners in 1880.
For over 130 years, Londoners and locals have been enjoying this beautiful, serene woodland teeming with natural wonders.
The area has been used for many films, including Robin Hood Prince of Thieves and the Princess Bride.
Here you'll find gnarled, ancient trees…
…including the Druid's Oak, reported to be "at least 800 years old"
Its ancient connections have given the area a somewhat 'mysterious' reputation. Infamous conspiracy theorist David Icke claimed that Burnham Beeches was where his contact witnessed British Prime Minister Ted Heath shapeshift into a reptilian during a ritual in the early 1970s! [source]
The reserve is a haven for wildlife.
…Including a great variety of fungi:
…and of course, the pollard trees provide a home for many creatures, birds and insects:
Walking in Burnham Beeches
Getting to Burnham Beeches
By public transport you can take a train from Marylebone to Beaconsfield OR from Paddington to Slough (both about 30 minutes). Then catch a bus to Farnham Common (this takes about 15 minutes from Beaconsfield, or 30 minutes from Slough).
By car, it's about 50 minutes drive from central London, according to the AA journey planner.
If you've got an urge to hug a tree, this is the place to go:
---
Sponsors
Escape London - click here now!
Welcome! Do you live in London and love walking? I help frustrated London-based hikers to get out on the hills by providing inspiration, ideas, practical advice and encouragement. Satisfy your hill walking cravings! Read more here

Latest Updates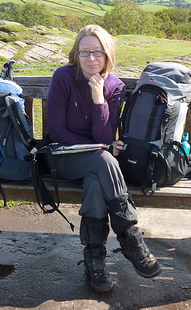 As Seen In: