Walking with the ancients
To the west of London, in Buckinghamshire, lies an 540 acres of ancient woodland which is – intriguingly – managed and owned by the City of London, about 25 miles away.
It's called Burnham Beeches, and was secured for the recreation of Londoners in 1880.
For over 130 years, Londoners and locals have been enjoying this beautiful, serene woodland teeming with natural wonders.
The area has been used for many films, including Robin Hood Prince of Thieves and the Princess Bride.
Here you'll find gnarled, ancient trees…
…including the Druid's Oak, reported to be "at least 800 years old"
Its ancient connections have given the area a somewhat 'mysterious' reputation. Infamous conspiracy theorist David Icke claimed that Burnham Beeches was where his contact witnessed British Prime Minister Ted Heath shapeshift into a reptilian during a ritual in the early 1970s! [source]
The reserve is a haven for wildlife.
…Including a great variety of fungi:
…and of course, the pollard trees provide a home for many creatures, birds and insects:
Walking in Burnham Beeches
Getting to Burnham Beeches
By public transport you can take a train from Marylebone to Beaconsfield OR from Paddington to Slough (both about 30 minutes). Then catch a bus to Farnham Common (this takes about 15 minutes from Beaconsfield, or 30 minutes from Slough).
By car, it's about 50 minutes drive from central London, according to the AA journey planner.
If you've got an urge to hug a tree, this is the place to go:
---
Permalink | More hiking ideas!
Estuaries, Islands and Industry
Ever been walking around the Essex Estuaries?
The Essex Estuaries is a designated Special Area of Conservation (SAC), particularly due to its open coast mudflats and sandbanks.
The SAC stretches from Wivenhoe, down around the Essex coast round East and West Mersea, to Southend-on-Sea / Leigh-on-Sea, where there is also some great walking in the nearby country parks and on the islands.
Getting here
From London Liverpool Street you can catch a train to:
Wivenhoe (1 hr 15)
Clacton-on-Sea (1 hr 30)
North Fambridge (55 minutes)
Burnham-on-Crouch (1 hr 6)
And from Fenchurch Street you can catch a train to:
Leigh on Sea (47 minutes)
Benfleet (43 minutes)
Here are some of the main highlights of the Essex Estuaries and Coast:
1. Hadleigh Country Park and Two Tree Island
Reached from Leigh-on-Sea, a short walk takes you to Hadleigh Country Park and the distinctive castle (some say it's haunted).
Nearby Two Tree Island, a 640 acre nature reserve, can easily be visited on a walk to Hadleigh.
2. River Crouch
From Burnham-on-Crouch, North Fambridge or South Woodham Ferrers you can explore the tidal River Crouch.
This is definitely one for you if you like peace and quiet; most walkers report seeing nobody on their visit.
3. Colne Estuary & Wivenhoe
4. Canvey Island
Canvey Island is just south of Hadleigh Country Park, accessed from Benfleet station.
A walk around it is an intriguing mix of coastal beauty, sea defences, and heavy industry.
5. Broomway & Foulness
The Broomway is a notorious tidal path along the Maplin sands to Foulness and is one of the most dangerous paths in Britain.
The path used to be marked with large posts ('brooms') but now can only be followed by a compass reading.
As the path disappears under the tide, which rushes in extremely fast, the route is incredibly dangerous and it had caught out many a walker with tragic consequences.
---
Permalink | More hiking ideas!
10 Must See London Walking Maps
Here are ten of the best and most interesting maps to help you get the most of walking in and around London.
1. London's Walking Routes (Transport for London)
This is a great place to start: this map immediately gives you a great visual idea of how the major walking trails fit together across London.
You can click through to get detailed maps for any of the specific trails too.
2. Walker's Tube Map (Londonist)
Londonist have come up with a fantastic twist on the major walking trails and created a Walker's Tube Map, which shows 13 of the most prominent walking routes in a familiar tube map style.
This is particularly great for seeing how the various routes interlink.
Not only that but they've created a great intro video explaining major routes, too.
3. Walking Times Between Tube Stations (Transport for London)
Prompted by various unofficial versions over the years, TfL finally produced their own map showing walking times between tube stations.
4. Calories burned walking between tube stations (Treated)
5. When it's quicker to walk between tube stations (Rodcorp)
6. London's Green Spaces & Parks (Greater London National Park City)
A beautiful map showing just how green London is: great to see how the various walking routes visit the green spaces, or just to get ideas. Click through, save the image and then zoom in to see the detail.
7. Waterways Sound Map (I M Rawes / London Sound Survey)
A fantastic and fun representation of London's rivers and waterways in its own right, but click through and you can actually listen to recordings from each 'stop' on the waterway.
8. Topographic map of London (Topographic-map.com)
You want hills? Want high ground? This map will show you where it is.
9. Mount London 'Peaks' (Tom Chivers & Martin Kratz)
A map showing the 'peaks' written about in the book Mount London: Ascents in the Vertical City.
Not necessarily all green spaces, these are an interesting mixture of London high places, hills and viewpoints.
Click on a pin and you can read a snippet from the book!
10. Walking the Tube Lines – GPS logs (London Photo Project)
This map shows the GPS logs from walking the tube lines above ground. You can click through to see the individual tube line maps – it's a fascinating insight into what walking the tube lines is like above ground.
---
If you liked this you might also like…
---
Sponsors
Escape London - click here now!
Welcome! Do you live in London and love walking? I help frustrated London-based hikers to get out on the hills by providing inspiration, ideas, practical advice and encouragement. Satisfy your hill walking cravings! Read more here

Latest Updates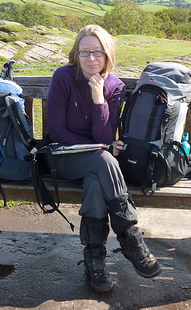 As Seen In: