Weekend Break Idea: Ambleside
Have you been meaning to visit the Lake District for the first time this year?
Ok, you've got excellent taste. The Lake District is a 'must visit' location for everyone who loves great walking and truly amazing views and you won't regret visiting.
(Yes, even if it's raining…!)
But if you asked me where to stay for your first visit, I'd have to recommend Ambleside.
Of course, if you want to camp, or are really craving a wilderness experience, or want to stay 'in the middle of nowhere' then of course that's a different matter.
But I've been visiting Ambleside for years and I've used it as the base for some incredible hiking adventures.

[Nethermost Pike by Andrew Bowden, used with permission]
And I happen to think it's a great base for a first time visit to the Lake District.
Crucially, it's possible to get there in one evening by train (and bus!) from London; so you could head up for a short break or even a weekend if you can't spend the time for a longer holiday.
I'll never forget my days bagging Wainwright fells, drinking in incredible views and exploring some of the Lake District's classic walks… not to mention eating a lot of delicious meals and cakes in the town's fab eateries.
Most recently, we've taken our son on holiday there, first as a baby and recently as a toddler.
Ok so WHY Ambleside?
1) As I said, it's easily accessible from the south (i.e. London) by train and bus.
2) It's excellent for public transport; you can take buses to many great hiking locations and tourist attractions.
One bus ride takes you here: deep into Langdale, where you'll find some classic hiking routes and fells, not to mention awesome hikers' pubs.

[Great Langdale by Andrew Bowden, used with permission]
3) It has some great restaurants, pubs and cafe's, general facilities and rainy day activities.
4) It's surrounded by fells; so you feel like you really are in the Lakes and not just on the outskirts.
Here's just one of the views you'll get from Loughrigg, one of the surrounding fells.
5) There are plenty of options for walks and exploring the countryside. Unlike some locations, you aren't trapped in one valley, but you have many choices available to you for finding the perfect walk for you.
This might include easy, short walks to picturesque spots like this (Sweden Bridge):

[Sweden Bridge by Andrew Bowden, used with permission]
…achievable hikes giving you breathtaking views…

[Stone Arthur by Andrew Bowden, used with permission]
… as well as real tough challenges like Scafell Pike (from the Langdale valley).

[Great Langdale by Andrew Bowden, used with permission]
Or you could just relax with a boat ride to somewhere really interesting:

[Wray Castle boat house by Andrew Bowden, used with permission]
Want more information?
I often get asked for my recommendations for walking in Ambleside; so I created a PDF guide to help you get the most out of your visit.
It's cheap as chips and full of my own personal best tips and honest 'been there, done that' recommendations for having a great holiday there.
The Ambleside in a Nutshell guide includes ideas for activities, rainy day activities, places to eat, how to get there by public transport or driving, getting around, and lots more.
And it contains a ton of great walking suggestions and ideas, including 8 'easy' walk ideas, 3 'medium' walk ideas, and 4 'hard' walk ideas.
I wanted to help you get the most out of your visit.
In it I answer top questions like:
Where do I get buses from?
Where can I catch buses to (and how long does it take)?
How do I get there by car?
How do I get there by train/bus?
How much can I expect to pay for parking?
Where can I hire cycles?
What are the great independent/interesting shops to look out for?
What walks can I do?
Where are the cash machines?
Where's the tourist information office?
Where is nice to eat?
What sort of activities can I do from there?
Where are the public toilets (and are any of them free)?
Are there any hostels there?
Can you camp nearby?
Where is good for getting picnic supplies for my walks?
And more.
Here's a sneak preview:
Whether you use my guide or not; I wish you a truly FANTASTIC time on your trip.
Permalink | More hiking ideas!
8 weird ways to walk London
There are so many ways to explore London on foot, from aimless wandering, to following an official trail, or simply exploring the parks and green spaces.
But for some people, what gets them out of the front door in the morning is something a little more quirky.
Here are eight very unusual ways to explore this great city.
1. Walk Every. Single. Street.
Noelle Poulson took 65 days to walk every single street in the Congestion Charge zone; that's over 400 miles.
Now that is one way to get to know the city REALLY well.
2. Don't cross a road.

Photo by Andrew Bowden (CC BY-SA 2.0)
In The Insider's Guide to Walking in London, Victor Keegan describes a route from Trafalgar Square to the 02 Dome in Greenwich which does not cross a single road.
Could you figure out a route like this?
Want more info?
Download the FREE Insider's Guide to Walking in London here
.
3. Walk the lost rivers
Paul Talling walked the route of London's 22 'lost rivers' – many of them now Underground. And then he wrote a book about it.
Want more info?
Get the
London's Lost Rivers
by Paul Talling
4. Walk the M25

Photo by Andrew Bowden (CC BY-SA 2.0)
Not ON it, of course!
But a few folks have decided to take up the challenge of following the 118 miles of the route on foot; walking as close to the road as possible, through fields or parallel paths and tracks.
Most notably Iain Sinclair in his book London Orbital, and Alastair Humphreys, who considered it a worthy microadventure, even in the heart of winter.
Want more info?
Read
London Orbital
by Iain Sinclair, or
read Alastair Humphreys' account
.
5. Walk a tube line from end to end

Photo by Andrew Bowden (CC BY-SA 2.0)
…or even all of them?
Ian Wright completed walking the tube map in 2013 and in 2015 he completed the new 2015 map. He covered over 600 miles, and it took 229 hours and 47 mins over 39 separate walks.
Talk about good practice for the next tube strike!
Want more info?
Read about from Ian Wright's achievement here
or read the book
Walk the Lines: The London Underground, Overground
Walk The Lines by Mark Mason.
6. 'Bag' the London Borough Tops

Photo by Andrew Bowden (CC BY-SA 2.0)
Is this London's answer to munro baggging?
The London Borough Tops are a list of the highest point in each London borough. There are 33 of them.
They may not have the same kudos as the Wainwright fells, but if you're after a quirky way to get to know the city and achieve a satisfying 'tick list' too, this may be for you.
7. Walk in every postcode.

Photo by Andrew Bowden (CC BY-SA 2.0)
There are over 100 London postcodes and Stephen Benton has set out to do a walk in each one of them.
He says:
I decided to start in the SW postcodes because I realised that most of my working life has been in jobs based in SW1 and for all my adult life I have lived in SW postcodes. So I will walk first in the SW postcodes going in numerical order and work round London clockwise until I get to SE. Then I will go into the central ones of EC and WC. Who knows maybe after all that I will be strong enough to go through the outer postcodes like CR and RM. As you can see from the map, there is still quite a bit of Greater London which is outside the London post code area.
So a few grounds rules. I will aim to do a walk in each post code area which features around ten or twelve places, buildings or stories of that area. As this is a postcode walk I will start at a post office, usually the main one. I reserve the right to hop on a bus or train if this makes for a better outcome. And for those few mainly central London postcodes which have sub divisions (eg SW1A, SW1Y etc) I am only covering this once (eg as SW1) in the part of my choosing!
8. Walk to free art
There's so much to see in London, why not combine your walk with something interesting?
That's what Yvonne Craig Inskip is doing: when she walks, she walks to free art.
She writes:
I only write about art by living artists on show within walking distance of my central London flat. It must be available for anyone to see without charge, whether in a public or private gallery or any other space, inside or out…
This has so many possible permutations. Could you walk from your place to museums, galleries, or just some really great pubs? The city is full of possibilities.
The next step is down to you.
---
Permalink | More hiking ideas!
How I carry my son on a hike
"Exactly HOW many baby carriers do you own?"
I laughed.
We certainly experimented with a few until we finally landed on the one we use almost daily.
We use it around London on daily basis, and we've used it hiking with our son on the Thames Path, in the Lake District, Brecon Beacons, Snowdonia, Peak District and more.
…And it's not a traditional hiking frame carrier that you usually see people hiking with children use.
More about my baby carrying journey!
First we tried a Baby Bjorn…
This is a walk we did on Box Hill, on Boxing Day, about 4 weeks after my son was born (hence my glazed expression).
…And I tried a Baba Sling…
But I soon realised both were a mistake.
The Baba Sling was awkward to use and I could never seen to get a good comfortable carry.
I booked a 1-2-1 session with a babywearing consultant who told me that neither of the carriers I'd purchased were ideal.
The Baby Bjorn is the one that almost everyone gets; but the baby is not positioned in the most comfortable way, which is with their knees up in what is called a 'froggy' or 'letter M' shape.
Tip:
Google 'babywearing' for the best tips and advice on how best to carry children.
You can even find local 'babywearing consultants' to advise you on the best carrier for your needs.
When you are told how a baby SHOULD be carried it makes obvious sense. Babies naturally would not be carried facing outwards, with their legs and arms dangling straight down.
Neither is this a good position for you as the person carrying.
The reason why so many people give up carrying their baby is because they haven't been shown the most comfortable way to do it; particularly, they haven't had the opportunity to learn how to back carry (or don't have a carrier that supports it).
Babies naturally cling on with their knees up, facing inwards towards you, like a little monkey.
A good carrier should support this posture.
Once I got some proper advice, it became much easier.
Next, I got a stretchy Moby wrap and I never looked back. It was AMAZING.
This is great both inside and out of the house as it's so comfortable.
I even wore when we started our Thames Path walk:
Then I tried a bit more wrap carrying.
I fell in love with this beautiful woven wrap carrier. I think it's incredibly beautiful, and I would have worn it much more, if I could.
…But it was fiddly to put on and take off.
And I couldn't imagine securing my baby in it on a muddy path, with the long wrap ends flapping about in the mud.
So for outside the house, the other carrier recommended to me by the babywearing consultant became my best baby investment ever.
It was quick, it was easy, it was comfortable and I love it.
It's called the Manduca
We are still using it and continue to do so after 3 years.
We've used it so much and it's so comfortable we've never actually bothered with a 'traditional' frame hiking carrier that you almost always see hikers with children using.
It costs about £80-90 and looks like this:
Manduca Standard Edition Carrier
After using it around our neighbourhood we started to use it on walks and holidays, too.
Walking along a beach on the Isle of Wight:
In the Lake District:
Yes that's heading towards Catbells! Although I have to admit I didn't make it to the scrambly summit.
Climbing a fell near Ullswater:
Walking in Langdale:
Getting to the top of another Wainwright fell!
In Wales…
In Snowdonia…
…and the Brecon Beacons:
When not in use I either just let it hang from my waist:
My friend says it looks like a welding apron. Heh!
…Or I stuff my bag into it:
Reasons why I LOVE the Manduca
for hiking (and just in general!)
It's sooooo comfortable. It has a really wide, comfortable waist band like a really good rucksack would have. The shoulder straps are padded and soft and don't dig into your shoulders. Carrying my son on my back is like carrying a warm, wriggly rucksack!
It's really secure. There's no way he can fall out and the waistband clip is extremely secure as you have to use two hands to undo it (not just one).
His centre of gravity is close to mine, he's not removed from my body by poles, or positioned high up in an unnatural position. This makes it easier to carry him up or down hills.
You can use the carrier as a handy thing to sit on when having a picnic outdoors!
We can talk easily about what we are seeing around us. I can hold his hand.
I can get him in and out easily and fast.
It is light to carry and folds up so you can put it into a bag.
It dries out quickly
It makes traveling on public transport so much easier
Questions I thought you might ask…
1. What if it's raining?
The Manduca isn't waterproof. If it's rainy our son just wears his waterproof coat and/or trousers. I might also take an umbrella and hold that over us.
I let the carrier get damp. It dries out fairly quickly.
Also, we don't plan walks for very rainy days.
2. Does it fit Dad as well as Mum?
You might notice on the pictures above that when Dad is carrying, my son's head is lower down his back, just due to the fact he is taller than me.
If you are concerned about this, you can try it out at a 'sling library'. There are sling libraries across the country.
3. Can the child see out properly?
People tend to overestimate how much a baby needs to face outward and look around. The world is pretty overwhelming; young babies are generally happy when snuggled up to you, it's more comforting for them.
In a back carry, their head is not above yours as it might be in some frame hiking carriers, but is about shoulder height. They can see a lot from there.
To be honest, comfort and closeness to you is probably a more important factor for your child than having a full panoramic view.
My 3 year old is unlikely to comment on a sweeping vista in front of him, but more likely to find a passing caterpiller extremely interesting.
4. How do you carry him AND a bag?
For short journeys (e.g. walking to the shops, tube, etc), I carry him on my back and on my front I carry a small rucksack. This works fine.
(I did it the opposite way round when he was younger i.e. carry him on my front and the rucksack on my back).
However… when I'm hiking, there's always been two adults so one of us carries while the other carries the bag. I would find it too difficult to hike carrying him and a bag on my front.
5. Can you use it by yourself?
Yes! I put my son in a back carry almost every day by myself. It took a bit of practice at first, but now it's easy.
The only thing I found tricky to do on my own was:
When front carrying, clipping together the back straps was sometimes awkward.
When back carrying, lifting up and securing the sleep hood is impossible.
If I was going on a hike with my child, I would need a bag of things (snacks, water, etc). I would need someone else carry this, as carrying him + a rucksack on my front is ok if I'm popping 5 minutes to the shops but would not be suitable for a longer walk.
I hope this helps you find the right carrier for you!
…and I wish you many happy family adventures.
Manduca on Amazon

---
Sponsors
Escape London - click here now!
Welcome! Do you live in London and love walking? I help frustrated London-based hikers to get out on the hills by providing inspiration, ideas, practical advice and encouragement. Satisfy your hill walking cravings! Read more here

Latest Updates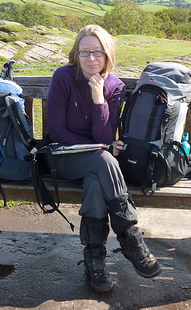 As Seen In: