Escape to the Forest of Dean: a landslip, a Loop, and a little leap
For her first solo walk, Charlotte Rixon escaped London for a day hike in the Forest of Dean. Here she tells us how she tackled a landslip, a Loop, and a little leap.
---
One sweltering Saturday in July I slipped out of London and escaped into a forest. I was seeking solitude and adventure and had been dreaming of getting lost in the woods since reading Sara Maitland's beautiful book about the roots of our fairy tales, Gossip from the Forest.
That said; I didn't want anything too taxing or off the beaten track for what was to be my first solo hike. So I picked a walk called the Lancaut Loop in the Forest of Dean. At just 9km long, it would be easily manageable in a day trip from London, plus as a circular walk that began and ended at Chepstow Station, I wouldn't have to worry about buses or pickups.
Then again, vistforestofdean.co.uk described it as 'not for the faint-hearted or weak kneed', so perhaps it would deliver something of the thrill I was after.
Hopping off the train, I followed signs for Chepstow Castle, passing bunting-lined streets with pastel-coloured houses, before reaching the banks of the river Wye. As I strode out across the Old Wye Bridge, with blue skies above, the castle crumbling in the sunshine behind me, and the forest stretching out endlessly before me, I felt that I had truly escaped.
Halfway across I passed from Wales into England, then reaching the other side followed the road uphill, looking out for what my instructions intriguingly referred to as a 'squeeze' style on my left. Finding it, I opted to scale the gate.
Springing down into the field beyond I felt myself grinning. Everywhere I looked was green, the hedgerows thronged with birdsong and the air carried a faint whiff of cow pat – infinitely nicer than the dog turds I usually see. Meadow brown butterflies led the way past derelict cowsheds, over gates and through fields (all open access under the Countryside Stewardship Scheme) until two white houses emerged on the horizon.
This is where I joined the Offa's Dyke Path and paused uncertainly because I was expected a well-worn path and not the faintly foot-marked track I found. I carried on until I spotted a green-topped stone ruin, thought to have been a lookout tower or windmill in days gone by, and gave a cluster of sheltering cows a wide berth before passing through the first of many kissing gates.
Two kissing gates and two fields later and I found myself at the official start of the loop and the entrance to the Lancaut Nature Reserve. That was when I saw the sign, alerting walkers to a landslip that posed a 'significant additional hazard' and urging them to turn back before it was too late. While I was digesting this information, two female walkers with a small dog appeared from the other end of the loop and informed me that one of the paths was "very dodgy". But there was no turning back, so I thanked them for the warning and plunged into the forest.
The path descended quite sharply for around 250m and was so tangled with tree roots and overhanging branches that I had to watch my footing in between catching glimpses of the river to my left and 300ft limestone cliffs rearing up through the trees to my right. A robin flitted between birches while seagulls screeched out across the river. Whenever I hear a seagull, I smell the sea, and as the path wove in and out of the woods, flashing between sunlight and shade, I had the curious sensation of being by turns deep in a forest and out on the coast.
At one point the path spattered out between buddleias onto a sea of boulders, which originated from an old limestone quarry in the cliffs, and I leapt across, pretending I was rock pooling. I was glad then that I hadn't brought my hubby along. We're not sure why, but our feet seem to be suited to different terrains. He's great on hummocks, but terrible on rocks, while I'm the reverse.
After the boulders, the path resumed, but only for a few steps before it dissolved into 20m of loose scree, sloping down into the muddy riverbank below. So this was where the landslip had occurred. It was really nothing. With a few carefully positioned footholds, a slight lean into the hillside and a few tree roots for balance, I was safely across, wondering what all the fuss was about.
The path then took me beneath a stretch of cliffs known as Wintour's Leap, named after Sir John Wintour, a landowner and royalist from nearby Lydney who was said to have escaped pursuing Roundheads during the Civil War by flinging himself across the cliffs from horseback. Though perhaps not as daring as Wintour had been, I felt chuffed to be taking my own small leap into the unknown, on my first walk alone in an unfamiliar area.
I met just one other walker on the loop (a wildlife photographer with a lovely Gloucestershire accent who told me to look out for deer munching on sloes across the water) but I often heard voices echoing eerily off the cliffs, accompanied by a tinkling cowbell sound.
The path ended with a wooden gate guarded by ancient yews, beyond which stood the ruin of 11th century St James's Church, the only remains of the settlement of Lancaut, which is believed to have once been a leper colony. I ate my packed lunch on a shady bench overlooking the ruin before embarking on the steady climb up to the clifftops. There was something irresistibly romantic about the path as it wound upwards through woodland, always hinting at delights just out of sight, like a derelict limekiln around one bend or a patch of pure white stonecrop around the next. Plus, on a hot day, it helped that I could never see quite how far I had to go.
Once at the top, I had to walk along a short stretch of road before rejoining Offa's Dyke. As I was looking out for a sign, I went to look out over Wintour's Leap from what I took for a viewing platform, and solved the mystery of the voices and bells when I spotted climbers. I was about to turn back when I noticed tiny, mossy steps spiralling temptingly up the edge of the cliffs and my heart gave a little leap for joy.
The steps led up to a series of long, cool, green tunnels that seemed to propel me magically forwards, so that in no time I was back at the beginning of the loop, laughing at the warning sign and pleasingly clanging the last kissing gate closed behind me. I then retraced my steps back to Chepstow where a delicious local ice cream awaited followed by a long but restful train journey back to London.
More information: Lancault Loop – Forest of Dean
---

Charlotte Rixon is a London based freelance journalist who writes about wildlife, gardening, country walking and all things green and outdoorsy. A volunteer for the London Wildlife Trust, she delights in discovering hidden wilds in unlikely places, but also likes to escape into the countryside every now and again. She guest blogs at thewildoutside.com and conservation-careers.com.
Follow her on Twitter @CharlotteRixon
All photographs are copyright of and used with permission of Charlotte Rixon.
---
Permalink | More hiking ideas!
My biggest freebie ever!
STARTS WEEK OF 4TH AUGUST!
I'm working on my biggest freebie ever!
Would you love to do more hiking around Britain, but have:
no ideas
no car
no holidays left
Well…I can help!
Sign up to get my forthcoming FREE information series sharing some of my best resources and information if you want to go hiking more around Britain but don't know where to start.
This is especially useful if you:
are new to Britain or new to hiking in Britain
feel caged, cramped and crowded in the city and don't want to wait until your next major holiday to see a blade or grass or get your boots on the hills
feel overwhelmed by all the options and just want to know what's best
don't have time to go hiking
live in London – about as far away from the hills as you can get!
Connect with the landscape. Find FREEDOM. Feel like a child in play. Fall in love with Britain.
I'll be giving away:
my top 7 resources I've used to plan hikes in Britain – and demonstrating how to use them
my 5 day crash course in hiking in Britain: I'll share how to find out where to go and what to do
my personal top 5 recommendations of walking weekends in some of the best of Britain's hiking areas
Just sign up below and you'll get all my free resources and exclusive video trainings (as soon as they're ready!) as well as news about how I can help you explore Britain – and you can unsubscribe at any time you like.
It all starts on the week of the 4th August. Don't miss out!
See you on the inside?
Permalink | More hiking ideas!
Free guide to walking in London!
I'm so pleased to be able to share this totally, completely and utterly free PDF ebook to walking in London with you!
CLICK HERE to find out more and download your copy now!
Escape London - click here now!
Welcome! Do you live in London and love walking? I help frustrated London-based hikers to get out on the hills by providing inspiration, ideas, practical advice and encouragement. Satisfy your hill walking cravings! Read more here

Latest Updates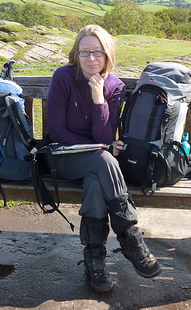 Sponsors
As Seen In: