How to plan fantastic car free walking weekends
In this post I want to share with you the EXACT process of how I go about planning car free walking weekends away from London in Britain's best hiking areas, with a specific case study.
This mega guide is going to be full of really PRACTICAL step by step tips and I break down the specific process for you – so you can do it too.
But first a quick flash back.
Ten years ago I had a problem:
I loved hiking in the outdoors and I wanted to hike the best of British hiking.
But I lived in London; 87 miles from the nearest 'mountain'.
I had no car, I had very few holidays left to spend on traveling around the country. I had a few vague ideas of where I'd like to go, but not enough, and I had very little free time to research it all.
I didn't want to hike in a group or a club (and by the way, if you do, here's a list of London clubs that organise trips away).
I just wanted to go off by myself or with one or two close friends and just enjoy the peace and quiet of the countryside, away from the city and all of the stress and the crowded underground.
I just wanted to know what's best to do and exactly how to do it.
I just wished that someone would hand it to me in a comprehensive guide and say, "OK, this is what to do: here's how to get there by public transport, here's the walks you can do, here's where you can stay, here's how to get back on Sunday, here's where the bus stops are, where you can get a picnic, and here's some things you need to know to get the best out of walking in the area."
Behind the scenes of how I plan car free weekends away
More than ten years and many successful walking weekends later, I created exactly what I would have wanted all those years ago.
It's called Walk Your Weekends and it's a comprehensive information resource about my best car free weekend walking trips from London (plus a lot more).
In this post I'm going to share with you step by step exactly the specific resources and tactics I use to plan the detailed itineraries that I've created for Walk Your Weekends and how you can do it too.
I'll use a case study of an itinerary I created for the Brecon Beacons, for my Walk Your Weekends members.
To make it easier to navigate this monster 7000+ word case study, I've included a detailed Table of Contents below.
1. How to decide which region to walk in when you don't know where to start
Personally, I don't just want to go to one place over and over again, no matter how beautiful it is.
For example, the Lake District is one area that I always keep returning to. But as beautiful as it is, I want to see other places as well; to experience walking in as many varied places as I possibly can.
So how do you decide where to hike if you've never been there before?
1.1 The best place to begin for ideas
Use the National Parks as a start point.
This is a great place to begin. The National Parks are obviously some of Britain's best walking areas. No doubt about it!
Ask yourself these questions (don't worry about transport /practicalities for now):
Which National Parks have you always wanted to visit (or if you don't know, just think of countryside places you've always dreamed about visiting).
What kind of scenery do you want to see?
Do you want to walk on the coast?
Do you really want to see massive dramatic mountains?
Do you want to see beautiful, green rolling hills? Or do you want to see atmospheric brown, moorland and get a feeling of solitude?
What kind of experiences do you want to have on this weekend? Do you want to climb and tick off certain mountains? Do you want to climb Snowdon? Do you want to climb a Munro or walk a trail?
Do you want to go off the beaten track, somewhere where tourists don't usually go?
1.2 How to think big
Consider: what has been on your 'bucket list' for ages?
I'm not totally sure that I like the phrase "bucket list" but that's what everyone seems to be saying, so I'll say that.
There are certain areas which I just think, "I've never been there. I've never managed to get there yet. I really want to explore that!" For me, I've never been to the Cairngorms, the Howgills, Dartmoor…. These are on my bucket list, so to speak.
One of my main drivers for getting out there and going to these places is to not put things off and to not say to myself, "Oh, I'll get there one day. I'll do it one day."
I just think to myself, "Why not this year? Why don't I go this year?"
Crucially, I don't start by looking what's close to London and assuming I'm limited to those areas.
I start by thinking what do I REALLY want to do – and then work out a way of getting there from London.
You can get a lot further than you think when you start to investigate it.
1.3 How to get the REALLY juicy information
Ask friends, family and contacts for tips.
Word of mouth is one of my key sources: I find it invaluable.
My main source of advice is my Mum and Dad because they have been walking for years and years. They've been all over the place. They have so much good advice.
They'll say to you, "Oh, when you're walking down that path, make sure you look over at that house which seems so insignificant, but actually it's a really notorious place because it used to be where really influential hikers and climbers used to hang out."
Things they'll tell you that the guidebooks won't, like: "Oh, that pub is the best one to go to but, don't go to the other pub because that's awful."
This stuff is invaluable!
So mine your friends and family for all their tips and suggestions.
From your initial investigation, now decide on a particular area to investigate further.
2. How to find accessible locations by public transport
Then I start to look at the practicalities. Can I get there?
Can I get there in an evening.
Can I get there in a weekend and back again?
2.1 The first port of call for travel information
Investigate the official Park / Region website.
I start off by looking at the official website for the area. It's usually a National Park or there's usually some kind of website that will tell me how to get there.
Although it's a start, often the 'how to get here' page provides cursory information.
I end up with a list of stations I've never heard of before, which can feel meaningless.
2.2 The best way to find a great overview of the whole area (it's not always where you'd expect).
Now find an overview map of the region.
These will show nearby train stations in context so you can see which are closest to the areas you're most interested in (hills, coast, etc).
The problem I've found with a lot of official websites is that it's sometimes really hard just to find a big, useful overview map of the area! They'll tell you about various places and locations with pretty pictures, but they often don't provide any context of WHERE those places are.
I've found that sometimes, actually, the most useful overview maps are not on the 'official' websites.
If you have Memory Map (more on this later) you could use that, but I like to see a real overview, large scale map first.
How I do it is head over to Google Images search (NOT Google!) and search for "[REGION] + map"
It'll immediately come up with some promising overview maps:
Click on the image for a closer view – and if it looks promising, you have the option to view the image or view the page it comes from:
Now we're talking!
Take a look at where the key stations that you found out about from the official website are located in context to the area as a whole.
For example, are they on the edges of the area, or right in the heart of it?
2.3 How to see detailed maps of the area online for free
Next, browse the area on an OS (Ordnance Survey) map.
If you don't have a hard copy map yet, you can do this for free online at bing.com/maps
I browse the area on a Ordnance Survey map, just to look around and get a feel for the kind of terrain and layout of the land. I have Memory Map (which I'll talk about later) but I like bing.com/maps, which allows me to zoom in to 1:25,000 scale (unlike my version of Memory Map).
I'll start by searching for one of the train stations. Then I'll pick the drop down option in the menu to switch to an OS map view.
You can the zoom in and out to change from a 1:50,000 to a 1:25,000 view. You can also make it full screen too!
I just find that browsing it really helps me understand the layout of the land, where the stations are, where the villages are, where the key mountains and hills are. I just find that so helpful and it really helps me brainstorm routes and ideas. Also: it's just fun to do! I love looking at maps. I could spend hours doing that…
2.4 More useful train information to check
I like to look at a National Rail map so I can look at the stations that the official websites recommend, but also the stations that are perhaps minor stations which are nearby the park, that could be useful stop off points for my walks.
It's also useful to find out which stations are at the end of the line and which ones are not; and whether the stations are on the same line or different ones as this can affect your travel plans.
2.5 How to find train travel times and duration from London
Once I've worked out where the stations are, it's time to work out, is the travel time practical?
Go to NationalRail.co.uk to look at the train times.
Enter your details. I usually just put 'London' in the search box – at this stage I might not know which London station the trains leave from.
For the travel times, I usually put in a date a few weeks ahead, on a Friday, leaving around 5pm.
The results will show me trains from 5pm onwards, so I can see if it's logistically possible to get there in an evening after work:
I can also see how long the journey takes and whether there are any changes.
Then do another search for returning on a Sunday evening. The Sunday one is the key one to check, because often on Sunday, travel times can be slightly different than they are on Saturday or during the week.
Now you can ask yourself, would this give you enough time to actually get back in the evening but also do a really great walk -something really rewarding, not just some little potter around a town before you have to run for your train?
I usually find that it IS possible to travel back on a Sunday evening and still do a satisfying walk that day.
Here's a tip: plan your second day's walking to start close to your accommodation, meaning you can start your walk sooner (and therefore end sooner for getting your train). Save the big epic walks and bus journeys for your Saturday walk if you can.
2.6 An alternative travel idea to check
If you want to save money, and have more time to travel, another option would be to search the National Express for coaches.
From London, these leave from London Victoria. You can get some good bargains if you are willing and able to travel by coach, but obviously it does take a lot longer to travel, and they only go to/from certain places.
This might suit you if have more time than money – perhaps you might be a student, or don't work 9-5, so you may be able to spend a whole afternoon traveling.
You can see the locations on their website under Destinations > Find Your Coach Stop:
3. How to find out what is BEST to walk in an area – even if you've never been there before
Once I've decided on an area and approximately whether I can get there in an evening, then I start to look at actually WHAT in that area am I going to walk?
What EXACTLY would I like to climb? What trail am I going to follow?
What, specifically, am I going to DO?
At this stage, I am not plotting a specific route, but investigating ROUGHLY where I want to hike on a macro level.
As a I research this, I adjust my initial investigations. For example, I may discover that one train station is more suited to the key/classic walking routes than others.
I use a wide range of sources to help me come up with ideas. I will often cross reference one source with another, and if they are both recommending the same walking experience, I know it's bound to be a classic, 'must visit' location.
Here are just a few I use and recommend:


3.1 UK Trail Walkers Handbook
When browsing the 1:25,000 map you can see the major trails marked with a green diamond, so you'll see them criss-crossing the area. However, not all trails are marked like this, so a book like this is very useful to provide me with information about trails which aren't immediately obvious.
The UK Trail Walker's Handbook has got every single trail listed in it, and it also comes with a map.
This book is basically like a big directory of all of the different trails and paths that you can walk.
I love looking at this because I really like trail walking. It is actually a really brilliant way of hiking in an area to just do a section of the long distance trail. The paths are usually really good, the signage is really good, the trail takes you on a journey through the area, so you get to see a lot of it.
It's especially good for bad weather alternatives (low level walking usually). If the weather is really bad and you can't climb that mountain that you wanted to climb, then maybe you could walk along a trail instead.
3.2 Trail 100
Then, I actually look at the mountains and hills and one of the sources I check is the Tail 100, which is a list of Trail Magazine's 100 best UK mountains.
It's totally subjective list – it's basically what they think are the best – but I'm happy with that. You might as well start from somewhere!
Sometimes there are so many different mountains in one area and you just think, "Oh gosh, where do I start? What do I do? Which ones are the best?"
This is a great help with that question.
3.3 The Relative Hills of Britain
The other source I use to find out about worthy hills to walk is The Relative Hills of Britain by Alan Dawson. The relative hills are hills and mountains which are 200 meters higher than the surrounding ground – so they are usually hills with a view, which of course I like.
You can obviously get loads of different lists of hills. You can get the Munros, you can get the Nutalls, which is mountains over 2,000 feet. But because this book is based on relative height rather than 'pure' height alone, it has a lot more ideas for England and Wales (obviously the Munros are only in Scotland).
Basically I will have a look at that and see what relative hills there are in the areas where I want to walk.
3.4 The most amazing places in Britain's countryside
I was bought this as a present a few years ago. It's full of lovely photos, and I use it to quickly get ideas for great locations to walk. It's useful to confirm ideas from other sources; if the same locations are mentioned in several sources, then it's bound to be worth visiting.
3.5 Walking in Britain: Lonely Planet
This is a really useful book I've referred to a lot: it covers a wide range of areas around Britain and has some excellent ideas for routes as well as practical information about visiting an area.
3.6 Specialist regional books
This might include Wainwright for the Lake District, plus any other specific books and guides I have accumulated over the years.
3.7 Magazine clippings
After all this I actually have a look at my archive of clippings from British walking magazines.
These are some of the magazines that you can get in Britain for walking. There are more, but these are just some of the ones that I'm familiar with.
The main two that I'm familiar with is Country Walking and Trail.
Trail tends to be more about climbing mountains. Despite the name, it's not really about trail walking. They sometimes include some scrambling routes and it's slightly more 'adventurous', I guess. It tends to be walks that are mainly based in the North of England, Wales, or Scotland. You'll like Trail if your idea of a good time is bivvying overnight on a mountain.
Country Walking is more gentle walking, I think it's fair to say. Country walking probably would cover more routes in the South of England as well as everywhere else, and more low level walking suggestions.
TGO (The Great Outdoors) is another one you can get. It says it's the UK's best hill walking and backpacking magazine. I'm not as familiar with this one, but I get the impression that it's mostly, or strongly based around Scotland (I apologize if I'm wrong about that).
So over many years I cut out all the routes and I filed them away by area. So if ever I'm going to a new area, I just look at that and then look at all the routes that they do. Quite often a lot of the same routes will come up over and over again, so you can see that certain routes are the main key ones to do in an area.
You get to think, "OK, that is the main thing that people tend to do… maybe I should do that?"
3.8 Talk to friends and family!
Again, I use word of mouth. I talk to my friends, I talk to my family.
3.9 Mountains and Hills map
So now I have a list of great ideas, I start to investigate them a bit more on the map.
This interactive map by the Saturday Walkers Club is brilliant for finding which mountains and hills are closest to stations/roads. You can actually see where mountains and hills of different heights are on the map, zoom in and find out their names.
Go to the website, browse the region and look at where the hills are, noting which are closest to train stations or roads where there might be bus services.
Sometimes you will find that there are some which are near to the stations and others which are just too far away and it's just not possible to get to them. You can just cross them off your list for that weekend. You can think, maybe if I'm having a longer holiday I can go and do that, but just for this weekend, I can only really concentrate on those few.
To start from the Saturday Walkers Club website go to Walking > British and Irish Hills.
You can see each hill or mountain marked with a coloured pin:
If you click on one of the pins you can find out its name.
4. How to QUICKLY find transport and practical information without ending up down a Google rabbit hole!
4.1 How to find bus route maps easily
So now you need to check out bus routes and find out which ones will be useful for getting you to the places you want to walk.
This isn't always easy! I've found that it can take ages to Google these things.
You can get lost in a rabbit hole of links and information and bus companies and different websites, that aren't quite right.
For example, here's a google search I did for "Brecon Beacons + bus routes". In a standard Google search I would have to open many of these links one after the other and then try to dig around the websites to try to find a simple route map.
Believe me, this can take forever.
What I recommend instead is that you search for it Google Images, not in the general Google Search.
Here is a search in Google images for Brecon Beacons + bus routes + map. You can immediately a few likely images – that looks like it's got the bus numbers on it, it's got the bus routes marked in different colours, it looks like the kind of bus map that I'm familiar with.
Now you can just immediately click through on each image and it will hopefully take you to a much more useful page.
The only thing you need to be careful of is that the bus route map is up to date and doesn't include discontinued routes – so do treat with a little bit of caution if it isn't on the bus operator's website.
4.2 How to find out where bus stops are on country roads
Unfortunately the OS maps do not show you where bus stops are.
So here's how I find them.
In Bing.com/maps – switch from OS view to road view. Then zoom in to 200 ft / 50 m. At this scale, a little blue bus stop sign will suddenly appear where there are stops.
If you click on it, it tells you the bus route number.
On a country road there's not going to be much identifying features around so you can flick back to the OS map view to better understand exactly where the stop is located.
Here's what that looks like when I switch back to OS maps on Bing. So now we can see that the stops are almost directly in front of the building, and close to the plantation.
Google is similar. In Google maps, you need to zoom in to 50m. Obviously you can switch to Google Earth view to see it in context, if you like.
If you click on the bus stop, it actually tells you the route and also bus times!
4.3 How to find where bus stops are in villages
There is a website called Findthestop where you can search for locations and it will show you the bus stops.
I've found that it doesn't always work very well for stops on country roads, but I find it handy for checking where the stops are in village or towns.
Here's a search I did for Crickhowell:
4.4 Another useful bus stop search that'll give you more useful information
When I'm writing my itineraries and looking up bus stops on quiet country roads, I want to check if there is actually a bus stop sign in place, and also I find it useful to look at a picture of the stop in location, so I can see if there are any other things to note nearby, such as buildings, parking places etc.
For this I use Google street view.
In Google maps, navigate to your bus stop location. Then grab the little yellow person from the bottom right hand corner of your screen, and drop them onto the road. I sometimes find it takes a couple of goes to get it to work.
4.5 How to find bus times easily
Now you know where the bus stops are and what they are called, you can check on specific times to work out your itinerary in detail. For this, I use Traveline.info. It's a really easy to use and brilliantly useful way of finding public transport information.
When you enter the departure/destination locations in the search box, after you click 'Search' it will usually suggest some specific locations which you can choose from.
For example, if I type in Merthyr Tydfil it will suggest Merthyr Tydfil bus station, rail station, and other options. If you are not sure you can just select the general town/place name.
If you click on a result, it will expand to show you the times, plus any walking time from your destination to the bus stop, as well as the bus route, the bus company and the duration of the journey.
5. How to plan and get ideas for routes
Now it's time to dive really deep and plan a route! For me, this is one of the most fun aspects of planning your weekend. This has two stages; getting ideas for routes, and planning out your own custom route. Here's how I do it.
First of all, here's how I get some ideas for routes.
5.1 Car free walks
A really great source is carfreewalks.org. They, as the name suggests, give routes of car free walks, submitted by members of the public.
It's a great one for idea sparking; you could just use their route, but sometimes the routes that they suggest don't quite fit with what I want to do.
The other thing to be aware of is sometimes bus routes stop operating or change, so you should check to ensure that the route is still accessible by bus.
To use this site, simply search for your base location and the site will suggest routes in the area.
If you click on the pin representing the start of the route, it will show a red path so you get a helpful overview of the route on a map and a summary description.
Then click on 'show me the walk' for all the detail, which includes an OS map.
5.2 Several other route websites
Here are some walking route websites I might refer to for ideas.
However, I keep in mind that not all of the routes will be written with public transport in mind.
5.3 Blog posts / write ups
I then start Googling Blog posts. I will Google the key terms and the walks that I want to do or the hills that I want to climb and add the word "blog" to the search field. It will bring up loads of blog posts of people who have done the walk.
This can be very time consuming, as not every search result will be helpful or relevant, but you do sometimes end up on a really useful gem.
I'll have a look and see what they say, and see what route they did, read their report, look at the photos and this will help me to get a great impression of the walk, things to look out for and insights you might not always get from a standard route instruction.
5.4 Friends and family
AGAIN! I ask friends and family if they've walked in the area which routes they recommend.
5.5 Magazine clippings & books
Again – I'll dig deeper into my archive of magazine route recommendations and see if any routes appeal to me.
5.6 How I plan my own routes
To do the planning of specific routes I use Ordnance Survey's Memory Map software: I have the 1:50,000 GB Ordnance Survey Map for the whole of Britain (it costs about £100). You can also get the 1:25,000 Explorer edition which costs about £300.
Using this software you can plot out routes, measure distances, look at the routes in 3D, and more. I've got to admit that I probably haven't used it to its full capabilities and I don't know every single thing it can do, but I do use it to plan out routes and check on distances.
In Memory Map, click on the Binoculars icon to search for your location.
Type it in and click search; the software will suggest some places, click to select the correct one. The click View.
You can zoom in and out using the magnifying glass icons on the menu bar:
When I've found the place I want my walk to start, I then plot a route. Click on the New Route button to start:
I can then begin to plot the route on to the map. As I go, it shows me the distance of each 'leg' (each time I click to adjust the route) and the total distance:
I can easily see the total distance of the route I've plotted, and adjust accordingly if I need to.
It will also show me the total ascent and descent in the route.
As I don't have the 1:25,000 Memory Map, I will often click over to Bing.com/maps to check little details at that scale if I need to.
When I've planned out the route, I then look for shorter alternatives that Walk Your Weekends members might want to try.
I'll also check distances of any optional detours like the possibility of 'bagging' a nearby summit that's only 30 minutes away from the main route, and make a note so I can add this info into the itinerary.
6. How to know what to expect from a walk from the comfort of your own sofa
Sometimes, it's nice to not see the views before you go and be surprised by them.
But if I'm planning on climbing a mountain that is quite serious and there are potential navigational difficulties – or I'm thinking it could be cloud or mist – I do like to have a look at what it's like before I go so that I can visualize and then at least I have some idea of roughly what it looks like from the top, or on the way up.
It's just another thing to keep in mind when I'm walking, to think, "Am I on the right track or not?" Here is a really easy and quick way to do that.
6.1 Flickr search
I go to Flickr and search for the name of the place I'm going to. This is an example of when I searched for a couple of mountains in the Brecon Beacons, Pen Y Fan and Corn Du. You immediately see what it's like from looking at this. You can get an idea of what the walking's like. From this I know that it's not scrambly, the paths are quite clear, the route between Pen Y Fan and Corn Do is really clear on the ground because it's been worn away by so many people. The summit is quite flat. All useful info.
This is really helpful for some summits which can be tricky to locate especially in mist. For example, the summit of Bowfell in the Lake District can be a bit little bit tricky to find. To have a look at some pictures of what it looks like on a clear day, it's really helpful. You can just browse everyone's pictures and just get a general idea.
6.2 Google images
Again, Google Images is another great one for doing a similar search.
This is the same mountain in Google Images. It's quite reassuring because you can see "OK, the path's really clear, and the summit is flat and the hill is grassy."
It just gives you a really great idea of what to expect.
For contrast, look at the difference when I search for Bowfell summit, in the Lake District. Immediately you can get a feel for the kind of walking involved: it looks very rocky (and indeed it is). Completely different walking experiences:
6.3 YouTube
You Tube is another great one because a lot of people put up videos of their walks. You can actually get a lot of tips from watching those videos. Some are better than others, obviously: a lot of them are just pictures like a slideshow with music over the to..
What I like to hear is people's actual experiences, people talking about it and filming it. Then I'll get a good idea of what the walk is like.
Sometimes I might filter the results by view count and or rating; this might bring up the more popular (better?) videos.
7. Must ask questions and searches to ensure your weekend is safe, memorable, and fun – WHATEVER the weather.
Now you know where you're going, how you're going to get there, what you're going to do when you get there: what your preferred plan A routes are.
Here's what I do next.
First of all I check what I call my Three Es!
7.1 Equally Exciting Alternative
First plan out your bad weather / Plan B alternative routes.
I call this my 'EQUALLY EXCITING ALTERNATIVE' route to ensure my weekend is not a waste.
For all my Walk Your Weekends itineraries I have added in alternative bad weather or low level walks which will still keep you happy even if you can't do your preferred Plan A route.
7.2 Escape Routes
Next plan your ESCAPE ROUTES. For each route you need to know ahead of time at what points you can 'escape' – in other words, get off the mountain, cut your walk short, turn back or find help.
For every route, I will plan out at least one or usually two ways to escape if necessary.
7.3 Check your ETA.
In other words, check the routes you've planned against your walking speed, and work out when you'll most likely finish the walk (your ETA) – then check these against the bus times you worked out earlier.
Always UNDERESTIMATE your speed!
I use a rough rule of thumb of 2 miles per hour (including any breaks, rest stops etc).
7.4 Check sunset times
You'll need enough time to walk your route before it gets dark!
I look at bus times, I check my train times, I ask can I actually finish the walk and get back by sunset, by the bus time to get my train back. I don't like riding on the seat of my pants or whatever that phrase is. I like to know exactly what I'm doing and know that I've got plenty of time and it's all going to be fine because I hate getting stressed out about transport.
You can find a really simple sunset times list at sunsettimes.co.uk (be aware this one is general for the UK).
Or you can easily Google for sunset times + your location and this will tell you what you need to know.
7.5 How to find a street map for your village/town
I mentioned Google Images a few times already, for finding bus route maps . I also use it for finding use this for finding street maps.
You can obviously use the standard Google Maps to find a street map of a town, but what I like to do is have a large scale image showing the named streets in black & white, rather than one that's designed for car drivers.
I usually find that the large scale ones are more useful than the Google Maps for finding your way around a town or a village.
I often use Google Images to try and find street maps of the town, because if you use the web text search, it can take you forever. With Google Images, I can immediately see a few promising looking maps and click into them.
7.6 Check all distances in miles AND kilometres
When I'm writing my Walk Your Weekends itineraries I will also convert all distances from miles into kilometres so that both are listed; because I know that some people prefer one to the other. I usually use a simple website for converting them, where I can just plug in the numbers.
Actually, if you type 'miles to kilometres' into Google, it will provide you with a simple calculator:
7.7 Check for toilet facilities!
Another thing I always put in my Walk Your Weekends itineraries is where there are toilets (and even if there ARE any). Always useful to know!
Some places are excellent at providing information about where public toilets are. This for example, from the Isle of Wight is fantastically useful:
Otherwise, you can search the brilliant public toilet interactive map!
What next?
And then of course,before publishing the itinerary in Walk Your Weekends, I actually VISIT the area and walk there!
Here I am enjoying Table Mountain above Crickhowell with my son:
Having a fantastic day on Pen Y Fan:
And ticking off the Sugar Loaf.
From there, I can make adjustments and minor tweaks, adding in any personal insights from my visit.
Here's how the finished Brecon Beacons itinerary ended up:
Want to know more?
You can join Walk Your Weekends here.
Did you enjoy this post?
Please share this post if you found it useful! Cheers!

Permalink | More hiking ideas!
24 London enthusiasts reveal the BEST scenic views
What are the BEST scenic views in or around London?
Where are the ultimate, absolutely unmissable viewpoints on London walks?
To find out, I asked 24 London aficionados a simple question:
Where are the best places for scenic views in London?
I asked each person for 3 suggestions, specifying only two criteria:
a) the view must be on a walk WITHIN London or accessible on a day walk FROM London (i.e. in London itself or in surrounding countryside).

b) it must appeal to outdoorsy London types who like nature/walking.
The results surprised me.
I had a few ideas of what I thought were the best viewpoints, and I expected these to be mentioned over and over.
What surprised me was the sheer diversity of answers.
Apart from two places which were mentioned several times – and one outright 'winner' – the rest were a wonderfully diverse and interesting collection which is guaranteed to give you a ton of ideas for your next walk.
There was one common thread, though:
Turns out what you REALLY love is looking back at the city from a long way away!
I guess seeing your city from an unexpected perspective is something that can never fail to delight; and makes you fall in love with London just a little bit more.
So what was the Number 1 place for great London views?
If you are going to walk in ONE place in London, which should it be?
Well, this location is a run away winner; it was mentioned the more frequently than any other place.
The No. 1 BEST place for scenic views in London is: RICHMOND PARK
…specifically, folks mentioned the views from King Henry's Mound (particularly the protected view to St Paul's Cathedral), describing it as 'breath taking', 'a perfectly framed treasure', 'uplifting' and 'fab'.
The Park also provides wonderful views of the Thames from Richmond Hill:
In second place was GREENWICH PARK.
This was the second most frequently mentioned location for fantastic views, described as 'stunning', 'beautiful' and 'inspiring'.
The main viewpoint is from the Royal Observatory:

Click to Tweet: Where are the BEST scenic views in #London? 24 experts share the unmissable viewpoints
The best views on London walks
I'm really grateful to everyone who took the time to send me their recommendations (and of course, I couldn't resist giving my two pennies worth at the end!)
All together, this page has over 50 suggestions of great London walking viewpoints; enough to keep you busy for a while.
It just goes to show that there are so many beautiful places in or around London and always something new to discover.
Read on to discover each expert's top viewpoints.
1. Julie Falconer
Top 5 UK travel blogger. Social media lecturer & speaker.; @aladyinlondon
1) Parliament Hill – I love Parliament Hill both for its great views of the London skyline and for its location in Hampstead Heath. The heath is a great place to walk and explore nature right in London.
2) Greenwich Park – Not only does Greenwich Park offer stunning views of the surrounding area and Canary Wharf, but it's also in a great green space that's good for walking and exploring.
3) The top of the Terrace Gardens in Richmond – Right before you get to Richmond Park, there's a great view of the Thames from the top of the Terrace Gardens. It's particularly lovely in summer when the leaves are bright green on the trees!
---
2. Tom Jones
Author of 'Tired of London', 'Mad Dogs & Englishmen' & 'London, The Weekends Start Here'; @tiredoflondon
1) One Tree Hill in Greenwich is my favourite view of all in London. (You can see my pics here)
…but that's fairly tried-and-tested so I recommend:
2) Stanmore Country Park for a 'hidden' London view (here's my photo). You can find out more here. Stanmore is also on the London Loop.
---
3. Alastair Humphreys
Adventurer, Microadventurer, Motivational Speaker; @Al_Humphreys

1) The view of St Pauls from Richmond Park. I find it really uplifting and reassuring that such a thing as a 'view' along a line of sight can be protected by law. Here's some more information about it.
2) Leith Hill, Surrey. The view south is perfect England – hills and trees as far as you can see. Views from hilltops are always better because you have earned them.
3) Canary Wharf from Greenwich park. This view always makes me see London as a positive 'thing' on the landscape rather than the unfortunate blight which is how I normally perceive man-made things to be. The city looks beautiful, inspiring and enticing from the top of that green hill.
---
4. Matt Brown
Editor-at-Large of Londonist; All round London obsessive.; @mattfromlondon
1) The Old Orchard, Harefield. If you're walking north out of London along the Grand Junction Canal, be sure to seek out this hilltop pub. The view west is quite possibly unique for London, in that you cannot see a single building among the rolling fields and hills. As a bonus, the pub has one of the best ranges of cask ale in Greater London, with a beautiful beer garden to boot.
2) Addington Hills viewpoint. A lofty perch to the south of London, near Shirley windmill on the London LOOP. The far-off City and Canary Wharf stick up like goofy teeth, while the growing skyline of Croydon looms large in the middle-distance.
3) Westow Hill. One of the best streets in south London for pubs, Westow Hill also commands surprising views of central London. Gaps between the tightly packed buildings offer framed glimpses of the City and Shard.
---
5. Stef @ Hiking Madness
Hiker, walker, rambler, outdoor enthusiast, backpacker, blogger.; @HikingMadness
1) Richmond Hill at the top of Terrace Gardens: fantastic view over the bending river Thames and onto Twickenham and St. Margarets.
2) King Henry's Mound, Richmond: finishing a lovely walk around Richmond Park on King Henry's Mound with a view onto St. Pauls Cathedral and a café nearby to have cream tea.
3) Box hill: a short train journey from London, fantastic view over the heart of Surrey.
---
6. Dan Lewis for Stanfords Travel
Stanfords Travel: The UK's famous travel specialists – mapping your travels since 1853.; @StanfordsTravel
1) King Henry's Mound, Richmond Park. Richmond Park is not only a beautiful place to reach walking along the Thames Path westward, but hides a truly remarkable treasure in the view from King Henry's Mound, where Henry VIII apparently watched a rocket being fired from the Tower of London in 1536. What makes this otherwise unremarkable little mound of earth worth the detour however is the unbroken sightline it offers all the way into the City – with a break in the hedgerow perfectly framing the dome of St Paul's in the distance. It's a sight which serves to remind you that London isn't really that big after all.
2) Ranelagh Gardens, Royal Hospital Chelsea. I'm always surprised how few people know that the Royal Hospital Chelsea exists, despite knowing who the Chelsea Pensioners are. Fewer still it seems know that it's open, for free, to the public and a tiny fraction of those more well-informed visitors discover Ranelagh Gardens. Tucked away in the South East of the Hospital's grounds, this is a place for quiet reflection, and even perhaps a picnic. But what's the view here? Well, there isn't really one as such, and that's what makes it rather special. Surrounded by trees, you can glimpse Wren's magnificent Hospital building, and also Battersea Park off over the river to the South, but Ranelagh Gardens feels cut off from the hustle of London, and as such the view is of itself and acts as a reminder of the not so distant past when this part of London was more like a country estate than shopping high street.
3) The Dove, Hammersmith – There's many a beautiful view to be found anywhere along the Thames Bank up from Hammersmith to Chiswick's beautiful Strand-on-the-Green area, but after an enjoyable walk from Fulham or Barnes it's worth rewarding yourself by raising a glass on the balcony of this seventeenth century watering hole, once favoured by everyone from Graham Greene to Charles II. In fact, though the pub itself is a joy to behold – complete with its award for the 'Smallest Bar on the Thames' – the view back to the elegance of the Victorian Hammersmith suspension bridge, illuminated as the night creeps in and the south bank of the river ebbs into darkness, makes it one of the more magical places to round of a day's exploring.

---
7. Walking Girl
Walking Girls Guide; @walking_girl
1) The view into the city from Richmond park is fab. I love this because the park feels distant from the city when you're walking through it, but it's actually so near.
2) The Wildfowl and Wetlands Trust reserve in Barnes. I really loved this! Again, it was actually pretty much central London, and yet it feels like it's in the countryside.
3) The Thames: there are so many great views along the Thames, it's hard to pick one. Walking along the Thames path gives you such fantastic variety. You could be walking on a muddy path near Chiswick one minute which feels quite countrified, and then another time you'll be walking right past the Houses of Parliament. I'm pretty sure anyone would enjoy this view.
---
8. Rob Smith
Qualified Clerkenwell and Islington Guide and London walking enthusiast, guide with Footprints of London; @rob_s_smith
I love a good view – it's the reward for all the hard work of climbing up the hill, and I've sought out lots of good views in London. Viewpoints in London can be a bit enigmatic – there's an old music hall song with the chorus
Now it really is a very pretty garden.
And Chingford on the Eastward can be seen.
With a ladder and some glasses
You can see to Hackney Marshes,
If it wasn't for the houses in between.
And that often happens in London – you think you've found a promising hill but there's a house in the way of a really good view. Still here's three of my favourites.
1) The Runnymede Air Forces Memorial on Cooper's Hill near Egham: now on a clear day you'll get a view where you can see Canary Wharf and Windsor Castle on the same day – which is a great way to realise just how huge London is. A nice walk across meadows and through woodland from Egham station
2) The trig point near Monkhams Hall north of Waltham Abbey: For a totally different view of London, climb up the hill to the trig point near Monkhams Hall north of Waltham Abbey. From there you can look South down the Lea Valley. OK its not a glacial valley in Snowdonia but the Lea Valley looks pretty impressive from here, with Alexandra Palace seeming tower over the valley below.
3) The Peachy Tomb at St Mary's Church Harrow: Now I love the view from Primrose Hill, but its always so crowded, so my third nomination is the view from the Peachy Tomb at St Mary's Church Harrow where you can get a great view of Central London all to yourself (usually). You'll be in good company though – this is where Lord Byron sat and enjoyed the view as a Harrow schoolboy. If you've walked the Capital Ring you'll have got near to here but annoyingly the path doesn't take you through the churchyard – a shame not to get a reward of a view after that hard climb up Harrow Hill. Of course you can enjoy lots of London Literary locations in the annual Literary Footprints Festival.
---
9. Ian Wright
First person to walk the new Tube Map (Tube, Overground, DLR, TFL Rail and Cable Car).; @randomlylondon
1) Parliament Hill: I used to be able to run up here at lunch hour and was (almost) always rewarded with an amazing view over all of central London with far fewer people around than you'd find on nearby Primrose Hill.
2) The view from the top of Greenwich Park: Although often filled with tourists it gives you a great view of the Old Royal Naval College along with Canary Wharf and the City.
3) The Thames Barrier from Thames Barrier Park: The Thames Barrier is London's unsung engineering marvel that happens to look great too. And there's no better place to see it than Thames Barrier Park.
---
10. Nika Garrett
City of London guide, Greenwich tour guide: My London Walks; @mylondontours
1) Island Gardens looking across towards Greenwich
2) From Shooters Hill: from the viewing gallery at Severndroog Castle
3) Thames Barrier seen from South bank in Woolwich
---
---
11. Matthew King
Hiker, wildcamper and landscape artist; @hillplodder
My three are all highlights from the London LOOP, so are on the periphery of London:
1) Five Arch Bridge on the River Cray
2) Buttercup fields near Botany Bay farm, Enfield.
3) Havering Country Park: the view towards distant central London from the western end.
These aren't necessarily the most stunning or dramatic views but they are the ones that I remembered and cherished the most.
No. 2 some would consider a bit tame, but was actually the highlight of the entire LOOP for me.
---
12. Elena Manighetti
Nature and animals lover,outdoors addict. Blogger: The Healthy Veggie; @ElenaManighetti
1) Richmond Park: the deer in the sunset
2) Hampstead Heath: the view of the park from the hills and the wood walks
3) Epping Forest: the walk in the woods
---
13. Andrew Bowden
Walking across Britain, one long distance footpath at a time; @ramblingmanuk
1) Cuckmere Meanderings. Rather over-shadowed by the nearby Seven Sisters, because the best vantage point is a little off the beaten track, it's very worth checking out. There is something absolutely stunning about standing on top of a small hill and looking down on the river slowly twist and turn around on its way to Cuckmere Haven. For a day walk, try Glynde to Seaford from the Time Out Book of Country Walks. It's also on the South Downs Way.
2) The view towards St Paul's from Waterloo Bridge. Many years ago I used to work on the Aldwych and for part of that time, commuted into Waterloo and walked over the bridge to work. Twice a day I'd enjoy the wonderful view from Waterloo Bridge. Even in the pouring rain, it is glorious. But for the best views, go after dark. In fact if you want a great Thames Path walk, do the whole section from Tower Bridge to Westminster once the sun has gone in. It's just brilliant.
3) Whiteleaf Hill, near Princess Risborough. It's on the Ridgeway and on the Time Out Book of Country Walks walk, the Wendover Circular. The high vantage point gives a cracking view of the town below, and of nearby hills. So popular is it, that there's an absolutely massive bench there where you can sit and while-away the hours.
---
14. Charlotte Rixon
Freelance nature and wildlife journalist, Woodland Trust super campaigner & communications for The Tree Council; @charlotterixon
1) Waterlow Park, Highate, looking south east towards the City. This is one of my favourite North London parks and I like reach it via the Parkland Walk old railway line that goes from Finsbury Park to Highgate. The view is similar to the one from Parliament Hill but I prefer this version because it is framed by a dense, treescape through which you can just see the City spires poking through.
2) Hornimam Gardens, Forest Hill, looking south. On a clear day, from this peaceful spot, you can see across Kent and the South Downs, making it the perfect place from which to plan your next escape out of London. The views in the other direction, looking across London, aren't bad either.
3) Lordship Recreation Ground, Tottenham, looking east. The views from Alexandra Palace are quite impressive but the brow of the hill in Lordship Recreation Ground is the best place from which to get a view of Ally Pally itself. I love gazing upon such a green horizon from within such an urban area.
---
15. Anne Doyle
1) Ranmore Common, near Dorking
2) Box Hill, near Dorking
3) Newlands Corner, near Clandon or Guildford.
All these are on the North Downs Way, and on a clear day you can see across the rolling greensand country, as far as the South Downs ridge. If I ever need to lift my spirits, these are the places I'd head for! Box Hill even has a viewpoint with markers to tell you what you can see in each direction.
---
16. Graham Turnbull
Outdooraholics: Hiking day trips and weekends around the UK for Londoners in their 20s to mid 40s; @outdooraholics
1) Seven Sisters coastal hike: The most dramatic and breath taking views in the South East of England
2) King Henry's Mound, Richmond: Famous as being the viewpoint from which King Henry observed the signal at the Tower of London when he had his wife Anne Boleyn executed, it boasts breath taking views of St Pauls with a direct line of sight and a telescope trained on the cathedral. Being on the edge of Richmond Park it's also the ideal base from which to explore the park or maybe just enjoy a drink in Pembroke Lodge Café a few minutes away.
---
17. Mo @ A Glimpse of London
A glimpse of London in images a little bit quirky and a little bit trad; @aglimpselondon
1) The roof garden at the top of John Lewis, Oxford Street: a welcome break when walking around Oxford St.
2) The park around the art pavilion at Mile End ( E3 4QY) (see my blog post here)
3) The Connaught Bridge in Docklands. From here you can see Silvertown, London airport and the city.
---
18. Belinda Aspinall
Life After London: connecting London leavers with locals; @lifeafterlondon
1) Painshill park. The view looking back from the hill top over the park land.
2) Wimbledon common, the view through the woods looking at the lake .
3) Kew Gardens: view down the avenue, especially in Autumn but so stunning as it changes throughout the seasons.
---
19. Louis Bedwell
Public speaker, Fundraiser, World record holder, Writer, Advisor; @LouisBedwell

1) Primrose hill. I'm sure that has already been said!
2) King Henry's Mound, Richmond Park.
3) Greenwich Park- Royal Observatory
I'd also suggest walking across the top of the 02. It's an attraction but still a walk and the views are amazing!
---
20. Ian Mansfield
1) Northala Fields, Northolt. A recently revamped local park, but notable for having four huge cones, built from rubble from the demolition of the original Wembley Stadium. The cones are each laid out differently and reward the climb with vast views across West London as far as the City.
2) The Point, Greenwich. While most will head over to Greenwich Observatory for the views, one of the best lesser known views can be found a few hundred yards away in a little park which is well known to locals, but not to tourists.
3) The Copper Horse, Windsor. One of the highest spots in the area, it is a well known landmark with the famous Long Walk offering a manicured vista direct to Windsor Castle. The final few hundred yards are at a steep angle, and the final scramble to the top is worth resisting the temptation to turn around half way up.
---
21. Sian Anna Lewis
Award-winning travel and outdoor journalist; @sianannalewis
1) Epping Forest – it's hard to believe you're still in London. Perfect for trail running amongst beautiful woods.
2) Regents Park canal – the perfect walk past brightly painted canal boats on a sunny winter afternoon
3) Hampstead Heath – for a view over the city and a swim in the ponds if you feel really brave!
---
22. Tania Bunic
Blogging about the cool London things!; @TaniaBunic
Sorry if this isn't very original but they are really great viewpoints!
1. Greenwich Park
2. Primrose Hill
---
23. Jenni Bowley
London walking guide; @Jennibguide
I do have a favourite walk which contains some of the best views in Central London – a Stroll through time along the Thames, from Tower Hill to Blackfriars.
1) From the sundial on the mound behind Tower Hill tube station – fabulous view of the Tower of London and the sundial itself is worth a few minutes as engravings around the base tell the story of 2000 years in London.
2) From the river walk at Billingsgate: one of my favourite places in the City. From here you see Tower Bridge, City Hall, HMS Belfast and London Bridge – the whole Pool of London with the added bonus of Customs House and Old Billingsgate. Fabulous!
3) The view from the platforms of Blackfriars station (to cheat slightly!). Built across the river, the view at night is especially wonderful. With no Oystercard, stand on the riverbank underneath the bridge.
If I can sneak in an extra stop, it would have to be the view of Shakespeare's Globe and Tate Modern from the north end of the Millennium Bridge!
---
24. Catherine Redfern
1) Seven Sisters, South Downs: incredible chalky undulating cliffs provide an outstanding walk along the South Downs towards Eastbourne. I love the view from Hope Gap, as you approach Cuckmere Haven from Seaford.
2) Devil's Punch Bowl, South Downs: John Constable described the panorama from Devil's Dyke as 'the grandest view in the world'! It's a popular beauty spot for residents of Brighton & Hove; this is accessible on a day hike from London and it's definitely worth visiting. The views north towards are glorious and you have the added bonus of the impressive scoop of the Dyke itself to contemplate too.
3) Devil's Punchbowl, Surrey: Brilliant views north from the head of the punchbowl, a large natural amphitheatre crossed with a myriad of winding sandy footpaths and heather. Combine with a walk along nearby Hindhead Commons and you could be on the North York moors.
---

Click to Tweet: Where are the BEST scenic views in #London? 24 experts share the unmissable viewpoints
---
Permalink | More hiking ideas!
The most outstandingly beautiful places to walk near London #3
When you need to escape the city, where do you head to?
You want to walk somewhere REALLY beautiful.
Somewhere that really makes you feel like you're in the heart of a unique landscape.
The answer?
Try an official 'Area of Outstanding Natural Beauty' (AONB).
There are eight close to London, possible to visit within a day. Wouldn't it make a great challenge to visit each of them?
Over an occasional series of blog posts, I'll be showcasing each one!
Today we are looking at:
No. 3: The High Weald
Here's a taster of what to expect from this AONB, and some 'must do' walks to experience the best of the area.
1. The High Weald AONB is situated between the North and South Downs.
2. The area is a patchwork of small, irregular shaped fields and ancient woodland.
It's considered one of the best surviving medieval landscapes in Northern Europe.
3. Narrow, sunken lanes are a feature of the area; resulting from centuries of droving animals to graze
4. Ashdown Forest is one of the largest free public access spaces in the South East.
It's stunningly beautiful healthland:
'Forest' in this case means a Royal hunting park – not a area covered with trees.
Ashdown Forest is famous for inspiring Winnie-the-Pooh!
5. The High Weald landscape trail is a 90 mile route that covers some of the major features of this AONB.
Some of the route, with a bit of tweaking, is accessible via train stations, from London.
The Vanguard Way also passes through the High Weald and the best of Ashdown Forest on its way from Croydon to the Sea.
6. The Weald includes many natural wildflower meadows:
7. And at the coast, the nature reserve at Rye Harbour is a superb place for bird spotting:
8. Eridge rocks are an interesting cluster of sandstone rock outcrops:
Best walks recap!
---
Sponsors
Escape London - click here now!
Welcome! Do you live in London and love walking? I help frustrated London-based hikers to get out on the hills by providing inspiration, ideas, practical advice and encouragement. Satisfy your hill walking cravings! Read more here

Latest Updates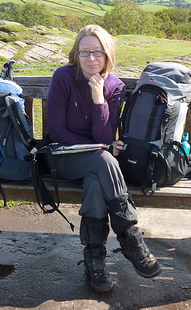 As Seen In: