British Summer Time is here!
We are now in British Summer Time and to celebrate, the annual Walk Your Weekends 50% off flash sale is now OPEN!
If you didn't know already, Walk Your Weekends is my 'flagship' package of weekend walking itineraries, describing exactly how to have amazing weekend hiking trips in the best of Britain's countryside – by public transport from London!
Blink and you'll miss it though: the 50% off annual FLASH sale ends on Tuesday 28th March @ 10pm!
As in previous years, for every sale I will donate £2 to the Adventure Learning Charity Wide Horizons – and here's why:
I can clearly remember the day my son took his first steps outside.
We don't have a garden (a maisonette with a small balcony was all could afford in South London).
So it happened on a trip away. Holding my hand, he tottered, wobblingly, across the soft grass in his new outdoor shoes.
Lately I've been thinking a lot about children and the outdoors.
I was lucky enough to grow up close to the Peak District and Pennine hills. We'd usually go out most weekends for a walk.
So it's really sad to read that:
over 35% of the child population of the UK has never been to the countryside;
with 4 in 10 children living in poverty in London there is a real need for a low cost, safe, outdoor space for children to go. (source: Wide Horizons)
So that's why I've decided to donate £2 for each sale of Walk Your Weekends during this British Summer Time promotion to Wide Horizons who give urban children their first taste of adventure in the countryside.
If you buy it today, you'll not only be grabbing an incredible bargain – because this is a 'blink and you'll miss it' annual sale – but you'll be helping a child have an adventure they'll probably never forget.
If you know Walk Your Weekends is right for you, I invite you to buy it TODAY.
And if you aren't buying, I invite you to consider making your own donation directly to the Charity today –> Wide Horizons
Here's what you need to know about today's FLASH sale:
Walk Your Weekends will be available to buy at 50% only until Tuesday 10pm
That means you can get it all for £23.50 instead of the regular price £47
I'm donating £2 from every purchase made during the sale to Wide Horizons, the Adventure Learning Charity who help deprived urban kids get their first taste of the outdoors.
You get immediate access to all 14 walking guides covering walking trips in the Lake District, South Downs, Highlands, Edinburgh, Peak District, Brecon Beacons, Snowdon, Scafell Pike, and Yorkshire.
Each guide consists of a detailed PDF plus video talk throughs of the route and photos – so it's as if a friend is talking you through the key things you need to know before you head out!
I'll help you choose which weekend to do based on different criteria
You can ask me any questions if you get stuck planning your walking trips – I'll be happy to help you work out a solution to your specific requirements. Basically I can support you by email and answer any questions you have about it.
It's all explained in detail from LONDON and by public transport. So no car required for any of the weekends. I have never owned a car and I've been hiking all over the place.
Each weekend has 2 or 3 day options explained.
Each day's walk has an alternative 'bad weather' walk or activities suggested, escape routes are described, and accommodation and food options explained
BONUS! You get my 3 week Trail Walking for First Timers which will help you plan, organise and prepare for your first long distance trail walk in Britain – perfect for complete beginners who need a bit of motivation to finally do it this year (even if you're a bit scared).
BONUS! You get access to all future updates, revisions and bonus itineraries that are created in future
BONUS! You get my 'Walk Your Weekends like a pro' series which includes video trainings and checklists covering all this: the gear you need to take on a hiking trip; staying safe in the hills; coping with the British weather; an introduction of the different types of maps you can get and pros and cons; my top lessons learned from 10 years of weekend walking; and public transport tips
BONUS! You get The London Hiker 50, my ultimate ticklist for the best walking locations in and around London.
And more BONUSES – click below to see all the details
If after 2 weeks you think it's not right for you I'll refund you 100%
If you've been wanting to go hiking out of London more in your weekends then this is the perfect next step to help you do it – independently.
Thank you for your support – I'll see you on the other side!
Here's to long summer evenings and lifetime memories.
(Remember it CLOSES Tuesday at 10pm.)
Speak to you again soon,
Catherine
Sponsors
Escape London - click here now!
Welcome! Do you live in London and love walking? I help frustrated London-based hikers to get out on the hills by providing inspiration, ideas, practical advice and encouragement. Satisfy your hill walking cravings! Read more here

Latest Updates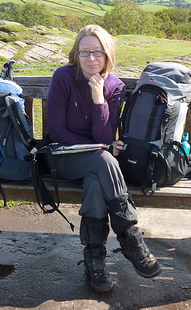 As Seen In: