How to sleep under the stars and be back in the office at 9am
Alastair Humphreys is a best selling author, adventurer and passionate advocate of microadventures. He's recently launched a business taking Londoners out to sleep under the stars, so I asked him for some tips on balancing the 9 to 5 with adventure from 5 to 9.
When we think of the word 'adventure' many people would imagine something involving a lot of time, planning and expense. True?
It can involve all that, but it need not do. My argument is that it is better to do something than to do nothing.
So plan as much as you can, take as much time as you can, spend as much cash as you can. But don't let a lack of any of those things stop you getting out there and doing something.
You advocate wild camping or bivvying. What's so special about it?
Wild camping feels exciting and adventurous – there's a child-like thrill to it which is lovely. It is free. It opens up the possibilities of where you are able to watch the sun come up. And it's so simple.
How does it feel to go into the office after sleeping out in a field?
To be fair, you'll probably not have the most productive day in the office. But, once you've caught up on your sleep and had a shower I believe that the novelty and originality of the experience will add to your productivity and make you feel great.
Can you really find special places to wild camp in the South East?
Absolutely! It's not the Cuillins, granted, but the South Downs, the North Downs, the Chilterns, the Seven Sisters, even the pebble beaches of the Thames Estuary are really beautiful places to watch the sun rise.
What's your favourite place in London and why?
Camley Street Gardens – a tiny oasis of wildness that I escape to after a tedious day of meetings.
What's your favourite place for hiking in the UK?
Either the Yorkshire Dales or the area around Torridon.
What's the biggest tip you'd give to someone sat at their desk right now, feeling trapped?
Don't feel down because you don't have the time or money to go to the Himalayas. Instead feel excited that this weekend, within an hour of the city, you can be on a hill with beautiful views and real peace and quiet. Begin with a day trip, and build up from there. Because beginning is the hardest part of all…
If you want to persuade your boss to hire Alastair to take you and your team on a microadventure, his microad.ventures website has all the details.
---
Alastair Humphreys is a British Adventurer, Author and Blogger. He spent over 4 years cycling round the world, a journey of 46,000 miles through 60 countries and 5 continents.
More recently Alastair has walked across southern India, rowed across the Atlantic Ocean, run 6 marathons through the Sahara desert, completed a crossing of Iceland, and participated in an expedition in the Arctic, close to the magnetic North Pole. He has trekked 1000 miles across the Empty Quarter desert and 120 miles round the M25 – one of his pioneering microadventures.
Alastair has written five books. He was named as one of National Geographic's Adventurers of the year for 2012.
All images and photographs © Alastair Humphreys. Used with permission.
---
Sponsors
Escape London - click here now!
Welcome! Do you live in London and love walking? I help frustrated London-based hikers to get out on the hills by providing inspiration, ideas, practical advice and encouragement. Satisfy your hill walking cravings! Read more here

Latest Updates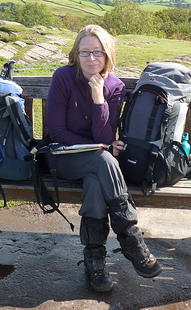 As Seen In: