10 Tips for Organising a Group Hiking Trip
Ever fancied organising a group hike? Graham from Outdooraholics, one of the biggest hiking groups in London, shares some advice based on his experiences of running the club and of being a qualified Mountain Leader.
1. Be clear with people.
Tell them what to do, what will happen, and what to expect. Remember, some people will have never been hiking before.
Things to cover include: the nature of the route; preparations for weather conditions; suitable clothing; food and drink arrangements; how much climbing, scrambling, uphill/downhill walking, stiles (etc) are involved; state of the paths; and estimated timings.
2. Expect the unexpected.
…such as people leaving your group to go into a pub and not telling you… or stopping for 5 minutes to take photos and wondering where you've gone. It happens!
3. Know the route well.
Always pre-walk your route and take note of any potential hazards – electric fences, horses, cows etc in a field, a river that could flood – yes this has happened to us a few times.
4. Learn to navigate with a map and compass.
Even if you know a route, paths can be closed, the weather can be foggy or can turn nasty and you may need to get your group out of danger quickly. If you're taking out a group being able to navigate is essential.
5. Get yourself on an Outdoor Wilderness First Aid course
Having a First Aid kit if you don't know how to use it is like owning a car and never having driving lessons.
Outdooraholics will be starting to run these for people from February 2014.
6. Plan for the weather.
If it's hot people need extra water and can suffer heat exhaustion. Look for the signs which you will see in people's faces. If it's cold, again ensure that people have adequate clothing and look for the signs of people who are suffering.
7. Know your legal obligations.
If you're running a free walk you still have a duty of care to people, but it's much lower.
Once you start charging for a walk and you make a profit then you're running a business and have a far higher responsibility to people.
8. Do some training.
A Walk Group Leader course is a great start – you'll enjoy the course and learn a lot about leading walks, navigation and safety.
9. Organise varied walks.
Some people love walks through rural England, others love hills and mountains with views, some the coastline and some all three. Put on a wide variety of walks to appeal to everyone.
10. Enjoy it!
Leading walks is great fun. You get to meet a wide range of amazing people and enjoy yourself at the same time.
---
Outdooraholics was started by Graham – a very keen hiker and outdoors lover with a lifetime of hiking experience. Outdooraholics was started to share his experience, love, enthusiasm and passion for hiking in the great British Countryside with others. Before starting this he'd been involved with and run day and weekend hiking trips for a number of other established groups from his University Expedition society to an inter varsity (graduate) club through to even national charities like Rotaract. He now has a very active hobby of sharing this hiking passion with others through a large range of fun, exciting and sometimes challenging hiking trips.
Sponsors
Escape London - click here now!
Welcome! Do you live in London and love walking? I help frustrated London-based hikers to get out on the hills by providing inspiration, ideas, practical advice and encouragement. Satisfy your hill walking cravings! Read more here

Latest Updates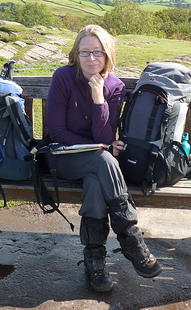 As Seen In: