Review: A-Z Adventure Atlas
The A-Z Adventure Atlas are a fairly new alternative to traditional style folding maps.
They contain 1:25,000 scale Ordnance Survey maps, but in a book format, like the A-Z street map books you're probably used to.
I'll still always love a traditional map, but I have to admit that there are downsides, firstly, there's this whole thing:
[I've been waiting for years for a reason to use that video!]
Many of the new A-Z style map books are extremely convenient and are fast becoming a favourite with me, depending on the circumstances.
In fact I've recommended some of them in my hiking guides as they are sometimes the cheapest and most helpful option.
Take the Lake District for example. The Ordnance Survey 1:25,000 scale ('Explorer') maps annoyingly split the region into four sections, so if you're in the middle of the Lakes you end up having to get at least two, or even all four of them.
In contrast, the A-Z books split the Lakes into two bits: north and south. So one book will usually cover you.
Well, whilst I was updating my advice recently, I noticed A-Z had just brought out some new 'Adventure Atlas' guides, including the Surrey Hills and the Thames Path (they seem to be branching out by doing a lot of the national trails lately).
So I asked for a review copy of both!
General comments about the maps
Format
The books are a slightly unusual elongated rectangle shape. I wonder if this is so that they'd fit inside a pocket easily? Certainly they are slim enough to do so, so that might have been the idea behind it.
The paper is thinner than a standard map so would not stand up so well if it got wet.
If it's raining they'd fit fine into a map case, although depending on the walk you're doing, you'd have to turn the pages more more regularly which could get a bit annoying.
There is a fold out tab at both the front and back with kilometres and miles on it, which is quite handy as you can look at a map with this open and use it to help measure. You can also use this tab as a bookmark to keep your place.
Key to map pages
There is an overview map (key to map pages) at the start which shows the mapped area within a much larger region and enables you to quickly find out which page you need.
This is great to get a good overview of where you are in relation to roads and major towns, which are very clear.
The overview map also shows train lines, although the lines are quite faint, dificult to follow and stations are not always named.
It gives the impression that roads have a priority, and as a public transport user, I'd prefer it if the stations were easier to locate so I can plan my walks more easily.
A few landscape features are labelled on the overview map, but not all; for example, Box Hill and Black Down in the Surrey Hills book. However, again these are quite small and faint and I wonder why some are named and not others. It's no big deal though, as the index lists everything there is to see.
Another thing I would personally have found useful on the Key to Map Pages (overview map) would be long distance trails or routes which cross the area. These are listed in the index, but it'd be nice to see them laid out on the overview.
Features
The map pages flow logically within the area covered from right to left and from top to bottom.
There is an unobtrusive arrow on each page telling you which page to go to next for the continuation.
Each page is split into a grid A-F / 1-6 and also has the national grid reference system references on it too.
Most usefully, there is an index which shows the page reference and the grid reference of each landscape feature or place.
Surrey Hills A-Z Adventure Atlas
This covers an area south of London and north of Crawley/Horsham, and covers countryside around (moving from west to east) Farnham, Haslemere, Godalming, Guildford, Dorking, Reigate, Coulsdon, Caterham, Warlingham, Biggin Hill and Oxted.
This covers an area overlapped by four equivalent Ordnance Survey Explorer maps (although these four obviously cover a much wider area in total).
The Surrey Hills book covers the first four days of the North Downs Way, from Farnham to Oxted. It also covers eleven walks in volume 1 of the Time Out Book of Country Walks and four in volume 2 (although I have not checked to see whether the entire route is caught within the boundary of the map in every case).
Unless they've updated them lately, the maps in the Time Out Book of Country Walks are incredibly basic and pretty useless for navigation, so the A-Z would be a huge bonus to use alongside the Time Out books.
In fact, just being able to see where you are in relation to the countryside around you (especially if you want to adjust your walk, visit other villages or veer off the route) would hugely improve the experience of the Time Out walks.
Amazingly, apart from the North Downs Way there are 15 other long distance trails which criss-cross this area and these are listed in the index (the Downs Link, London Loop, Downlands Circular Walk, Tandridge Border Path, Vanguard Way, Fox Way, Mole Gap Trail, Thames Down Link, Greensand Way, BLackwater Valley Path, Wey-South Path, Sussex Border Path, Pilgrim's Way, New Lipchis Way, and the Serpent Trail).
But most of these trails are only small sections.
Apart from the North Downs Way, the only other trail I'd say this book would be useful for is a long section of the Greensand Way, which starts in Haslmere and goes as far as Oxted on this map.
VERDICT: Overall I'd say this guide is a really excellent buy, especially if you live in in South London. It covers a useful area that you'd have to get four traditional maps to cover, and contains a lot of useful walking areas as well as part of a National Trail.
What's more, if you have the Time Out Book of Country Walks, or if you fancy doing some walks along the North Downs Way, you'll get at least 19 days of walking out of it, and that's before you start inventing your own routes.
Thames Path A-Z Adventure Atlas
The Thames Path was recently voted one of the best city hikes by Lonely Planet.
The Thames Path A-Z book has the same format as the Surrey Hills book, but obviously it covers the route of the Thames Path, from the source of the Thames to the Thames barrier, rather than a specific regional area.
Unlike some other guides to the Thames Path (such as the Aurum Press official guide), the A-Z guide does not cover the Thames Path extension from the Thames Barrier to Crayford Ness. The exension is not part of the official trail but is an optional extra if you're really keen (although to be honest I don't think you'd be missing that much if you didn't do it…)
The A-Z book has the same features (index, etc) described above but also has the rather nice addition of a page showing the River Thames locks.
It also has a route planner, showing the distances between locations (going in both directions!) and the main villages and towns along the way with their facilities.
This shows villages that are off the route but close by and the distances to those, which is really handy too.
This book obviously just contains the maps and does not contain any description or historical information, unlike other guides to the Thames Path. However, it does show a wider section of map for the area you are walking through, which is quite nice.
For comparison, The Aurum Press official Thames Path guides (which I have been using lately) now split the trail over two books: city and country.
In the Aurum city book (called 'The Thames Path in London'), the map scale is more detailed even than 1:25,000, so it shows all the street / road names. The maps in the Aurum 'Thames Path in the Country' book are at 1:25,000 as the walking is more footpath based.
In contrast, in the A-Z guide, everything is at 1:25,000.
This means that in the city section, you do not get road / street names shown, and also not all the train/DLR/tube stations are labelled.
The index to the Thames Path A-Z Atlas does not index street names, only key features (such as docks, bridges, parks etc).
This is just a consequence of having everything at 1:25,000 and is not a problem for navigation – it's pretty hard to get lost on the Thames Path after all!
It's also quite nice to see the whole of the Thames Path route at the same scale, so you can flip through and see the progression from city to country.
Nevertheless, if you are walking in the city and using this A-Z, you may want to take a street map with you.
VERDICT: If you're going to do only the city section of the Thames Path (from the Thames Barrier to Hampton Court), I'd probably recommend that you get a guide book such as the Aurum Press 'Thames Path in London', which has street/road names labelled and detailed information about the areas and sights you pass through.
However, if you're going to do the whole Thames Path route, and need a handy, slim map to take, and aren't bothered about descriptions, this is a great option.
Sponsors
Escape London - click here now!
Welcome! Do you live in London and love walking? I help frustrated London-based hikers to get out on the hills by providing inspiration, ideas, practical advice and encouragement. Satisfy your hill walking cravings! Read more here

Latest Updates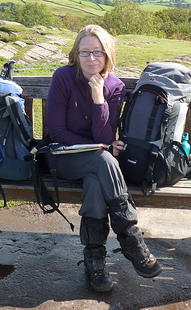 As Seen In: