How to experience London's parks as you NEVER have before
Let's start with a question:
How do you get more fresh air into your life whilst living and working in London?
When you think you've heard it all, somebody comes along and really surprises you.
I'm so excited that he's let me share his project with you.
---
A surprising fresh air fix in Zones 1-3
This is Trefor Jones.
He likes to spend a lot of time outdoors.
But after his epic holidays were over, London life seemed a bit mundane:
So one September he decided to set himself a challenge.
He decided he'd sleep out in London's Parks and green spaces.
He says, somewhat modestly,
"This was a little project I set myself to give me an outlet of excitement, thrill and challenge; an alternative to escaping the city when I couldn't"
But Trefor doesn't do things by halves.
He'd not just camp in the parks, but bivvy:
…or hammock:
And he'd spend not just one night in the open air, but EVERY NIGHT IN SEPTEMBER.
Yes, that's 30 nights sleeping outdoors in London's parks and green spaces.
Whilst still working full time, and commuting.
The rules for the project were:
1. Parks/green spaces had to be in travel zone 1-3
2. He'd sleep in 6 of 8 Royal Parks
3. Parks were chosen by a random draw from the master list each week.
4. No return once a park had been 'done'
About once a week he was joined by friends:
As you'll see in the video below, it was certainly a varied experience.
Sometimes sleeping in cemeteries, dodging dog poo and heavy downpours; sometimes sleeping by herds of deer, and witnessing spectacular dawn views.
Sometimes solving conundrums like: where do you bivvy when the park looks like this?
But mostly, finding a surprising peace and tranquility in the middle of the city.
Watch his fantastic film 'A September to Remember' here:
A September To Remember – 30 Nights: London from Trefor Jones on Vimeo.
I asked Trefor a few burning questions.
1. I'm guessing you were no stranger to bivvying before trying out this challenge. What previous experiences did you have sleeping outdoors?

I've been doing it for ages. Firstly with tents, then moving onto bivvying in the past few years. It's always exciting and a bit of a challenge but actually bringing it to my front doorstep was a completely new approach in itself.
2. How long have you lived in London?
I've been living in London for the past 4 years. From day one, I've always been astounded at how green it is and how much is on offer. Green space, and room to breathe were a big thing for me when I first moved up, and I think, the idea of not having that, had put me off living here for quite a while before I made the leap. It's amazing what you can get out of a capital city.
3. Is it.. you know… legal to bivvy in the Parks? Did you get anyone trying to move you on?
I've never been one for small print, which actually usually works out all ok. I know there was some potential red tape around the Royal Parks. That's why I thought it best to complete them all, so no one felt left out. And funnily enough, no one ever moved me on. The worst I ever got were a few confused, or maybe just friendly, dogs sniffing around me, whilst their owners were completely unaware.
4. I think most people would immediately think about safety. Did you have any fears before starting and were there any times you felt in danger?

There's always a fear that comes with sleeping out in a bivvy as you are so exposed. Though I was sleeping in parks and green spots across inner London, it wasn't much different than when I'm sleeping out in a National Park or in a forest. It's usually the case that any fear or sense of danger is all in your head, I find. The cemetery was pretty scary mind, I'm glad I had a couple of friends join me that night.
5. Practicalities! What did you do about calls of nature, showering, commuting, and clean clothes?
There were some logistics to work out of course, especially as I was still working my 9-5 Monday to Friday job alongside doing this. I had a stash of pants and socks at work and luckily there's a shower there too, so my colleagues didn't have to suffer. As I was getting up with the sun very early each day I would often have time to mission back to mine, dump my stuff, have a good scrub and roll into work on time, looking like I'd been tucked up indoors all night. Little did they know…
6. Homelessness has been rising in London over recent years. Did you encounter many people sleeping outside in the parks?
This is always a question I get asked. I only had one encounter with a homeless person in the whole of the 30 nights, which is surprising when you think of the numbers in London.
7. What was the worst thing about bivvying in London parks?
I honestly don't have any bad things to say about it, but getting dog crap on your boot and discovering this just before getting into the bivvy at night was pretty grim. Still this only happened 3 times so that's not too bad really when you think about it. Peckham Rye Common was a nightmare to bivvy out on. Ended up buried in a big clump of nettles for the night. Was interesting waking up in there.
8. What was the most surprising (or the best) thing about bivvying in London parks?
It was this incredible sense of space, and freedom to breathe and process even though you're in a city of millions. That was the most remarkable thing I guess that you could achieve that peaceful isolation in these places. It certainly has made me even more grateful for how green London is and opened my eyes to having adventures closer to home when you can't get away in the middle of the week.
10. What's your next challenge?
There's a bunch of ideas floating around in my head, and some exciting trips outside of the city coming up, but something I started a few weeks back and would like to see the completion of is doing the London Loop walk around Greater London, doing it after work and under the cover of darkness. 'Night Rambles in Suburbia' I'm calling it. It's a different approach to long distance walking and something fun to do with your evening during winter. I guess I'm refusing to get restricted by what season we're in and how many daylight hours we have at our disposal once we've finished work. It's also another adventure close to home, and another look at what's right here on our doorstep.
---
Trefor Jones
is "a happy Welsh Essex chappy, with a passion and thirst for escape and adventure. Long distance walking and bivvy bed downs are my two favourite things right now. Have completed 12 of Britain's National Trails, leaving 7 yet to be explored. Love to get out into the middle of nowhere whenever I can but keen to explore and utilise what lies on my doorstep also. I recently experimented with my home of London City by sleeping outdoors each night of September in its many parks and green spaces. Slowly building a bivvy army; my Dad, a work colleague and girlfriend enlisted so far."
Follow Trefor at his blog The Boney King of Nowhere, Vimeo or Twitter.
Please let him know if you enjoyed his video!
(All images apart from title image copyright Trefor Jones, used with permission)
---
Sponsors
Escape London - click here now!
Welcome! Do you live in London and love walking? I help frustrated London-based hikers to get out on the hills by providing inspiration, ideas, practical advice and encouragement. Satisfy your hill walking cravings! Read more here

Latest Updates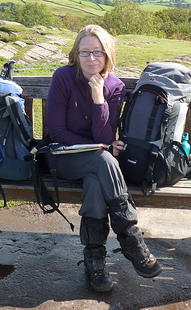 As Seen In: