The best book for day walks from London
Looking for day walks for London?
In this video I share with you the single best book you can get for day walks from London:
This is the number one resource I know of for day walks outside of London in the surrounding countryside. It's the book I wholeheartedly recommend if you want to go on day walks.
You don't need a car!
You don't need to take a packed lunch as all the walks go past a cosy country pub AND a tea shop!
You don't need to buy a map; the instructions are incredibly detailed!
You can walk on your own or do these walks with groups if you want to!
You don't even need to BUY the book because you can access all the contents for FREE online! (I'll tell you how below)
One point to note: the edition I have in the video is now very out of date. The new edition is much glossier with nice colour pictures in – and you can browse the ENTIRE book on Amazon using the 'Click to Look Inside' feature.
There are actually two volumes of this book, I think the first is the best, but both are good:
How to access the information for free
Here's the website which has all the walks in the books plus many, MANY more for FREE, as well as incredibly detailed maps showing walks and hill summits in the surrounding areas > Saturday Walkers' Club
They also run the Saturday walking club which does walks from the book following a pre-planned schedule. It's informal, there are no leaders, just turn up and meet fellow walkers if you like!
BONUS TIP 1: If you plan to do any of the walks on your own – rather than with the club – it's a good idea to check their planned walking schedule to avoid accidentally tagging along behind a big crowd on your walk.
BONUS TIP 2: If you have the book, always check the website version of the walk to see if there are any changes or problems with your walk before you head off!
Sponsors
Escape London - click here now!
Welcome! Do you live in London and love walking? I help frustrated London-based hikers to get out on the hills by providing inspiration, ideas, practical advice and encouragement. Satisfy your hill walking cravings! Read more here

Latest Updates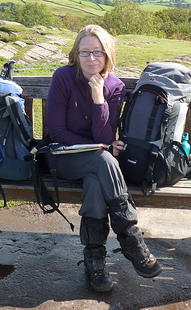 As Seen In: