Hiking with toddlers

Struggling to combine parenthood with the outdoors? In this guest post Gilad Nachmani from Outdoors Father shares two of his best kit recommendations for hiking with a toddler.
---
Having a family is a true joy and a constant struggle. I guess as a whole being a parent is the best thing ever, maybe even more than being outdoors – and this is where the problem starts. How can a normal outdoors-loving person do so even while being a parent?
I've struggled with it for a bit, but from day one (or maybe earlier) I knew my child will be with me outdoors, one way of another. At the beginning it is simple – they mainly eat, sleep and need changing. Most of the time a front baby carrier does a perfect job and not much is needed (especially if the mother is breast feeding and walking with both of you!).
The big problems start as they become older – they start being interested in what is around them, want to walk and sleep is no longer the main activity. How can you be outdoors, even hike, in such conditions?
There probably are as many recommendations on how to do hike with toddlers as there are parents (or indeed toddlers), but I found that having only 2 bits of kit makes my hiking life, and my daughter's experience much easier: a fully featured backpack carrier and a folding changing mat.
Everything else you already have – food, toys clothes, they are all there whether you are home or outside. Oh, the joy of those two little (or big!) items. One of them is very obvious and one is less so.
1. Backpack child carrier
You might end up carrying your child while walking outside more than anything else in their first few years. Walking is tiring, and for little legs even more so. Carrying makes it even more appealing for the kids – they get to see it all from our point of view – the adults' perspective – and they love it!
And indeed carrying heavy loads on our back is almost second nature for outdoor enthusiasts. From heavy expedition bags, climbing pack loaded with kit, or even lifting our bike up an impossible pass – so a baby should be easy in theory!
We are using the Deuter Kid Comfort 3, my personal favourite for years and was my standard present for several hiking friends who had kids, so now it is for me! For full disclosure – I bought mine from the distributor at half price as I work in the outdoors industry, but I still paid for it. They are expensive, but you can always pick one second hand in great condition.
There a few carriers out there by a variety of companies, but I recommend getting one made by a backpack company. They tend to already have a good back suspension system and a proven track record of materials and features. Companies such as Deuter and Osprey have a few models to choose based on the offered features and the quality of the suspension system.
Also make sure the features include a decent sized pocket to carry all those extras you'll need for a small child.
If possible – buy one in a shop rather than online. Not only will you support a local business (search a good friendly independent store), but they will also help you fit the carrier properly. If you do go to a local store and decide to buy somewhere else (like on-line), please buy something from them, as you just cost the store some valuable knowledge that they shared with you.
2. Folding changing mat
We got ours (Baba Bing Flip Out Changing Mat) very early in our daughter's life and it allowed us to be outdoors all the time. This is not an outdoors item, but has proven itself many times on muddy woodland ground, sandy beaches, rock cliffs or just the floor of a brewery. I really recommend getting one early on, as the child gets used to be change on it and it is not an issue.
Choose a robust mat that will be able to sustain abuse (as all outdoor gear) and that has a host of pockets and features. The Baba Bing mat has 3 pockets (with labels showing what each are for), 3 panels that are big enough to protect a child from the floor and, my favourite, a Velcro strap to hook on the belt (when manoeuvring through doors, or branches).
How to use those magical items?
First and for most – go outdoors. No point in having gear and let it rest at home. Find a local place (or a very far one) and just get going.
Second, remember that your child needs to be able to sit independently for such a carrier. Make sure you fit everyone properly and get into a slow introduction program with your child. Increase time and distance slowly.
Last, but by all means not least – have fun! Don't force either yourself or your child, but also give it a good effort. You can keep enjoying the outdoors while being a parent.
---
This is a guest post by Gilad Nachmani from Outdoors Father.
Being a father doesn't mean you have to stop being an outdoors guy, but it also doesn't mean leaving your family every weekend and running to the mountains. Being an Outdoors Father is about balance, enjoying both loves – your family and the great outdoors.
Whether you are going solo or taking your family outdoors, at Outdoors Father you can find my tricks to doing it – being that outdoors guy you don't want to lose (and not feel guilty about it) while still being a great father and (hopefully) a good husband.
Photographs are copyright of and used with permission of Gilad Nachmani.
---
Sponsors
Escape London - click here now!
Welcome! Do you live in London and love walking? I help frustrated London-based hikers to get out on the hills by providing inspiration, ideas, practical advice and encouragement. Satisfy your hill walking cravings! Read more here

Latest Updates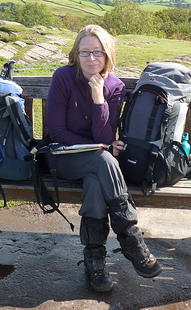 As Seen In: