A London to Scotland microadventure
How cool would it be to fall asleep in London and wake up in the Scottish Highlands, have an incredible hike and return back just a couple of days later?
That's what Ben Horne (@HorneBenjamin) and Dave Gamble (@DTGamble) decided to do one February.
They embarked on a quick microadventure (a term popularised by Alastair Humphreys in his book, Microadventures: Local Discoveries for Great Escapes
).
It turned out to be pretty epic.
Here's how it went down…
When you're leaving London for an adventurous weekend, you can't help but grin:
Of course, for this microadventure, you'll need your train tickets.
And off they go onto the Caledonian sleeper train… destination: Fort William.
Waking up to views like this make a less than perfect night's sleep worth it.
Checking the route. Hmm… are you sure this is a good idea?
Finally off the train and walking in the Scottish highlands.
Crossing dubious bridges.
Crossing icy rivers in unusual ways.
You don't get anything like this in London.
Luckily, these guys are well prepared.
But then… disaster strikes. Yes, that's a waterlogged compass.
Maybe the lack of a working compass is why they thought this was a good idea?
And at the top, you've got to celebrate.
Watch the full video here:
I asked Ben Horne a few questions about his epic trip.
1. You went to Fort William on the sleeper train. Have you done this before & did you actually get any sleep on it?
I hadn't used the sleeper train to Fort William before, but found it to be the most convenient way to get to our final destination. Leaving London Euston at 23.00 to then wake up in the morning in Scotland raring to go is ideal, and helps extend the length of the adventure. However, I'd recommend trying to get a bed rather than sleeping in the seated area (if you can afford it); the lights are never switched off when seated, and if you're tall (like me) it can be difficult to sleep in that position! My friend Dave slept well lying down under the seats though.
2. Where did you hike on your microadventure? Did you have a particular goal for the trip, and did you achieve it?
The area we wanted to explore was near to Kinlochleven, just over an hours' bus drive from Fort William. Our end goal was to get as far away from the hustle and bustle of London life, and be in a totally isolated environment. We were aiming to stay at a bothy, which we had previously scouted the location of on an online forum. A broken compass meant that plans changed and we slept out in whatever shelters we found. We managed to cram in some indoor ice climbing at the Ice Factor in Kinlochleven at the end of the trip.
3. How many days was your trip?
We left London on Thursday night, and returned in time for work on Monday morning, so it was 3 days and 4 nights total. This was at the end of February, so that we could catch the end of the winter snow.
We had timed the sleeper train so that we could go straight to work from the station (albeit looking a bit weathered).
4. What were your thoughts when your compass broke… in winter conditions in the middle of the Scottish highlands?! How did you manage?
We realised that our compass had broke near the end of the first day's hike, after clocking that we were nowhere near where we were supposed to be. A mixture of poor conditions, tiredness and lack of distinct features on the map forced us to realise that we must of taken a wrong turn early on. Saying that, we stuck to the valley we were in and always had a good idea of where we were in relation to Kinlochleven.
Our first thought was to find shelter ASAP, because the weather was closing in and we no longer knew where we were in relation to the location of the original bothy we were aiming for. We were too far from Kinlochleven to head back, so our options were to try and dig a snow hole, or press ahead to see if we could find some shelter. After deciding to go for the latter, we luckily chanced upon a small stone shed next to a reservoir before it got dark. Unluckily, it was filled with rubbish, had a steady stream of water running through it (we were above the snowline for most of the hike) and was so small that we essentially had to sleep on top of each other. An estate agent would have described the space as "cosy".
This is the shelter we stayed in:
Despite the rain, we got a strong fire going, and after ploughing through several packs of instant noodles, I whipped out a small bottle of whisky so we could enjoy a few drams before bed.
5. Have you done any other microadventures from London?
We've both separately gone on other microadventures (Cornwall, Peak District, Lake District etc), using London as a base to escape from, but this was the first time we decided to capture the journey through video as a pair. Dave recently moved to Inverness to begin his first year as a doctor, so I foresee many more trips to be had up there.
6. The conditions were pretty hairy (some of those river crossings gave me the shivers)… but you both seemed pretty well prepared and experienced. How do you keep up your mountain skills whilst living in London?
We both grew up in the countryside and are very outdoorsy people, which I think helps when faced with miserable conditions – a positive attitude can go a long way. Dave is the more experienced mountaineer, and has spent many weeks climbing in a variety of conditions and regions across the world. Watching "Bear Grylls: Born Survivor" when hungover on a Sunday also helped… I'm sure…
(All images apart from title image copyright Benjamin Horne, used with permission)
Sponsors
Escape London - click here now!
Welcome! Do you live in London and love walking? I help frustrated London-based hikers to get out on the hills by providing inspiration, ideas, practical advice and encouragement. Satisfy your hill walking cravings! Read more here

Latest Updates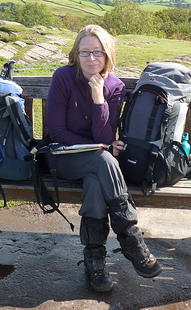 As Seen In: