Focus on… Constable Country
Steve Hallam introduces us to 'Constable Country' in North East Essex. It's an area of the country he knows well – and he gives details for a two day walk accessible by train from Liverpool Street.
Why should Londoners visit Constable Country (North East Essex)?
This question is a double-edged sword for us – why risk spoiling this delightful and quietly overlooked backwater by publicising its special attractions? Only 50 minutes from Liverpool Street, or 35 minutes from the M25, the sweeping valleys (did you know that the part of the Stour valley is an Area of Outstanding Natural Beauty?), broad estuaries, many nature reserves and hidden architectural gems all mean that this is an area that repays patient and reflective exploration.
It is the place that inspired John Constable to put brush to canvas. There's plenty of good pubs, too!
What's special about Constable Country (North East Essex) in terms of hiking and scenery?
The specialty of this area without doubt lies with its rivers and their valleys. Broad sweeping vistas, with a perhaps surprising degree of pasture and woodland, provide a gentle, understated but always interesting and pleasurable perspective. Insignificant watercourses turn suddenly into magnificent tidal estuaries on a grand scale, many of which provide miles of remarkably remote walking.
One of the special attractions of Essex and Suffolk are the architectural jewels of ancient halls, farmhouses, hamlets and villages tucked away throughout the countryside – sometimes accessible only to the country walker. Throughout the area a dense network of paths means that walkers can flexibly plan expeditions to suit your time, stamina and interests.
For the walker who is interested in wildlife we can provide interest all year round – waders, wildfowl and thrushes in the autumn and winter, Nightingales and warblers in the spring, and butterflies and wild flowers in the summer.
And finally, and not to be under estimated, we have the lowest rainfall in the country – lower, even, than Jerusalem. Who wants to walk all day in the rain?
How can Londoners get to Constable Country (North East Essex) by public transport?
This is one of the great strengths of the area. For most of any day there is a minimum of four trains per hour from Liverpool Street to Colchester, with nearly as many to Manningtree and Ipswich. There is also a good service from Stratford, for connections from all of the east side of London.
At the time of writing a return fare from Liverpool Street to Colchester, going out on Saturday morning and returning on Sunday evening, and booked one week in advance, would be about £16.
There are also five National Express coaches a day from London Victoria to Colchester, and four to Ipswich.
At the time of writing a return fare from Victoria Coach Station to Colchester, going out on Saturday morning and returning on Sunday evening, and booked one week in advance, would be about £26, according to the National Express website.
What's the best walking weekend in the area?
My suggestion for a lovely two day walk, taking in some of the best scenery in the area, potentially staying at a fantastic gastro-pub overnight, and without the need for a car, is to walk from Colchester railway station to Manningtree station via the Colne valley, the Woodland Trust's Fordham Hall estate, a hill (yes, in Essex!), the Stour valley and the heart of Constable Country. In total the two day walk is around 20 miles long and none of it involves any urban mileage.
Details of the route, along with places to stay and things to see, are in this PDF I've prepared:
Download the PDF route details here
(Note: this walk has not been checked by londonhiker.com – follow instructions at your own risk)
You will need to OS Landranger map 168 for Colchester; or the OS Explorer maps 184 (Colchester) and 196 (Dedham Vale).
The Google map below shows points of interest and where the various accommodation and pubs are located. Click the coloured pins to bring up the details.
To see the map in a larger window, click on the little square in the top right hand corner.
Where can people find out more about hiking in Constable Country (North East Essex)?
Good sources of information are:
---
Steve Hallam has lived in Colchester for over 25 years and has spent much time exploring the area and its wildlife. He is keen to share this interest with others. So he has developed an app which helps the non-botanist to identify wild flowers and berries, and then read fascinating facts about what they have found. "It's all about enjoying country walks more."


The app, called Naturetale, is currently available for the iphone and ipad (with an Android version coming shortly). More information can be found at www.naturetaleapp.com The app can be downloaded from itunes.
All photographs are copyright of and used with permission of Steve Hallam.
Sponsors
Escape London - click here now!
Welcome! Do you live in London and love walking? I help frustrated London-based hikers to get out on the hills by providing inspiration, ideas, practical advice and encouragement. Satisfy your hill walking cravings! Read more here

Latest Updates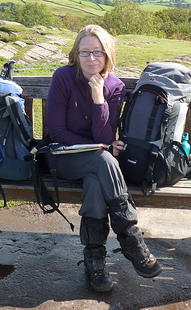 As Seen In: