Focus on… Dartmoor
Dartmoor National Park in Devon is full of atmosphere, from its peaty moorland, mists and mysterious tors to its traditional cozy pubs.
I came across Dartmoor's 'Two Blondes' on Twitter, and soon discovered they know the area extremely well; so I asked them to tell us more.
1. Why Should Londoners Visit Dartmoor?
Some might suggest that it would be ridiculous to recommend a place on the basis of its smell; but that wet, peaty aroma is always what we notice first about Dartmoor when we step out of the car. Dartmoor, whatever the weather (and we get it all here) smells amazing – it smells of freshness, it smells of adventure and smells of your cares melting away. So when you do come to visit and we certainly hope that you will, take careful note of the smell and then we will allow you to have a good look around you.
Once you have smelt and seen Dartmoor, our work will be done and you will be hooked; you had better make friends with the locals, choose your favourite café and find your secret wild camping spot because we can guarantee that you will be coming back.
Dartmoor hiking can be done on so many levels that it has to be almost the ultimate hiking playground. With 368 square miles of moorland and 450 miles of public rights of way to choose from, it has something to offer everyone from the relaxed walker to the ultra fit mountain marathon runner. You could take a leisurely 'Blonde Bimble' (one of our signature organised rambles), for example, from Cold East Cross – SX 741743 to Buckland Beacon – SX 735731. You could do a day walk South from Princetown to see the spectacular stone rows and cairns at Drizzle Combe – SX 592670 (yes it does drizzle there but you get amazing rainbows) and back through "War Horse" film locations. Or if you want a whole weekend out in the wilds and some decent hills to climb; you could walk from Okehampton in the North to Ivybridge in the South, camping wild on the way.
2. What is special about Dartmoor in terms of hiking and scenery?
Dartmoor is special in so many ways, we have tumbling rivers (some with stepping stones), rugged granite tors, rare flora and fauna, bogs (these are always good for a laugh) – the list is endless.
One of the best thing about Dartmoor is its history – it has been used by people since the early Bronze Age and has the largest concentration of Bronze Age remains in the UK. You can see evidence of this occupation all over the moors in the form of kistvaens, cairns, stone rows and menhirs (full marks if you know what all of those are).
Dartmoor also has a more modern history of tin mining and you will see evidence of streaming and deeper mines as well as rabbit warren systems that were built to help feed hungry miners. If history is not your thing, please don't worry, the moors are wild as they are historic and all visible remains enhance rather than detract from the landscape.
All of this occupation has led to Dartmoor being the most exciting place for a bit of map and compass (or GPS if you insist) navigation. It is hard to go on a walk without seeing a map feature that demands investigation. If you want a navigation challenge then this is definitely the place for you. Dartmoor's wild landscape can confuse the most excellent of navigators, if you have found your way around the Lake District successfully then see how you get on with our place, it is very different.
If fresh air, nature, history and navigation challenge are not enough to tempt you to Dartmoor then it might be a good idea for us to point out that Dartmoor is the only place in England where you can legally wild camp. There are a few sensible restrictions, but there is nothing on this earth like setting up a temporary home away from everything with just the stars, sheep and ponies for company.
3. How can Londoners get to Dartmoor by public transport?
Hopefully by now, we have persuaded you to come and visit and you are already packing your waterproofs (sorry, you are likely to need them) map (OS OL28) and compass. Dartmoor is probably easiest to manage by car but we do love visitors who use public transport and it is not impossible to do. Our suggestion is to head for Princetown which is mid-moor, has a choice of accommodation, two pubs and is accessible to a whole range of walking opportunities.
You can get a direct train on Friday lunchtime from Paddington through to Plymouth (about three hours). From Plymouth, if you are there before 16.30, you can get a bus to Tavistock and transfer to another bus which will get you into Princetown for around 18.30. This is the perfect time to arrive and head over to the Plume of Feathers for a pint of Jail Ale, brewed just down the road and delicious before or after a long walk.
4. Best weekend?
For your weekend's entertainment, there are a host of walking opportunities. One of our favourites is the Drizzle Combe walk mentioned above but you can also make your way out towards the stunning views of Plymouth Sound that you get from Cox Tor – SX 531762 which is 6km of lovely walking from Princetown.
If you want a flatter and more accessible walk then the old railway line towards King's Tor and beyond to Ingra Tor is a great option – a safe route but you still get that mid-moor feeling. If you want more ideas for walks, pop into the High Moorland Centre (you can't miss it) and ask for advice, you can also check the weather forecast there.
There is are a variety of accommodation options in Princetown from a campsite, bunkhouses and bed and breakfast. We have tried most of them and enjoyed all of them so are not going to recommend one but there is one place that all walkers must visit and that is the fabulous Fox Tor cafe. Be warned, you won't get a meal there after about 5 in the afternoon but their breakfasts are fabulous and they will also do you a tasty packed lunch should you want one.
(Gentle Warning: Dartmoor is a wild environment that can be dangerous if not treated with respect. Please don't go out walking without spare and wet weather clothing, a map and compass and a charged mobile phone. A First Aid kit and survival bag are also recommended. If you are not a competent navigator, try to stick to well trodden routes (you will still enjoy yourself) and leave your route with someone sensible. Should you require help while out on the moors, dial 112 or 999 and ask for the Police who coordinate all Search and Rescue and Medical Evacuation situations. This video will give you more information.)
5. Where can people find more about hiking in Dartmoor?
There is a wealth of information about Dartmoor available on the internet but the two websites that we use the most are:
The National Park Authority website – or Twitter – @dartmoornpa (for general information)
Legendary Dartmoor – or Twitter – @dartmoorlander (for legends, history and stories)
---
Who are the Two Blondes?
Well we can't tell you that because it is a secret but we both love Dartmoor, live nearby and spend as much time as possible walking, exploring and drinking cups of tea up on the moor. We write a blog about all things walking and Dartmoor – twoblondeswalking.com and use Twitter for general chatter – @BlondesTwo. At the beginning of the year, we set ourselves the challenge of writing a blog post for every day of 2013 (going well so far!)
We are both qualified Walking Group Leaders and a lot of our spare time is taken up training youngsters in navigation and expedition techniques. We work particularly with Ten Tors and Duke of Edinburgh groups. As well as this and the day jobs, we sometimes find time to organise "Blonde Bimbles" with like minded adults so watch our Twitter or Blog space if you fancy joining in. Please be warned, both Blonde One and Blonde Two are a bit on the silly (Blonde) side, feel that all walks should have an element of fun and see mascara as an essential element of any walking kit.
If you would like any more information about the Two Blondes or need a guest blog post or article writing then feel free to get in touch – [email protected] – we look forward to hearing from you or maybe even bumping into you out on Dartmoor.
Sponsors
Escape London - click here now!
Welcome! Do you live in London and love walking? I help frustrated London-based hikers to get out on the hills by providing inspiration, ideas, practical advice and encouragement. Satisfy your hill walking cravings! Read more here

Latest Updates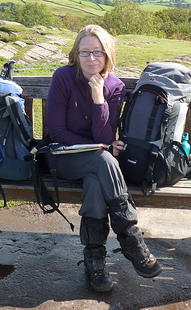 As Seen In: