Focus on… Northumberland
In our continuing series suggesting areas of the UK to go hiking, Patrick Norris and Louise Almond-Norris from 'Footsteps – walking the beauty of Northumberland' introduce us to this stunning part of north-east England.
If you really want to get away from the crowds and see the stars as they were meant to be seen, this is where you should head.
Make sure you read the wonderful 'best weekend for Londoners' suggestion below. It sounds so fantastic you'll be booking your tickets before you finished reading this post!
Auchope Cairn on the Pennine Way
1. Why should Londoners visit Northumberland?
Imagine hiking high in England's remote Border hill country, less than four hours away by train from London.
You've covered 19 kilometres (11 miles), hiked across and then back again over the English/Scottish Border and stepped out along the Pennine Way.
You've been out for 6.5 hours and you've crossed paths with just six people.
Well, that summarises a recent walk in the Cheviot Hills in the Northumberland National Park, often described as the most tranquil place in England.
So, if you enjoy hiking, then Northumberland really is a great place for Londoners to get away to. It's a place where you will find solitude and some outstanding countryside.
Roads don't traverse the National Park valleys; they stop abruptly at the head of the valley, so there isn't much to disturb the tranquillity. Shepherds on quad bikes is about as noisy as it gets, otherwise all you can hear are the sounds associated with the hills and the valleys in this remote and beautiful landscape.
Mike Carter in his book 'One Man and his Bike' describes riding a bike in Northumberland as 'like cycling through your own Arthurian legend'. Well, you don't have to be riding a bike, to enjoy the sentiment, it is an excellent description of the remarkable Northumberland Coast, where castles appear on distant horizons, some complete like Bamburgh, others like Dunstanburgh, a ruin since the mid-1400s. Each adding something to the natural drama of a coast designated as an Area of Outstanding Natural Beauty as long ago as the 1950s.
Lindisfarne Castle
In between the Northumberland Coast and the National Park is a dynamic, busy and historic countryside, dotted with market towns and villages. History has left its mark here too, Alnwick Castle, the stronghold of the Percy family in Northumberland is here. There is Chillingham castle, perhaps the most haunted place in England and home to the very special Wild White Cattle.
Wooler, a small market town on the northern edge of the National Park is an ideal centre from which to explore the Cheviot Hills, the Northumberland Coast and the countryside between the two.
Rothbury, another market town on the south eastern edge of the National Park is a great base for hiking. The famous Simonside Ridge and the hills and valleys near Alwinton are simply stunning places to go hiking. Kielder Forest and Reservoir are close to Rothbury, with a range of attractions, including that special dark sky status, where you really do get to see the stars; it's quite extraordinary.
You can walk in the footsteps of the Saints, following St. Cuthbert's, or St. Oswald's Way. At St. Cuthbert's Cave, the legend tells us, that this is where the monks fleeing Lindisfarne, as the rampaging Vikings stormed ashore in 875AD, rested on that fateful night with the body of St. Cuthbert. His body would end up some 80 years later at Durham Cathedral, where it still lies. St. Cuthbert's Cave is still a place of Christian Pilgrimage today.
Hadrian's Wall is a huge draw for hikers; it is rightly recognised as a UNESCO World Heritage Site of huge importance. The Wall lies along the southern edge of Northumberland and the northern edge of Cumbria and it does not, as many like to think, mark the Border between England and Scotland.
College Valley
2. What's special about Northumberland in terms of hiking and scenery?
The Northumberland Coast is flat; there are none of the steep hills along this coast like the ones you find in Devon, Dorset and Cornwall, just long sandy beaches, rocky coves and headlands and a sequence of villages to explore along the way.
The hiking though is excellent, there's always a castle to draw you onwards and places to stop like the delightful Ship Inn in Low Newton, which brews its own beer, and is located in a charming square of former fishermen's cottages.
The hustle and bustle of Seahouses hides an old character; it has a harbour where boats take visitors to the remarkable seabird and seal colonies on the Farne Islands and Seahouses is the true home of the kipper.
At Swallows Fish & Smokery, you can buy this local delicacy fresh out of the smokehouse.
Beyond Bamburgh with its mighty Castle, the coast becomes wilder, more remote and before you know it, you're in Berwick-upon Tweed and after that you're pretty much in Scotland, but stay in Northumberland, there's a lot more to discover.
Walking up Black Hag
In the Cheviot Hills of the Northumberland National Park, you're walking mostly on grassy paths; here there are very few of the stony, rocky eroded paths to be found elsewhere in the uplands of England.
The Cheviot Hills really are wild and remote. The turbulent history of the medieval Border Wars is reflected in the names: Bloody Bush Edge is my favourite, a great hill at just 600 metres above sea level and a place that is rarely visited, but often seen.
I should also mention Wester Tor, another favourite hill, at just 537 metres high, it probably has the best views from any hill summit in Northumberland; a hard place to get to, but worth every moment of your time and effort to achieve it.
There are some steep hills but with a bit of planning or with a professional guide, then it's easy to avoid those energy sapping ascents that you really don't want on a short visit to Northumberland.
To summarise, Northumberland has everything a hiker needs; it's accessible, historic, and diverse and it's beautiful too.
Pennine Way signposts
3. How can Londoners get to Northumblerland by public transport?
1. By train from King's Cross to Berwick-upon-Tweed takes under 4 hours.
2. By train from King's Cross to Alnmouth, (again in less than 4 hours). Alnmouth lies on the coast close to Alnwick. The Arriva X18 is the bus link to Alnwick, or the coastal villages further north. The X15 is the faster option to Berwick from Alnwick.
3. Flights to Newcastle Airport, less than one hour in the air; the Newcastle Metro gets you to Newcastle Central Station for train/bus connections to Berwick, Alnmouth and many other locations.
4. National Express and Mega-Bus run regular services to Newcastle and Edinburgh from London.
5. Berwick is a good base for walking on the coast, the Arriva X18 Coast and Castles bus service visits all of the coastal villages in north Northumberland and special fares are available on this service.
6. Wooler is an ideal gateway to the Cheviot Hills and buses run from Berwick to Wooler every day apart from Sundays. You can walk out of Wooler straight into the National Park.
7. The X18 and X15 bus services are regular, which in this case means every 2 hours, but plan well and it's very efficient.
There is a Youth Hostel in Alnwick, Berwick and Wooler.
On The Schill
4. Best weekend for Londoners?
Travel to Berwick-upon-Tweed by train arriving on Friday evening, book into your B&B and then get out and explore this lovely Border town, once a favourite of L.S. Lowry. A town trail identifies some of his favourite views and displays examples of his pictures. Berwick is also the best preserved fortified town in the UK; the defensive walls are largely intact and you can't visit Berwick and not spend some time exploring its history.
The town has lots of pubs and places to eat, for example, The Barrels by the Old Bridge. Berwick is in England, its football team plays in the Scottish League and it has changed hands between England and Scotland thirteen times.
On Saturday, catch an early bus to Wooler, about 10 miles from Berwick and hike out to Yeavering Bell in the National Park, which by area is the second largest Iron Age Hill Fort in England and the remains of the walls are still there, some 2-3000 years after they were first erected. On the way you'll see and hear red grouse, spot wild Cheviot goats and get fabulous views into Scotland and a big chunk of the Northumberland Coast and countryside.
You'll return to Wooler along St. Cuthbert's Way, a long distance trail linking the Holy Island of Lindisfarne and Melrose. Wooler has plenty of pubs, cafés and restaurants and it is well worth spending some time there to look around.
Budle Bay
On Sunday, I recommend a hike in the College Valley, said to be the most tranquil place in England. It's a bit more difficult to get to, but worth it. The walk begins at the northern end of the valley, follows St. Cuthbert's Way to the England/Scotland Border and then on to the Pennine Way. You follow that south alongside the Border Fence, over White Law, Black Hag and The Schill before descending back into the valley and returning to your start point.
If you're walking with us as guides, we stop off for tea and cake at a local B&B, once the home of Admiral Lord Collingwood, Nelson's second in command at Trafalgar; history really is all around you in Northumberland.
On Monday, catch a bus to the village of Craster, home of the famous kipper. From there, join the Northumberland Coast Path and head north on one of the nation's favourite walks. Past the mighty Dunstanburgh Castle, a fabulous ruin perched high on a rocky outcrop.
Then it's Embleton Bay, blue sea and golden sand, Low Newton with The Ship, such a great pub and if there's time, push on to Beadnell, where you can pick up the bus to get you back to Berwick in time for your train home to London.
You'll want to come back though, because there's a lot more of Northumberland to explore than just this one corner of England's Border County.
Crossing the Border
5. Where can people find out more about hiking in Northumberland?
Louise and Patrick run Footsteps – walking the beauty of Northumberland, and lead guided walks on the Northumberland Coast, in the National Park and in the countryside between the two. They blog at www.footstepsnorthumberland.wordpress.com, share photos on Flickr and can be seen in action on YouTube. Patrick tweets from @PatrickNorris1.
All photos courtesy of Patrick Norris and Louise Almond-Norris.
If you would like to share your local knowledge with Londoners in this 'Focus on…' series, please contact me with your suggestion!
If you liked this post:
Sign up below to get more hiking ideas for Londoners
Sponsors
Escape London - click here now!
Welcome! Do you live in London and love walking? I help frustrated London-based hikers to get out on the hills by providing inspiration, ideas, practical advice and encouragement. Satisfy your hill walking cravings! Read more here

Latest Updates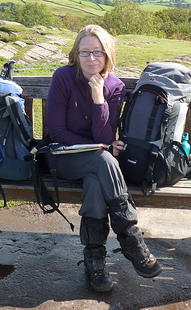 As Seen In: