Want to hike more in the next 12 months – despite living in London?
Want to hike more in the next 12 months in London and around Britain?
I've created 3 great resources for you in…. *drumroll*
The London Hiker bundle includes:
1) The London Hiker 50: The ultimate London walking ticklist
A carefully curated list of 50 'must visit' walking locations in and around London accessible in a day, including interactive map, printable ticklist, and links to the best suggested walks in each of the 50 locations (you will get a PDF with instructions on how to access this online resource)
Where are the unmissable viewpoints? What should any self-respecting London walker aim to tick off their checklist? I have the answers!
With this list, you'll be able to find great ideas to suit you if you're a beginner, and later on, if you want to try something more adventurous.
I know this list will help you walk the BEST of London.
2) How to Walk the Best of Britain from London… Ideas, Inspiration and Tips for Beautiful Walks in Your Weekends (PDF ebook)
This bumper ebook (127 page PDF) is a compilation of 10+ years of experience of hiking Britain whilst living in London, 5 years of blog posts on londonhiker.com, and the best resources from my Hiking Britain email trainings all about hiking in Britain's best hiking location – from London, without a car and in your weekends!
It includes my Crash Course in Britain's Best Hiking: discover where the best hiking locations are and how to get there from London; stories, tips and inspiration for walking trips to various locations (South Downs, Isle of Wight, Peak District, Lake District, Snowdon, Brecon Beacons, Yorkshire Dales, Scotland); the big list of 20 ideas for weekend walking breaks from London; a planner to help you plan your best hiking year ever.
(Note: this 127 page ebook is a curated compilation of blog posts published on londonhiker.com and email content sent to my Hiking Britain email list.)
3) How to plan Fantastic Car Free Walking Weekends (PDF ebook)
In this guide I want to share with you the EXACT process of how I go about planning car free walking weekends away from London in Britain's best hiking areas, with a specific case study. This mega guide is going to be full of really PRACTICAL step by step tips and I break down the specific process for you – so you can do it too.
You can
1) buy each of these items individually from my shop
OR
2) get them all for free as a bonus with membership of my Walk Your Weekends package
OR
3) just get the 3 great resources in a bundle and save!
Click the BUY button below to get the London Hiker Bundle
Sponsors
Escape London - click here now!
Welcome! Do you live in London and love walking? I help frustrated London-based hikers to get out on the hills by providing inspiration, ideas, practical advice and encouragement. Satisfy your hill walking cravings! Read more here

Latest Updates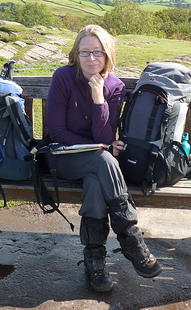 As Seen In: