Ideas for your hiking year ahead
Just because you live in London doesn't mean you can't have some incredible hiking experiences!
In fact, with some planning – and the right information – you can hike in some of Britain's best hiking locations in the next few weeks and months.
This is a great time of year to dream and plan. We're stuck indoors much of the time, it's grey and rainy, and we feel lazy and cooped up.
So turn your thoughts to the hills, fellow Londoners, and use this time to come up with some hiking goals that will really motivate you and keep your spirits up until your next big trip!

Get this free hiking goals planner here
Below, I share 7 ideas which you could add to your hiking goals for the year ahead.
They might seem impossible from London but believe me they aren't. You can do these in your WEEKENDS.
This is why I've not picked extremely remote places or mountains… you can save those for your big holiday.
But you don't have to wait until then to get your boots on the hills.
Check out my ideas and see if any of them call to you this year!
(And if you want MORE information like this, CLICK HERE for my free Hiking in Britain email series!)
1. Let's start with SNOWDON!
Snowdon is the highest mountain in Wales and a very popular and relatively straightforward climb to do (depending on your route). And it is possible to do this in a weekend from London!
Being one of the 'three peaks' of Britain (Ben Nevis – highest in Scotland – and Scafell Pike – highest in England are the other two) it's a very busy mountain, especially for charity events.
Grab a train to Bangor, and then travel to Llanberis, which is the closest village.
THREE THINGS TO KNOW:
There is a building at the top nearby the summit which includes a cafe, toilets and a shop. It's a bit of a surreal experience to be at the summit with all this going on but you can't deny it's a nice change to have a hot pie after a climb up a mountain.
A train goes up to the top of the mountain! The Llanberis path is a walker's route that pretty much follows the train tracks all the way up. Important to know: don't depend on getting the train back down because the seats are reserved for the people who came up in the train… so it depends on whether there is space.
There's a 'knife edge' ridge called Crib Goch which is a famous challenging scrambly route up the mountain. For the experienced only…
THREE TIPS
Take a different route up and a different route down if you can. Just walking up and down the Llanberis path will be a bit tedious. Combine two paths for a better and more interesting day out.
Stop in for a celebratory drink or pre-climb breakfast at Pete's Eats in the high street at Llanberis. It's a famous hikers' cafe with huge mugs of hot drinks.
There's a handy little cafe on the Llanberis path called Halfway House. Useful for a toilet break and/or some refreshments.
2. Find a checklist to motivate you into the hills this year and use it to help you get out onto some fantastic summits!
The one in the picture above is the Trail 100 (I talk about this more in my free hiking in Britain series)
The Trail 100 is Trail Magazine's recommended 'must do' 100 mountains in the UK. This is for those of you who crave the high mountains and are happy to spend two or three hours going uphill for the pleasure of ticking off another classic mountain! These are further away, and most are in Scotland, but with a bit of planning and few long weekends, you could aim to complete a set number of these this year.
It's great inspiration for goal setting at this time of year.
HERE ARE SOME OTHER IDEAS:
Visit the highest point in each of the 32 London boroughs ('the borough tops'). Ok, this is one for the nerdiest of completionists! You won't do it for the scenic views, but for the sheer bloodymindedness and satisfaction of ticking them off. You'll also get to explore part of London that most people will NEVER see. Map here.
Hike to the highest point in London and each of the six surrounding counties. In other words: Greater London itself, then Essex, Hertfortshire, Buckinghamshire, Berkshire, Surrey, and Kent. Throw in Oxfordshire, Hampshire, Bedforshire and West Sussex and East Sussex into the mix if you like to make a goal of eleven tops to 'bag'. Map here.
Climb 20 Wainwright fells. Oh, Wainwright! Now there was a man obsessed! Have you thought about climbing the Wainwrights? There are 214 in total. Why not start this year? You could do, perhaps four weekends in the Lake District and aim to do, say, 20 or 30 overall in the year. Pick a number and then go for it. Perfect if you want to spend more time exploring the Lakes this year!
3. GLEN COE! So good it starred in Skyfall!
Seriously – if you are craving wild scenery and iconic mountains to make your jaw drop, THIS is the place to go.
The mountain in the picture is Buachaille Etive Mor, one of the most famous munros (Scottish mountains over 3000 ft). It stands at the head of the Glen like a sentinel, a black pyramid of rock and an absolutely stunning sight for walkers on the West Highland Way.
At the end of the Glen is Rannoch Moor, a true Scottish wilderness wetland where wild deer roam for miles and miles.
As you travel down the Glen, every twist and turn provides you with more spectacular views. And there's even a hidden valley you can climb to, where the clans used to hide their rustled castle.
It's a stupendous place full of atmosphere, stories and wonderful walking. And don't even get me started on the pubs!
But it's one of the few Scottish Glens that is accessible from London!
YES! Because you can get the Caledonian sleeper train which crosses Rannoch Moor and heads to Fort William. And with a bit of planning, you can walk to the Glen and head over to do Ben Nevis afterwards.
The sleeper train is a whole other topic in itself which I enthuse about in my 5 Day Crash Course to Britain's best Hiking.
THREE TIPS
Getting the sleeper train? Dump your bags in your cabin and head to the lounge car as fast as you can. It's super fun, and totally unmissable especially on the return journey from Fort William over Rannoch Moor which is one of the best train journeys in the UK (if not the world).
A visit to the Clachaig Inn is a must. It's a famous hikers' pub with great beers, great food and great hospitality.
If you're around at the Kingshouse Hotel early of a morning, be sure to look out for the deer which congregate there, hoping to get food from the West Highland Way walkers.
4. Hike in the LAKE DISTRICT
Is this one too obvious? Maybe, but there's no denying if you're new to hiking in Britain the LAKE DISTRICT must be in your top 'must dos' – it's one of our most beautiful and popular hiking areas.
You can get a train to Windermere from London, and use buses to take you to some of the best and most iconic hiking locations. Stop putting it off – just take a weekend and go!
You'll soon know your Wainwright from your Wordsworth and perhaps you'll fall in love with the place like so many of us have for centuries.
Be sure to climb a Wainwright fell or two. (A few classic walks will enable you to tick off as many as eight!)
Admire the gorgeous herdwick sheep… and the dry stone walls… and the local dialect… and the pubs.
THREE TIPS:
Stay in Ambleside for your first trip. It's central, with good facilities and rainy day options, but not quite as touristy as Windermere. You can walk down the high street and see hills all around, and it's great for buses which can whisk you to various key hiking locations. There are several walks to do which start from the town itself, and it's convenient if you've come by train from London.
Expect it to rain! Anyone who's been there knows how changeable the weather can be – even from one valley to the next. You'd consider yourself lucky if you have a holiday without a rainy day. But don't let that put you off – it's incredibly stunning in all weathers. Just be prepared for anything.
There are no waymarks on the fells (you do get footpath signs on low ground). Walkers who are used to well waymarked paths in mountains in Europe may be confused! You WILL need to have maps and understand them to walk on the fells. It's because the National Park have a policy of keeping waymarks to a minimum.
5. Climb the YORKSHIRE THREE PEAKS
Let's just cut to the chase. Yorkshire is BEAUTIFUL (and I say this as a Lancashire lass – there's a centuries old rivalry between these two in case you didn't know!).
Locals call it 'God's own county' and it's hard to disagree.
And yet, it seems to be relatively off the radar for tourists and visitors compared to some places (there's one exception I can think of and that's the Japanese tourists who flock to visit the ruins that supposedly inspired Wuthering Heights – even the footpath signs there are in Japanese!).
But if you want to experience the best of British walking this year, Yorkshire is a fantastic destination.
But Yorkshire is so big, where do you start?
I have just the thing for you! Why not walk the YORKSHIRE THREE PEAKS (not to be confused with the 3 peak challenge which is Ben Nevis + Snowdon + Scafell Pike). These are the three biggest hills in Yorkshire and they're so close together that it's a well known challenge to walk them all in a single day.
Put it this way:
You get to experience walking in one of Britain's most beautiful counties
You get to tick off three hills
You get a sense of achievement
You'll experience a classic walk
But you don't have to do it all in one day. You could spend a weekend walking in the area, but including a climb of all three. This was actually one of my favourite hiking weekends ever.
THREE TIPS:
A visit to the Pen y Ghent cafe in Horton-in-Ribblesdale is a must to stock up on provisions and to sock in the atmosphere. Hikers have been visiting this place for decades, and they have a signing in book for Pennine Way walkers dating back to the opening of the trail.
If you are planning the Yorkshire 3 peaks challenge, don't have a booze-up the night before. It's tempting… but trust me on this one. (Better still, have a long weekend and take your time over it).
Be sure to visit the Ribblehead or Batty Moss Viaduct, a spectacular landmark on the Settle to Carlisle railway line – one of the most picturesque in the country. And if you see a lot of train spotters with their cameras out huddled on the hillside, keep your eyes peeled because a steam train might be due.
6. Hike around EDALE
Edale in the Peak District is a classic hiking location easily accessible by train between Manchester and Sheffield. A tiny village, it's on the edge of the Dark Peak, known for it's black peat groughs and atmospheric moorland – not to mention the flat plateau of Kinder Scout, the highest point in the Peak District with an otherworldly feel to it.
Get the train to Edale and then spend a couple of days walking around the area; a walk along Kinder edges are a must, and the Mam Tor – Lose Hill ridge on the other side of the valley is a glorious walk in any weather. You'll have incredible views all around, and south to the White Peak, with its green grass contrasting with the dry stone walls made of white limestone.
THREE TIPS:
The Dark Peak is gloriously wild and atmospheric, but is known for its bogs and soggy peat groughs! Some of the paths are paved now, but if you venture off, take care and perhaps pack gaiters. Watch out for the little white tufts of cotton grass which are a sure sign of squelchy ground. Last time I went, I put my foot in one on Featherbed Moss. Squelch!
There's very limited mobile reception in Edale village but I managed to get mine on the platform at the station.
Read up about the 'mass trespass' before you go. This area played a key role in protests which resulted in better rights for the public – ultimately enabling us to enjoy the beauty of the Peak District National Park and the British countryside!
7. Walk the SOUTH DOWNS WAY
If you know me you may know by now my opinions on this wonderful National Trail.
It's PERFECT for Londoners, because the train stations are so conveniently located that you can complete it in just four weekends.
The train journey times are relatively short, so you only need to spend one night away from home.
And the walking is easy but rewarding, with fantastic panoramic views and gorgeous downland stretching in front and behind of you.
It's a brilliant trail for beginners, if you're walking on your own, and if you're not confident on your navigation because you are simply following the downs.
And it ends on a massive high at the Seven Sisters, spectacular rolling white cliffs near Eastbourne. There's something wonderful about ending a trail at the sea!
In fact I included the South Downs in two weekend itineraries in Walk Your Weekends because it's such a great walking location.
THREE TIPS:
Be prepared to be exposed to the elements. There is little shelter on the Downs (i.e. few trees), and you'll see tiny twisted bushes bent over double by the wind. On the other hand, if it's sunny, you'll get the full force of it up here. Be prepared!
Do you have an Oystercard season ticket? You can reduce the cost of the train travel! You can save 1/3rd on journeys in the south east, this includes the train stations you'll be traveling to for the South Downs. Your season ticket is effectively a railcard – it's called a Gold Card and it saves you 1/3rd when you travel off peak.
At least one guidebook (Aurum Press) describes the route starting in Eastbourne and ending in Winchester. But pretty much everyone I know who's done it prefers it the other way – ending at the sea. It's definitely a much more dramatic, rewarding and suitable ending for a great walking achievement.
If you want more information like this, CLICK HERE to get my FREE, MASSIVE email series on hiking in Britain – you get videos, PDF downloads, jam packed emails and 'I Googled it for you' resources from me.
Wishing you the best hiking year ever!
Sponsors
Escape London - click here now!
Welcome! Do you live in London and love walking? I help frustrated London-based hikers to get out on the hills by providing inspiration, ideas, practical advice and encouragement. Satisfy your hill walking cravings! Read more here

Latest Updates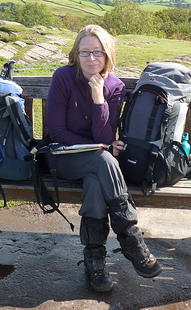 As Seen In: