How Londoners can complete a National Trail in 4 weekends
The South Downs Way goes from Winchester to Eastbourne and is 100 miles in total.
It is close enough to London to complete in four weekends without having to take any time off work, which is always a bonus in my book as it means you can have more holidays!
And that's exactly what I did in 2006.
I'd head out on the train on Saturday morning, spend Saturday walking, stay over somewhere on Saturday night, walk on Sunday and then get the train back on Sunday evening.
You can split it into four two-day sections by using the following stations to travel there and back:
Winchester to Petersfield
Petersfield to Amberley
Amberley to Lewes
Lewes to Eastbourne
Most of these stations are en route, except Petersfield (which is about 3 miles off route), and Lewes (which is about 2 miles off route).
It's a brilliant walk, and as it's mostly going along the top of the Downs, you get wonderful expansive views for miles and miles. In addition, the walking is very easy. The only problem you'll have is shelter as the top of the Downs is pretty exposed in wind, sun and rain.
I'd recommend going from Winchester to Eastbourne rather than the other direction, as you end on a huge high with the spectacular Seven Sisters.
My walking partner Rambling Man has a detailed summary of how to plan a trip on the South Downs Way.
I always recommend the Aurum Press guides as they contain descriptions as well as Ordnance Survey maps. The thing to note about this one however, is that it describes the route going from Eastbourne to Winchester, so it's a little weird turning the pages backwards if you are going the other way. Nevertheless I'd still recommend it.
I just love the fact that this can be completed so easily. What a great achievable walking goal!
If you want to see photos from my walks on the South Downs Way, head on over to Flickr.
(p.s. if you want to try out the South Downs Way, details of two walking weekends along it can be found in the Escape London Adventure Pack!)
Sponsors
Escape London - click here now!
Welcome! Do you live in London and love walking? I help frustrated London-based hikers to get out on the hills by providing inspiration, ideas, practical advice and encouragement. Satisfy your hill walking cravings! Read more here

Latest Updates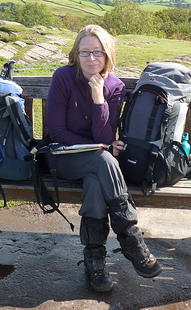 As Seen In: