The London Hiker 50: The ultimate walking ticklist
When I started walking in London, I just started randomly.
I began with walks in parks like Wimbledon Common.
I then discovered trails like the Capital Ring and London Loop, and later, as I felt the need to get into more wild countryside, I ventured a little further to places like the North Downs Way.
When I discovered the Time Out Book of Country Walks and the Saturday Walkers' Club, I was able to have some truly spectacular walks.
But those books and website ALONE contain over 300 walks.
When you are just starting out, or are new to London, How do you know what's best to do?
What I would have loved when I was starting out was a comprehensive ticklist to the best walking in London and around.
Something which answered questions like:
Which places are considered 'must dos'?
How can I decide which walks to do to give me an absolute overview of the best walking available in and around London?
Where are the unmissable viewpoints?
What should any self-respecting London walker aim to tick off their checklist?
So here it is:
The London Hiker 50: The ultimate London walking ticklist.
I've curated a list of 50 'must visit' walking locations in and around London, and directed you to the best resources and information for finding out more about each of the items.
With this list, you'll be able to find great ideas to suit you if you're a beginner, and later on, if you want to try something more adventurous.
I know this list will help you walk the BEST of London.
London is surprising.
Here you'll find parks roamed by herds of deer; heathland you won't believe is within a city; ancient woodland; mighty rivers; hidden walking trails and incredible views, as well as some unusual sights and unique London natural features.
And when you've explored the best of city walking, you can easily hop on a train to hike outside the city, in the surrounding south-east countryside. This is where you'll really get to experience the best of the south-east.
In fact within a day's return of London you can reach eight(!) Areas of Outstanding Natural Beauty, two National Parks, and some amazing coastlines.
I wanted to create a comprehensive ticklist which covers all the main 'must visit' walking locations in and around London.
There were several criteria I set myself:
Each location must be accessible within a day trip from London by train or tube.
It must appeal to lovers of green spaces, nature and the outdoors: there are hundreds (maybe thousands!) of walks within the city itself, but I wanted to create a list for people who craved a bit of green, who love open spaces and countryside.
The list should cover a variety of types of walking reflective of London and the surrounding countryside, including parks, rivers, canals, ancient woodlands and unusual features.
The item should be unique in some way, or reflective of a particular type of London green space. For example, London is full of parks that are perfectly valid for walking around, but I didn't just want to create a list of all the parks in London; I wanted to select the few that are really significant, interesting or unusual.
The list should include the nearby AONBs so that a walker can visit them all and thus get an excellent overview of the local countryside.
It should include the best viewpoints and hill walks that it's possible to do from London.
It can include areas where there is an entry fee, as long as this is an interesting green space that one can walk around and which provides a unique and fascinating view of London's wildlife or scenery.
For the surrounding countryside, I scoured the AONBs and searched government databases for details of local areas of special scientific interest or conservation. I figured that the best and most interesting walking would fall into such designated areas. Hence the list covers areas in the nearest National Parks, as well as the various AONBs, and some areas of special conservation and scientific interest.
When choosing the best walk to recommend, I took into consideration whether the walking route really explored the area well; in other words, did the walk pass through the heart of the area, and is this walk representative of the area, and does it include shorter alternatives?
And of course, I took into account my 15 years of walking in London as well as those of others I've chatted to and featured on London Hiker.
A list of 50 'must visit' walking locations in and around London
There are 27 walks within the travelcard zones, and 23 outside. Of the 23 that are outside, 14 are just one hour or less by train from a central London station, and 7 are less than 1 hour 30 minutes.
All accessible by public transport and within a day or less
A zoomable, interactive map showing each of the locations so you can see which is nearest to you
Each of the 50 has links to a suggested 'best walk' or further information
The list also details:

a) the nearest tube station or rail station
b) the tube line or central London departure station
c) for locations outside travelcard zones, the approximate time taken to travel to the station
d) whether it is most accessible from North, East, South or West London
e) whether there is a noteworthy viewpoint
f) Type of location (e.g. Park, Trail, Woodland, River, National Park, AONB)

A printable PDF ticklist for you to complete
A downloadable spreadsheet detailing all the 50 and their attributes
Click 'Buy now' to get access!
ALTERNATIVELY: Get the London Hiker 50 in the London Hiker Bundle!
Get 3 great resources for the price of 2!
This bundle includes:
1) The London Hiker 50: The ultimate London walking ticklist
A carefully curated list of 50 'must visit' walking locations in and around London, including map, printable ticklist, and links to the best suggested walks in each of the 50 locations (you will get a PDF with instructions on how to access this online resource)
2) How to Walk the Best of Britain from London… Ideas, Inspiration and Tips for Beautiful Walks in Your Weekends (PDF ebook)
This 127 page PDF ebook is a compilation of 10+ years of experience of hiking Britain whilst living in London, 5 years of blog posts on londonhiker.com, and the best resources from my Hiking Britain email trainings all about hiking in Britain's best hiking location – from London, without a car and in your weekends!
It includes my Crash Course in Britain's Best Hiking: discover where the best hiking locations are and how to get there from London; stories, tips and inspiration for walking trips to various locations (South Downs, Isle of Wight, Peak District, Lake District, Snowdon, Brecon Beacons, Yorkshire Dales, Scotland); the big list of 20 ideas for weekend walking breaks from London; a planner to help you plan your best hiking year ever.
(Note: this 127 page ebook is a curated compilation of blog posts published on londonhiker.com and email content sent to my Hiking Britain email list.)
3) How to plan Fantastic Car Free Walking Weekends (PDF ebook)
In this guide I want to share with you the EXACT process of how I go about planning car free walking weekends away from London in Britain's best hiking areas, with a specific case study. This mega guide is going to be full of really PRACTICAL step by step tips and I break down the specific process for you – so you can do it too.
GET THESE 3 GREAT RESOURCES IN A BUNDLE FOR AND SAVE ALMOST 40% ON THE TOTAL VALUE.
Click the buy not button below to get immediate access:
Sponsors
Escape London - click here now!
Welcome! Do you live in London and love walking? I help frustrated London-based hikers to get out on the hills by providing inspiration, ideas, practical advice and encouragement. Satisfy your hill walking cravings! Read more here

Latest Updates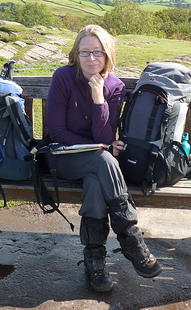 As Seen In: