Spooked on the Suffolk Coast Path
John Davison recounts some mysterious happenings along the Suffolk Coast Path, a trail through an Area of Outstanding Natural Beauty a couple of hours away from London. Was he still in Suffolk, or had he somehow ended up in an episode of LOST? (Read on for details of how to walk the route, too).
Both ends of the Suffolk Coast Path, at Felixstowe and at Lowestoft, are well-served by public transport, making it an attractive path to walk. I'd planned to start backpacking the path from Felixstowe, but just outside the town the Bawdsey Ferry, my only way across the River Deben, had closed for the winter. So instead, I started from Woodbridge and walked down the river to join the coast path near desolate Shingle Street, scene of the famous battle that never was.
My first night was a rain-swept bivvy in a field after I'd got tired of slogging my way along the sea dyke in the dark and the rain. But my bivvy bag did the job required of it, and I woke up warm and dry, ready to set off again after a quick breakfast.
Being a coast path, parts of the trail are susceptible to flooding and erosion, and several stretches of it have been re-routed inland as a result. This takes the total length of the path to a shade under 53 miles. Not quite the Appalachian Trail, but it goes through some beautiful countryside and past some very pleasant pubs.
So far, so good. But about half way along the coast path something odd happened. I'll relate it exactly as it happened, and I promise it's all true. But I'm getting ahead of myself. Let me set the scene first.
It was mid-afternoon on an unusually warm October day. I hadn't encountered another person for some time and the path was taking me through some thick woods. On my left was a fallen-down wall, evidently built at some cost, probably in the 1920s or 30s by the look of it. But now it edged a field full of pigs and I couldn't see why anyone would spend money to build a long wall around a field of pigs.
Then I found two little thatched roundhouses. Both were still in good condition and positioned either side of what seemed to have once been a gateway:
There was no driveway leading to or from the two rondavels. I'd been puzzled as to why someone should build a long block wall in the middle of nowhere, but these structures mystified me even more. The "entrance" didn't lead to or from anywhere, so what was it for?
I walked on and the low wall got higher and became less decrepit. It looked as if I was walking around the edge of some great estate, now long derelict. I wondered what else was crumbling away inside, amongst the pigs and the undergrowth. At one point on the wall I found this lookout post, facing forlornly out to sea:
The door next to it was locked, the lock long rusted into immobility.
I walked on and the path dipped down to pass through a man-made tunnel. As I walked towards it the air became noticeably colder and felt damp. My footsteps sounded louder.
The next part of this narrative is absolutely true. I'd taken the photo above, and I was zipping my camera case closed when a female figure dressed in a white, ankle-length, Edwardian-style dress glided silently from left to right over the top of the tunnel, behind the balustrade.
I jumped. Very often when we say something has "made us jump" we mean we've started or shivered, but I was standing still and I really did jump off the ground. The figure disappeared to the right.
In a detached sort of state, as if I was watching myself from a distance, I actually heard myself say out loud, "No, I'm not having that", and I ran towards the tunnel, looking for a way up to the higher level. A quick way, any way.
As I got close I saw there was no easy way up. But I also got a proper look through the balustrade. At a large elderly lady in a white shell suit and trainers, ambling about and taking in the sea views.
The place obviously wasn't as derelict as I thought! But the experience had made my heart race all the same. I told myself to get a grip and walked through the tunnel into the sunshine on the other side.
Further up the coast, in genteel Southwold, I was mistaken for a tramp. I doubt I'm the first person to experience that in Southwold, but if there's a better excuse to buy new walking gear, I can't think of one!
I finally made it to journey's end in Lowestoft, a day early and in good time for the train home. Or so I thought. In reality I was just in time for the rail replacement bus and a whole world of travel misery. What was it I said about "well-served by public transport"?!
Footnote
I later discovered that the estate was Sizewell Hall.
Sizewell Hall was purchased and developed by the Olgivie family in the 1850s. Then, in 1910, Glencairn Stuart Ogilvie, a Scottish barrister who had made his fortune from the railway boom, bought a huge swathe of Suffolk from Aldeburgh to Leiston. Olgivie developed the hamlet of Thorpness into a purpose-built pleasure resort for wealthy friends, and there's still something of a Portmeirion feel as you walk through it.
The Olgivie family moved out of Sizewell Hall when it was requisitioned by the Army in the Second World War. They still own the hall and grounds, and today Sizewell Hall is a Christian conference centre.
About the Suffolk Coast Path
The Suffolk Coast Path seems to vary in length according to which guidebook, leaflet or website you look at. I used the only method I trust: I measured it on a map. By my calculation the path is 85km (53 miles) long. It runs from Felixstowe to Lowestoft and it's mostly flat, easy walking, along gravel or earth paths, through woods and fields, and across heathland. The path runs through one of the most beautiful parts of the UK.
Getting There
Both ends of the trail, at Felixstowe and Lowestoft, are easily accessible by train (or, if unlucky like me, rail replacement bus!), making this walk eminently do-able if you're based in London. I started south and walked north, but the path can be walked in either direction.
Whether you decide to start at Felixstowe and walk north, or at Lowestoft and walk south, there is an hourly train service to and from each, terminating at Liverpool Street. The journey takes about two hours.
Check the times of operation for the Bawdsey ferry across the River Deben on www.boathousecafe.co.uk/Ferry.html (it might be worth saving their phone number on your mobile). If the ferry's not operating, do as I did and start at Woodbridge (also accessible by rail).
Itinerary
I'd planned a very leisurely walk, and quite a bit of dawdling, over five days and four nights (including travel), but this is easy walking and I finished in three days. I wild camped on both nights without any problem.
This is the itinerary which I produced to help me plan the walk:
Day 1: Woodbridge to Shingle Street (15km)
Day 2: Shingle Street to Snape/Blaxhall (20km)
Day 3: Snape to Dunwich (20km)
Day 4: Dunwich to Benacre (20km)
Day 5: Benacre to Lowestoft (10km)
A Kit List
My kit weighed just under 6kg before food and water were added. There are plenty of places to get both en route (see the itinerary), but you will need to start with at least a little of each. I carried too much food.
My kit list looked like this:
Find out more about the Suffolk Coast Path
Happy walking!
---
John Davison was born and bred in Wiltshire. School walking trips to Norway and Iceland (funded by a part-time job in a shop) started an enduring interest in travel, and John took a degree in geography at the University of London. It's an interest which has stayed with him ever since.
John spent 30 years with the Metropolitan Police in London and was awarded a Queen's Commendation for Bravery for arresting a man who stabbed him and three of his colleagues.
John's interest in travel, the outdoors and social history, and his sense of humour, are reflected in his first book, "Every Day above a New Horizon", available from Amazon in paperback and on Kindle
John is a Fellow of the Royal Geographical Society and he now lives in Essex.
Follow his travels at www.johndavison.moonfruit.com and at @bootsonthehill
(All photographs copyright John Davison, used with permission)
Sponsors
Escape London - click here now!
Welcome! Do you live in London and love walking? I help frustrated London-based hikers to get out on the hills by providing inspiration, ideas, practical advice and encouragement. Satisfy your hill walking cravings! Read more here

Latest Updates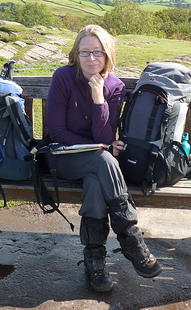 As Seen In: