From London to the sea: The Vanguard Way
Ever fantasised about just walking out of London?
Chris Booth of Walk Around London did just that. In this guest post, Chris reports on his 4-day walk along the 66 mile Vanguard Way from Croydon to Newhaven.
The Vanguard Way signpost in Croydon
The 08:22 train to London Victoria was cancelled, again. That meant that the next one would most likely be apocalyptic. Usually placid commuters turned into snarling territorial dogs as they fight for an inch of hand rail or the right to not have an elbow inserted into each ear. And indeed so it proves to be.
Sometimes I feel like Michael Douglas had the right idea when he just got out his car and walked to the beach. Not withstanding the ensuing carnage, I should probably add. Years of the daily grind culminated in my desire to walk around London and explore what I could through the powers of my Oyster card. Swashbuckling through the suburban metropolis is all well and good but whilst browsing for routes I discovered the Vanguard Way. Aha! A challenge.
This 66 mile route begins at East Croydon train station and undulates vaguely southwards through some of the most picturesque countryside within easy reach of the capital until you meet the English Channel and the finish at Newhaven. I bought the OS Explorer series of maps needed to plot the adventure, and then sat on the idea for three years…
Eventually the urge to strike it off my hit-list became too much to bear and plans were laid with my friend Martyn to walk the whole vanguard Way over four days at the end of February/start of March. A year previously I had sunburnt myself whilst walking along the Thames Path so I gambled on getting fair weather. Instead the run-up to the start date included one of the longest and most interminable winters I can remember.
Day 1: East Croydon to Limpsfield Chart
The lovely East Croydon train station
We set off from East Croydon with our packs relatively light and the sun trying to lure us south. It doesn't take long until you find yourself walking through surroundings that feel distinctly rural. Park gives way to woodland, which gives way to fields, and then you meet the cursed bridleway.
Ordinarily this would be a good thing but horses turn the best paths into slurry with even a little rain. This winter had allowed them to decimate every bridleway we encountered for the next 4 days. So, lesson one would be to walk this after a slightly drier spell of weather than we got.
Nevertheless it is a joy to feel yourself leaving London behind. This becomes especially true when you start spotting deer and partridges speckling the fields on each side. Yes, we did get lost on our way into Chelsham, and then again alongside Woldingham, but that's because I arrogantly determined that we would not need maps to get us out beyond the M25. I left the applicable map at home in order to save a few grams of packed weight. Lesson two learned.
On top of the North Downs it turns out that any frustrations you harboured were completely pointless. The view is tremendous even if you take the grey ribbon of the motorway into account. The High Weald formed the horizon, and marked the approximate halfway point of the Vanguard Way.
The view south from the North Downs
We ended day one in Limpsfield Chart, saluting our progress with a few pints of the local Westerham brewery ales, served at the Carpenter's Arms. Delicious and much needed after just over 16 muddy miles.
Day 2: Limpsfield Chart to Ashdown Forest
I always knew that day one would be a challenge as we broke ourselves into the rhythm of long-distance walking but I did underestimate the conditions we would experience. Day two began with a cheerful descent from Limpsfield Chart even though we walked through a light mist and a spritz of rain. I now had maps for the rest of the journey so I started to get myself used to using them. I already knew how to use a compass and a map, in theory, but there really is nothing like the practical experience you gain from making several wrong turns.
A typical Vanguard Way blaze
The mud was emotionally draining but good humour and the value of a good companion became abundantly clear very quickly. Day two skirts along or crosses a lot of rivers and saturated fields so it felt a lot more difficult than the first day. Again the scenery makes up for this – the heavy rain of past weeks meant that the greenery was deep and lush.
For some reason my legs were playing achy games early in the afternoon so we plopped into a leafy ditch on the top of the large hill just east of Dormansland. A varied lunch of chorizo, Mini Babybel, apple, chocolate, malt loaf, and Kendal mint cake rejuvenated both of us enough to tackle the next miles with a different kind of appetite.
And then the path washed away. Literally. South-east of Ashurstwood there are a couple of kilometres of what should be easy walking but instead the path had been eroded into a stream. Treacherous doesn't even come close to describing the footing. We struggled through here for what felt like forever before being rewarded by asphalt pavements on the edges of Forest Row.
I injured my knee twice in 2012 and freaked out a bit when I felt two twinges in quick succession as we popped into the Co-op supermarket for supplies. I turned introspective and quiet for the next hour as I pleaded with my body to be ok. Turns out I was fine but it meant that I couldn't bring myself to enjoy the Vanguard Way entering Ashdown Forest. Which is a shame.
Ashdown Forest AONB
We ended day two in Ashdown Forest and ate very well indeed at the Hatch Inn near Coleman's Hatch. If I had to recommend a country pub from this walk then the Hatch Inn would be the one. Gorgeous food and drink. We sat in silence with racked bodies and red eyes as we drank our first pint. As usual once that was absorbed we were back with the living and able to enjoy the rest of the evening, even if we were a wee bit rusty Tin Man as we stood up. 19 very hard miles.
Day 3: Ashdown Forest to Chiddingly
Enthusiasm was the watchword for the morning of day three. We were almost half way and we felt sure that the previous day couldn't be worsted for difficult conditions underfoot. We almost sprinted up the huge hill comprising Ashdown Forest as we expected and hoped it would be – patchy, barren, beautiful.
A nice Vanguard Way sign in Ashdown Forest near Forest Row
It honestly felt like the roof of the South-east as we could see for scores of miles, especially towards our final destination. One of the best views you will find along the Vanguard Way.
As we dipped in and out of valleys I struggled with the climbs as I had found something new to moan about. Both my Achilles tendons were starting to hurt quite a lot. All that foot-sucking mud from day two had done some damage, but not to my knee.
By the time we reached the Trinity church in High Hurstwood I had to take pills just to be able to carry on. Luckily there was a football stuck in the hedge here with a big happy smiley face on it which told me to just cheer up and move on. So I did.
Pound Green and Blackboys proved to be nice little villages as we observed locals going about their business tending allotments or walking the dog in the sunshine.
The end of day three was characterised with a fair bit of quiet lane walking so we chewed up the miles very easily. That is a morale booster straight away. As we approached Chiddingly we had to cross a field full of what I assumed were docile llamas but on later research I discovered they were alpacas. You can tell by the ears apparently, llamas have curved whilst alpacas straight. A useful mnemonic for you – bananallama.
Alpaca, not Llama near Chiddingly
We were yelled at, in a friendly way, by a farmer with two enormous German Shepherds who claimed to have never met anyone who had walked the whole Vanguard Way. Although this might just have been due to his busyness in other matters it did make us feel just a little bit pseudo-elite and pioneering.
We found somewhere to camp and decided that Chiddingly is the friendliest village we had ever visited. The pub served cheap food in huge portions, with a big smile. What more could we ask for after chalking up another 18.6 miles?
Day 4: Chiddingly to Newhaven
Day four, the last walk. We were both really, really, really slow getting going. Hobbling across Chiddingly took a while but the repetitive movements and a couple more pills allowed me to build up pace. Soon we were crossing ploughed fields and admiring fleeting glimpses of rabbits as they bounced out of our way.
The sun was trying hard to breach the clouds all morning so everything felt good. The South Downs loomed ever closer and we made excellent time coming into Berwick, under the watchful gaze of the 'Long Man' of the chalk hillside.
We were stuck next to Berwick train station as the level crossing gates came down and were asked "Are you the South Bank Ramblers?". No, we were not, but it was the first sign of the multitudes we found for the rest of the day.
Tractor plagued by gulls near Litlington
As we entered Alfriston my excitement grew because I knew what was coming up – the Cuckmere Meanders. Martyn was underwhelmed by the river as we left the town, thinking this was the main event, but I kept quiet. As we struggled up the hills over Litlington we admired the White Horse on the other side of the valley and the humongous flock of seagulls screaming overhead. They pestered the distant tractor as though part of a Hitchcock film.
The White Horse above the Cuckmere Meanders
The woods on the west side of Westdean were roofed by gloomy cloud cover but less than ten minutes later we popped out into glorious sunshine and one of the best views in the whole of the UK. The Cuckmere Meanders were doing what they do best and wiggling their way down the valley and into the glistening English Channel. We could not have timed it any better and my photography skills cannot do justice to the scene.
The Cuckmere Meanders
Martyn cracked out a secret hip-flask of single malt because although we weren't yet at the end this was definitely going to be more scenic than Newhaven harbour. After a spot of soaking up this rare sunlight we dropped and then clambered up the chalk frontier of the British Isles. The Seven Sisters rippled behind us all the way to Beachy Head but our fate lay in the opposite direction.
The Seven Sisters
The views just keep coming. As you leave the chalk cliffs behind you get the pretty sprawl of Seaford and Newhaven laid out below you. In the furthest distance we could just about discern Brighton. Aches and pains didn't matter any more, the Vanguard Way had delivered in style. Yes we were lucky to get the sun at exactly the right moment but I think almost any conditions would have made this utterly spellbinding.
Seaford from the Vanguard Way
Seaford proved to be disappointing. It is 'okay' but where are the fish and chip shops? I was gagging for some but I was badly let down. I did get my first cup of proper British tea from the nice Italians in the seafront shack near the Martello tower though…
As the sun began to fall the sea and sky burned orange. The fishing boats returned to harbour thronged with gulls. We turned up into Newhaven Harbour and helped a slightly lost Birmingham lady to find the main road. And then, with little fanfare we found that we'd done it.
Day four was 19.4 miles but worth every single step. Unluckily for us the trains had decided to undergo emergency engineering work so we had a slog to get back to East Croydon. The continuing lack of fish and chips extended to Newhaven so we enjoyed a couple of Bitterballen in Lewes to cap off the four days. A slightly longer than expected 73 miles in total, what with a few wrong turns and some minor diversions.
Did we care? Not one bit. The Vanguard Way is endlessly difficult and variable, but always beautiful and ultimately hugely rewarding. It is an unsung hero in the south-east of England but one that deserves to be explored. Preferably in one multi-day trek but hey, I won't begrudge you doing it one piece at a time. It is all within easy reach of East Croydon station and "the official website of the Vanguard Way":http://www.vanguardway.org.uk/ has detailed guides so you really have no excuse but to get out there and enjoy it.
Read more of Chris Booth's adventures at Walk Around London
To get free updates from London Hiker, sign up below!
Sponsors
Escape London - click here now!
Welcome! Do you live in London and love walking? I help frustrated London-based hikers to get out on the hills by providing inspiration, ideas, practical advice and encouragement. Satisfy your hill walking cravings! Read more here

Latest Updates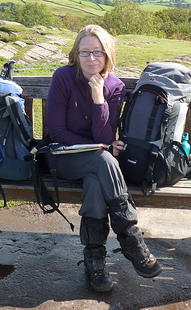 As Seen In: