Here are ten of the best and most interesting maps to help you get the most of walking in and around London.
1. London's Walking Routes (Transport for London)
This is a great place to start: this map immediately gives you a great visual idea of how the major walking trails fit together across London.
You can click through to get detailed maps for any of the specific trails too.
2. Walker's Tube Map (Londonist)
Londonist have come up with a fantastic twist on the major walking trails and created a Walker's Tube Map, which shows 13 of the most prominent walking routes in a familiar tube map style.
This is particularly great for seeing how the various routes interlink.
Not only that but they've created a great intro video explaining major routes, too.
3. Walking Times Between Tube Stations (Transport for London)
Prompted by various unofficial versions over the years, TfL finally produced their own map showing walking times between tube stations.
4. Calories burned walking between tube stations (Treated)
5. When it's quicker to walk between tube stations (Rodcorp)
6. London's Green Spaces & Parks (Greater London National Park City)
A beautiful map showing just how green London is: great to see how the various walking routes visit the green spaces, or just to get ideas. Click through, save the image and then zoom in to see the detail.
7. Waterways Sound Map (I M Rawes / London Sound Survey)
A fantastic and fun representation of London's rivers and waterways in its own right, but click through and you can actually listen to recordings from each 'stop' on the waterway.
8. Topographic map of London (Topographic-map.com)
You want hills? Want high ground? This map will show you where it is.
9. Mount London 'Peaks' (Tom Chivers & Martin Kratz)
A map showing the 'peaks' written about in the book Mount London: Ascents in the Vertical City.
Not necessarily all green spaces, these are an interesting mixture of London high places, hills and viewpoints.
Click on a pin and you can read a snippet from the book!
10. Walking the Tube Lines – GPS logs (London Photo Project)
This map shows the GPS logs from walking the tube lines above ground. You can click through to see the individual tube line maps – it's a fascinating insight into what walking the tube lines is like above ground.
---
If you liked this you might also like…
---
Sponsors
Escape London - click here now!
Welcome! Do you live in London and love walking? I help frustrated London-based hikers to get out on the hills by providing inspiration, ideas, practical advice and encouragement. Satisfy your hill walking cravings! Read more here

Latest Updates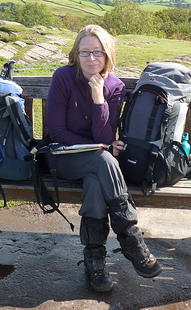 As Seen In: