The Most Popular Posts on London Hiker
I've been running this website since 2011 and I've posted up a fair bit of London walking information in that time. But which posts are the 'greatest hits'? I dug around in my website statistics to find out.
---
1. Q&A: Hikes near to London with great views?
The most popular post EVER on London Hiker is a Q&A in which I answered a question about great views near to London.
This makes sense, it's exactly what I'd want to know if I'd recently started hiking in London, too.
Actually I've posted a lot more about this since I published this short post!
If you're interested in great viewpoints, you might like this more recent article, too, which provides a very different perspective from my own:
2. The best book for day walks from London
I'm a HUGE fan of the Time Out Book of Country Walks and I love to recommend the books for day hikes from London.
Many years on I still think they're the best if you want REAL countryside walks from train stations around London (and some great country pubs and tea shops too).
Doing the walks in these books opened my eyes to some of the wonderful countryside surrounding London.
I'm glad people are still discovering them!
3. Looking for a Hiking Group that Gets out of London?
I still maintain this list of hiking clubs that do weekend trips out of London, plus a link to the excellent list maintained by Rambling Clubs of the many, many walking clubs that do organised day walks from the city.
This is still a popular topic and I often get asked about organised walks and clubs to join – I'm often directing folks to this page!
4. You can have London and the hills
One of the first posts I wrote and a manifesto of sorts!
I was passionate to reassure readers that living in London didn't mean missing out on Britain's gorgeous countryside, green spaces and natural wonders.
If you want a bit of inspiration and four suggestions of fantastic walking areas you can reach within 1 to 4 hours of London, check it out.
5. Q&A: Where are the steepest hills near London?
As a hill fan I loved answering this fab question and as you'll see I found 10 'steepest' hills accessible from London in a day walk, plus some other great ideas for wonderful viewpoints that weren't necessarily steep hills but were still worth a mention.
As the London Hiker tagline says, "Satisfy your hill walking cravings!"
---
Permalink | More hiking ideas!
6 Perfect Winter Walks in London's Countryside
Penny Foot from the Central London Outdoor Group suggests 6 walks perfect for the colder months.
---
The clocks have gone back and the shorter days are with us again but don't think of hibernating during the winter months.  In and around Greater London are plenty of country walks of around 5 to 6 miles that are within Zone 6 or only just outside.
On these walks you can stop at warm pubs for lunch and a beer or cafes for tea and cakes and sometimes both are possible. If the weather suddenly turns bad, there are usually "bail out" options such as catching a bus to the nearest station.
Here are a few of my favourite short winter walks:
1. Banstead Downs, Oaks Park and Woodmansterne (6 miles)
This is a pleasant Autumn walk along Banstead Downs with 2 golf courses, a prison, Oaks Park, Woodmansterne village and a return to Banstead by field paths.   The walk starts and finishes in Banstead station which is in zone 6.
You can have lunch in the cafe in Oaks Park or The Woodman pub in Woodmansterne.
2. Six Commons Walks (circular walk from Esher) (6 miles)
 
This walk includes Littleworth Common, Arbrook Common, Oxshott Heath, Esher Common, Fairmile Common, West End Common as well as Sandown Park Race Course and the Scilly Isles.  Starts and finishes at Esher (just outside the Oyster zones, so you need a cheap day return)
You can have lunch in the Prince of Wales pub in West End.
3) Surrey Valleys and the Ladder of Salvation (6 miles)
A hilly circular walk from Caterham with a stop to visit the Norman church of St Peter and St Paul at Chaldon before continuing across Happy Valley, Coulsdon Common and around Kenley Aerodrome.  The church contains the oldest known wall paintings in Britain, dating from the 12th century, portraying the tree of knowledge, the seven deadly sins and how souls must avoid them when climbing the Ladder of Salvation to reach heaven.  
The walk starts at Caterham and finishes at Whyteleafe on the same line (both in Oyster zone 6)
You can stop for lunch at The Fox.
 
4) Dollis Valley Greenwalk (5 miles)
A linear walk from Totteridge & Whetstone tube to Hampstead Heath, mostly following the Dollis through parks and woods, including a nice view of the Mill Hill viaduct.   The walk is either paved or else firm underfoot. There is no convenient pub for lunch but there is a café at the end.
The walk officially finishes at the Hampstead Heath Extension but you can easily continue to Golders Green station where you can stop at Cafe Persia for cakes and coffees plus Persian snacks and sandwiches if you are hungrier by then.
5) Lost Railways in North London walk (4.5 miles)
A walk from Finsbury Park to Alexandra Palace (AllyPally!) with two lost railways, overgrown platforms, disused stations, and abandoned Tunnels plus Highgate Woods.
It follows a green corridor on the course of old railway lines that once ran from Finsbury Park through Stroud Green, Crouch End, Highgate, and Muswell Hill to AllyPally.  
This is London's longest Local Nature Reserve complete with bats, squirrels, wildflowers, butterflies, and even the occasional muntjac deer.
You can have a late lunch at AllyPally.
6) Bentley Priory and 2 commons walk (6.5 miles)
This walk takes in the wonderful birch woods of Harrow Weald and Stanmore Commons plus Bentley Priory, the 18th century mansion where the Battle of Britain was masterminded, and its deer park
You can have lunch at either The Case Is Altered or The Hare.
There is also the possibility of coffee and cakes at the end at one of the many coffee shops and cafes in Stanmore.
---
This winter the Central London Outdoor Group (CLOG) is doing a series of Lazy Tuesday walks including the above plus a several more.
CLOG is a friendly outdoor activity group (run for members by members) for people living in and around London, happy to welcome anyone who enjoys walking, cycling, exploring our countryside and other outdoor activities.  Most of our current members are in their late 30s to 50s. We typically have four to eight events every week. Non-members can attend up to three events to try out the group before joining.
You can follow us on Facebook and Twitter @CLOGTweets
[Some images copyright CLOG/Penny Foot, used with permission]
---
Permalink | More hiking ideas!
Want to hike more in the next 12 months – despite living in London?
Want to hike more in the next 12 months in London and around Britain?
I've created 3 great resources for you in…. *drumroll*
The London Hiker bundle includes:
1) The London Hiker 50: The ultimate London walking ticklist
A carefully curated list of 50 'must visit' walking locations in and around London accessible in a day, including interactive map, printable ticklist, and links to the best suggested walks in each of the 50 locations (you will get a PDF with instructions on how to access this online resource)
Where are the unmissable viewpoints? What should any self-respecting London walker aim to tick off their checklist? I have the answers!
With this list, you'll be able to find great ideas to suit you if you're a beginner, and later on, if you want to try something more adventurous.
I know this list will help you walk the BEST of London.
2) How to Walk the Best of Britain from London… Ideas, Inspiration and Tips for Beautiful Walks in Your Weekends (PDF ebook)
This bumper ebook (127 page PDF) is a compilation of 10+ years of experience of hiking Britain whilst living in London, 5 years of blog posts on londonhiker.com, and the best resources from my Hiking Britain email trainings all about hiking in Britain's best hiking location – from London, without a car and in your weekends!
It includes my Crash Course in Britain's Best Hiking: discover where the best hiking locations are and how to get there from London; stories, tips and inspiration for walking trips to various locations (South Downs, Isle of Wight, Peak District, Lake District, Snowdon, Brecon Beacons, Yorkshire Dales, Scotland); the big list of 20 ideas for weekend walking breaks from London; a planner to help you plan your best hiking year ever.
(Note: this 127 page ebook is a curated compilation of blog posts published on londonhiker.com and email content sent to my Hiking Britain email list.)
3) How to plan Fantastic Car Free Walking Weekends (PDF ebook)
In this guide I want to share with you the EXACT process of how I go about planning car free walking weekends away from London in Britain's best hiking areas, with a specific case study. This mega guide is going to be full of really PRACTICAL step by step tips and I break down the specific process for you – so you can do it too.
You can
1) buy each of these items individually from my shop
OR
2) get them all for free as a bonus with membership of my Walk Your Weekends package
OR
3) just get the 3 great resources in a bundle and save!
Click the BUY button below to get the London Hiker Bundle
Sponsors
Escape London - click here now!
Welcome! Do you live in London and love walking? I help frustrated London-based hikers to get out on the hills by providing inspiration, ideas, practical advice and encouragement. Satisfy your hill walking cravings! Read more here

Latest Updates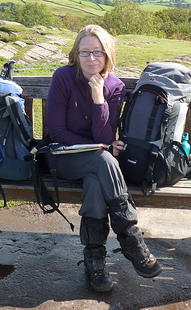 As Seen In: