10 reasons to stay in a hostel on your next hiking trip
When you next book a weekend away to the hills, why not stay in a hostel?
Sure, if you want luxury and a four-poster bed, then hostels probably aren't for you.
But if you don't need all the frills, and can cope with something a little more basic, hostels can be a gateway into some of the UK's most spectacular walking areas.
Here's 10 reasons why you should consider it, if you have never stayed in one before.
1. They can save you money
One of the main obstacles for those of us in London is the cost of a trip to the hills.
Of course, there are many reasons why spending your money in the countryside is well worth it (such as supporting local businesses who rely on tourism).
But if you want to save some cash (and presuming camping is a step too far for you!) a hostel is the obvious choice.
Staying in a B&B or a hotel could cost you upwards of £30 per night. Staying in hostel could cost you roughly £18-25 per night.
When you book, check to see whether breakfast is included or extra; some independent hostels include free tea and coffees in the price and even sometimes a continental self-service breakfast is included too.
Of course, you can become a member of the YHA or SYHA and save money on all your stays. Becoming a member also means that you have an incentive to get out more in order to make your membership worthwhile!
Keep an eye on the YHA website for special deals.
2. You CAN get some privacy
Most hostels in particular now have double or family rooms. I once stayed in one that had a double bed in it!
The only thing with these rooms is that they are very limited so you will have to book in advance to make sure you secure the room (they usually cost a little bit more as well).
If you are lucky they might have a kettle and tea making facilities in the room too!
By the way, a standard dorm room looks kind of like this:
3. Experts on tap
The staff are usually keen hikers themselves and can offer advice on the local area, transport, places to eat or other information about the local area.
If your Plan A has been dashed by the awful weather, the staff will happily help you come up with a Plan B.
4. Warm, dry clothes!
Ok I've got to admit that some drying rooms can be better than others. But there's no denying it's a useful benefit of a hostel compared to most B&Bs.
Just hang up your dripping waterproofs, stuff newspaper in your boots and try not to breathe in too deeply… and with any luck your gear will be toasty warm in the morning!
5. You are amongst your tribe
You won't feel out of place here! No funny looks if you're covered in mud, no feeling embarrassed about wearing scruffy hiking gear when you roll up to the reception desk.
If you're on your own, hostels are great too. No-one will bother you if you want some quiet time to chill out and read. On the other hand if you do fancy a chat, there are usually willing people around to swap stories with.
It is a little weird sleeping in the same room as other people, especially when you're not used to it. But honestly, it's fine. Often, I've had the whole room to myself (which is also slightly weird in its own way…).
But if you're in with other people, just take follow some simple guidelines:
Take some ear plugs and use them!
Get everything you need for bedtime ready when you make up the bed so you don't have to rustle around in your bags and disturb everyone who has gone to bed earlier than you…
If you have the bottom bunk, keep your stuff tidy so the person with the top bunk has somewhere to put theirs!
Be courteous and tiptoe around the room!
Switch the light off before you get into bed. Especially if you're the last person in!
6. They can read your mind…
Hostels are designed for hikers so they'll have anticipated everything you need to know.
They usually have the daily weather forecast pinned up, so you can check out all the information before you head out into the hills.
A map of area is often displayed, as well as local information, and suggestions of walking routes.
They usually sell useful stuff hikers might need, such as plasters, other first aid items, snacks and other useful kit.
7. The ethos
The ethos of the hostel movement is something to support! They were created to provide accessible accommodation to those who may not otherwise afford to travel to these places or go on holiday.
Check this out:
What a great thing… and in this day and age, surely needed just as much as ever.
8. Use them or lose them.
Sadly, many UK hostels are being sold off or closed by the YHA and SYHA as usage declines.
Luckily, many were saved from closure are now run as independent hostels.
These fantastic facilities would be a real loss, so it's good to support them while you can.
9. Food, glorious food!
If you prefer to make your own meals (maybe you have particular dietary requirements?) hostels are ideal.
Otherwise, the hostels often make a big effort to use local suppliers and produce too, and most now sell beer and wine.
You usually have to book your breakfast and evening meal in advance. Some hostels will ask you to choose in advance what you would like to eat, some don't. Some hostels give you a token to hand in in exchange for your meal, others don't. In some hostels you queue up like in a canteen, in others they bring it out to you.
The individual quirks of each hostel makes the whole experience a bit charming, in my view.
10. The scenery. Of course.
Wake up deep in the heart of the hills, a stone's throw from fells or step on to a trail outside the door…
Perhaps the best reason of all.
Sponsors
Escape London - click here now!
Welcome! Do you live in London and love walking? I help frustrated London-based hikers to get out on the hills by providing inspiration, ideas, practical advice and encouragement. Satisfy your hill walking cravings! Read more here

Latest Updates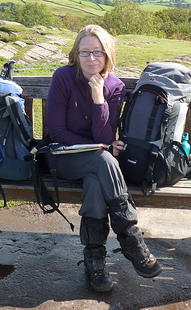 As Seen In: