The Zen of Rain: 7 Ways to Cope With Bad Weather
So you're sat in your flat in Acton/ Balham/ Finchley/ Bethnal Green booking your walking trip in advance to save costs. It's all good. You got your dates sorted, your accommodation booked, train tickets ordered. Excellent.
But… there's a niggling worry…
What if the weather is bad on the weekend you've booked?
Unlike those folks who live nearby to the hills, you can't drop your plans at a moment's notice and decide to stay in bed instead (and frankly, after all that planning, you don't really want to).
So you're going to have to take whatever the weather throws at you.
Here's how to cope.
1. Expect it to rain.
Start off with the mindset that it's bound to rain at some point during your weekend.
This is the UK after all (for the Lake District, multiply the likelihood of it raining by 1000). If you have your heart set on it being perfect weather, the chances are, you'll be disappointed.
With the inevitability of rain accepted, ask yourself, would you still want to go anyway, even if it does rain? You wouldn't ideally choose rain, naturally, but would you still go anyway?
Of course you would. It's better than sitting at home for yet another boring weekend, isn't it?
With the mindset that rain is inevitable, you won't be disappointed, and you might be pleasantly surprised.
2. Be prepared.
Waterproof jacket. Waterproof trousers. Waterproof cover for the rucksack.
All these are absolute essentials.
GOOD QUALITY ones. It is worth shelling out! I've been up Fairfield in a cheap flimsy pack-a-mac that came in a bag and believe me I wouldn't recommend it.
Please see illustration:
NO:
YES:
Waterproof trousers with lining are the best. And the good thing is about wearing them is that you can sit absolutely anywhere and it doesn't matter! (If you want to see me rave about this, check out this video and skip to 4:20!). Seriously this is so under-rated! I love it!
You can also use gaiters (I didn't use these for years, but they are really worth it! Try them out, either over or under your waterproof trousers and see which way suits you best). The only annoying thing is that they sometimes slip down but it does solve the problem of mud mysteriously working its way all the way up your legs.
Make sure your boots are clean and polished with waterproofing boot wax (I recommend Nikwax waterproofing wax for leather).
Now pack it all at the top of your rucksack so it's easy to get to.
Hah! Just let that rain try to penetrate your defences!
3. Put the waterproofs on at the first sign of rain. THE FIRST SIGN! Don't say I didn't I warn you…
…Or even before you leave in the morning, if necessary. Do not leave it until you're damp.
By all means encourage and feed that part of your brain that's optimistically thinking 'ahhhh it'll blow over!', but let the other part of your brain tell you to put them on anyway.
And get them on, quick. Sure, you might not think it's necessary, but if you delay putting them on, you'll regret it. (Again, if you want to see me talk about this, check out this video and skip to 4:20!)
You'll regret it, but you won't do it again. I've learned that lesson. Damn you, Fairfield Horseshoe!
4. Always have an escape route planned.
On any walk it's a good idea to check out any escape routes before you head out, just in case the weather gets so bad that it's becoming dangerous.
Have them all ready in your mind: plan A, plan B, plan C. Flexibility is key. Go with the flow, roll with the punches.
It's part of the experience of being outdoors. You can't always stick rigidly to your plans, and that's okay.
Sometimes it's the best decision not to carry doggedly on, especially if you were planning to go up a fell or a mountain. Safety is the most important thing.
5. Think of the positives.
If it's cloudy, it gives you a chance to practice your navigational skills.
If it's boggy, think of manoeuvring round them as a problem solving exercise.
If it's rainy, well a bit of rain never hurt anyone. Sure you might be damp for a bit, but many places still look spectacular and atmospheric in poor weather conditions.
And at least you're outdoors! Really living life! You wanted to blow those cobwebs away, this is what it feels like!
Your walk will be more of an experience and achievement too, due to the difficulties. Feel smug, you deserve it.
Remember when people queued for hours to get into Antony Gormley's 'cloud chamber' at the Hayward Gallery?
THIS IS THE REAL THING! 100 TIMES MORE REALISTIC! YAY FOR YOU!
6. Use motivational techniques.
Think about the pint in the pub at the end, or that ginormous cake you'll treat yourself to, or that nice warm bath, or all of the above (all at once? You're weird).
Talk to your fellow walkers about happy things (my old standby is 'what cakes would you have if you ran a walkers' cafe?').
Eat your surprise emergency motivational chocolate bar that you stashed away for such purposes (I like a Mars Bar or Snickers, but I prefer an Eccles Cake they are AWESOME).
If you need something to keep you going, use the milestone technique: choose something you can see ahead and tell yourself "I've just got to get to that [plantation / bridge / cairn / stream / tree / stone]." That's the 'milestone.' Then when you get there, pat yourself on the back and choose another milestone.
Keep going.
7. If all else fails, keep telling yourself: at least you'll remember it!
If life is about creating a store of memories to last you a lifetime, then this is life happening to you right here and now. It'll always seem vivid to you; you'll never forget this day.
Some might argue that you'd also remember breaking a leg, but don't pay any attention to them.
I still remember my experience on the Fairfield Horseshoe extremely vividly. Do I remember what I was doing on an ordinary weekend, at home, some nondescript day at any point in the past? Hell no!
Have I told anyone who'll ask about my Fairfield Horseshoe experience, with a faraway expression of one who has experienced and KNOWS THE PAIN? Did I enjoy the re-telling? Hell yes!
If you have a comment on this post, feel free to tweet me, or come over to Facebook and comment! Or, of course, sign up below for more of this kind of thing!
Sponsors
Escape London - click here now!
Welcome! Do you live in London and love walking? I help frustrated London-based hikers to get out on the hills by providing inspiration, ideas, practical advice and encouragement. Satisfy your hill walking cravings! Read more here

Latest Updates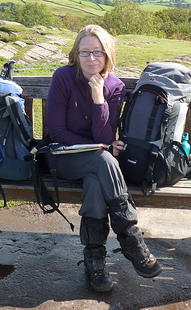 As Seen In: