Another good book for hiking trip ideas
Hi there!
Today I'm going to share another book I recommend if you would like to do hiking trips outside of London, but you're not sure where to start for ideas:
I have used this book a LOT. It's not focused on London and is mainly aimed at visitors to the UK, so has a chapter at the beginning explaining things like what a loch is, why British people love their dogs etc.
But, I have found it very useful because:
It has a good mix of short walks, but also details of many of the best long-distance walks
It has ideas all over the country and details of how to get there by public transport
You can use it for ideas of things to do in areas of the country that you haven't been to yet
It has small scale maps in it so you can get an overall sense of the walks
Although not focused at Londoners, it has useful information such as train times to different parts of the UK from London
If you're after day walks from London, there's only one book I recommend.
Also, don't forget to check my own page for some walking trip ideas.
Sponsors
Escape London - click here now!
Welcome! Do you live in London and love walking? I help frustrated London-based hikers to get out on the hills by providing inspiration, ideas, practical advice and encouragement. Satisfy your hill walking cravings! Read more here

Latest Updates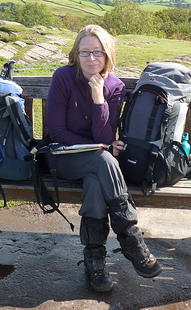 As Seen In: