Finding Hikes and Headspace in the City
Claire Bourke explains why you don't have to hang up your walking boots as you enter the city limits.
---
As you are reading a blog called London Hiker, I don't need to tell you that escaping the city is a major stress-reliever. Despite its wonderful diversity, bustle and connectivity, I still feel the tense angles in my shoulders settle down by degrees as the train pulls out of London.
Trouble is, when work gets hectic, you've missed the boat on those cheap advance-purchase train tickets and there isn't a free weekend in sight, you can find yourself marooned on this urban island with no escape.
But, not so hasty! If hiking is your stress-ball, it can be closer than you think.
This post is about how I've hunted down the elements I love about hiking right here in the city during my past eighteen months as a Londoner.
With an open mind, a bike and a willingness to walk between places with close to zero aesthetic value to find off (or almost off) road trails, I've found ways to beat urbanitis even when leaving town isn't an option. Best of all, I've gotten to know my new home city far better than I ever would have done if I'd spent all my time escaping from it.
Here are my top tips for getting a regular dose of fresh air, endorphins and birdsong into your London routine every week (or every day, if you fancy):
1) Stop pining for the middle of nowhere
London is many things, but it will never be the middle of nowhere. I very quickly gave up on expecting to find a Munro on my doorstep and Royal Mail doesn't deliver, so my first step was to find out what actually was on my doorstep instead. My walk to work is two miles of concrete jungle, followed by a gorgeous skip across Tower Bridge, followed by another mile of concrete jungle. As a first-time-Londoner, finding Tower Bridge on my commute was incredible; the novelty still hasn't worn off. I'd have missed out if I'd taken the tube.
As inauspicious as it sounds, walking to work made me appreciate the elements that I love about a good hike and by turns my wish-list for urban hiking: exploration, head-space, views, endorphins and re-connecting with what's around me. I won't pretend that my commute achieved all of those – there's only so much inner-calm that one woman can muster amidst perma-roadworks – but you've got to start somewhere.
2) Go explore
Robert Macfarlane's book Wild Places was the first book I had ever read about the joys of being in a landscape. Since then, I've gobbled up narrative non-fiction books on places that I love and those I've never (yet) experienced. Aside from being an excellent way of exploring expansive and far away landscapes when getting there isn't physically possible, these books reminded me that hiking is essentially getting to know a place better in all its grandeur, but also in its minutiae. That is something that also works for me in an urban environment. It may not be the Kang La pass in the Himalaya as explored by Peter Matthiessen in The Snow Leopard, but Whitechapel was sure to have its own ups and downs [1], right? With this in mind I armed myself with a local map and set out to explore the green splodges thereon…
I wouldn't want to give the game away, but, amongst other things, I discovered leafy Tower Hamlets Cemetery Park, the site of the eponymous white chapel, the epicentre of 1970s anti-racism protests in Altab Ali Park and that puddles can get remarkably deep when they form in curb-sided cycle superhighways. It's given me a collection of pretty outdoor spots to boost my mood and spend a lunch break, even if I only have half an hour.
3) Join-the-dots (a.k.a: Get wheels)
Squeezing onto a crowded bus or having to pretzel around a fellow passenger on a tight-packed tube is the stereotypical London scene and elicits allergic reactions in many fans of the great outdoors. It's not for everyone, but for me cycling is the ideal way to break free of the commuter blues, add a dose of fresh(ish) air to my day and concertina the distance between home/work and some great parks and open spaces. You can also buy a lot of OS maps with the money saved on public transport.
I was already a regular cyclist when I moved here, but the sheer volume of traffic was outside of my comfort zone. To build my confidence, I prepared with recce runs of the routes I fancied on Sundays so that I got to know the road layouts outside rush hour; this made them easier to negotiate for weekday excursions. I eased in gently, taking the 'scenic' quieter routes at first to get my bearings. Now, with my wits about me, confidence built by experience, and a healthy amount of wimping-out of dodgy traffic weaves, I love London cycling and cycle most days. My reward is my own personal landmark tour of a beautiful city and the ability to get further afield more quickly to diversify my post-work walking possibilities.
In under an hour I can be on the far side of the city on Hampstead Heath watching the sunset from Parliament Hill or down in Crystal Palace park admiring the 19th century dinosaur sculptures. This year I picked one of my favourite views of London, from the Royal Observatory in Greenwich Park, and cycled out to see it at different times of year; getting drizzled on solo in autumn and sharing it with sunbathers in summer.
The improvements for cyclists and the number of us on the roads increase year by year, but cycling infrastructure is undoubtedly a work in progress. Off-road paths in the bigger parks like Hyde and Regents, Parkland walk [2] (a traffic free four and a half mile stretch of tree-over hung disused railway line between Alexandra Palace and Finsbury Park) and the Thames Path provide opportunities to explore London by bike-hike if taking on the traffic is more than you can stomach.
4) Embrace technology
London is the first city I've lived where I can genuinely get lost. My London-based friends also seem to have chosen to live as far apart from one another as possible, which has meant a lot of wandering from one side of town to the other. Transport for London, Citymapper, Google Maps and the variety of similar transport and map apps available for mobile phone have become my allies.
Whilst the idea of getting my phone out half way up a mountain fills me with horror (escaping technology is part of the appeal, right?), embracing hand-held technology has helped me to be more creative with my A-to-B in London.
Citymapper proffers a quiet route alternative to cycling as-the-crow-flies through the city's most terrifying junctions (see #3); Google Maps gives an idea of the incline of the route so you can find somewhere to satisfy calves pining for hill climbs; most of these apps will also tell you when the next train is departing for a last minute dash to Epping Forest when work finishes unexpectedly early. And, if you don't fancy engaging with technology? Just switch your phone off, enjoy getting lost, and save your battery for getting you home.
5) Swim outside
'Wild Swimming' is popping up in the media more and more. Love or hate the re-branding of what was once 'having a swim outside', there's a lot to be said for the wonderful feeling of water on skin. When out hiking I find the draw of the sea, lakes, tarns and rivers, right down to muddy puddles irresistible; knowing this, a friend of mine presented me with 'Swimming London: London's 50 greatest swimming spots' by Jenny Landreth as a leaving gift for my move south. It inspired me to explore as many of the outdoor swimming options as I could and it was surprisingly easy to rack up double figures in less than two months. I've never looked back and now often seek out an outdoor swim after a stressful day's work. Who would have thought I'd end up swimming outdoors more regularly in the middle of London than I ever had in my previous homes?
This is largely thanks to London's lido [3] renaissance, fuelled by passionate grassroots campaigns to rescue crumbling public pools from their 1980s/90s abandonment. There are lovingly refurbished beauties like Tooting Bec and London Fields with their prim early 1900s feel; eye-level ducks, geese and herons at Hampstead bathing ponds and the Serpentine; the no frills thrills of Park Road Lido in Crouch End; and the opportunity to be part of an art installation in the middle of a building site (Kings Cross Pond Club).
Some highlights from my lido-hunting include being dappled from below by the reflections off the aluminium lining of Parliament Hill Lido on a sunny day, waving up at the tenants in the over-hanging flats at the Oasis Sports Centre pool, and seeing the undersides of clouds fade from peaches to purples on a sunset swim in Brockwell Park. Low points include the rather idiotic plan to swim in Brockwell lido in January when the water was 4⁰C; luckily they had cheap deals on the attached sauna/steam room over the winter so I could thaw out!
For those who love the outdoors, but dislike cold water (probably sensible!), London Fields, Charlton, Oasis and Park Road are just some of your heated outdoor options. London Fields in particular is open all year round, so there's not even an excuse to stop swimming when there's frost on the ground; bring some flip-flops for the pool side mind.
Lidos are also excellent focal points for hikes. These could be DIY and on a whim, but many are also short detours from TFLs route recommendations on Walk London. You may also be lucky enough to stumble upon a lido in your local area (see #2).
6) Night crawl
Do you like bats? I do. I was incredibly happy to discover that London is full of bats (as well as the almost ubiquitous urban foxes and some less obvious pairs of Peregrine falcons). If I walk or cycle home from work around dusk, I get an accompaniment of bats as I cross the park. In fact, walking after work and in the dark is a great way to get a different (and often calmer) perspective on London.
Strolling along the South Bank at night involves a lot less elbow dodging. You're more likely to get the view from Waterloo Bridge to yourself. Moon-rises are surprisingly beautiful when reflected in the high-rises. I also watched both the lunar eclipse and the annual Perseid meteor shower from a London suburb this year, so it is still worth a star gaze even if you can't get out of town to a dark sky area.
Unfortunately many of London's gated parks get locked up after dark – I know this from spending many a November evening madly chasing park wardens to let me out – but there are also plenty that stay open. Go for a night walk. Bring a friend (or don't) and contemplate the city lights through the trees. If you like hiking, you've probably got a head torch and a camping stove already, so you can even have a cuppa.
***
London is a playground for exploration; it's huge, sprawling and nonsensically arranged. It's probably obvious from this post that I have a terrible sense of direction, but you too can get lost here, you might even enjoy it. I was sceptical about finding head-space when London-bound, but once I recognised that all (or at least most) of the elements required for a great hike are right here, I got through my mental block. It may be relatively low-octane-sploration [4] for the mountaineers amongst you, but it has the benefit that you can do it every day. Don't get me wrong, I will always hanker after escapes to the hills and my mates in less urbanly-challenged parts of the country won't be rid of me any time soon, but it's also a great feeling to be able to do what I love closer to home too. You don't have to hang up your walking boots as you enter the city limits.
---
Claire Bourke is a postdoctoral immunologist working in Whitechapel and living south of the river. Her research focuses on how infections and malnutrition affect immune cell function, which basically means running around a laboratory trying to get experiments to work and handling lots of blood samples. She hails from Newcastle via Edinburgh and York. In her spare time she dabbles in writing, makes inexpert forays into long-distance trail running, delivers training courses for a listening service and runs away to the hills as often as she can. She still has not gotten used to leaving the house without an anorak.
Photos: All those included in the article were taken in London by Claire Bourke. Claire's bio photo was taken by Clare Andrews from the summit of Ben Klibreck in Sutherland, Northern Scotland.
---
Sponsors
Escape London - click here now!
Welcome! Do you live in London and love walking? I help frustrated London-based hikers to get out on the hills by providing inspiration, ideas, practical advice and encouragement. Satisfy your hill walking cravings! Read more here

Latest Updates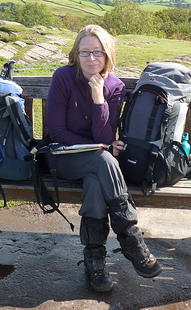 As Seen In: