How to upgrade your hill skills this year
Walking in and around London is one thing, but if you've never been out hiking in the hills and uplands before, you may be a bit nervous about taking those first tentative steps into the wilder side of the British countryside.
So, if you're feeling ready, you've bought the boots, a GoretexTM jacket and a rucksack, perhaps what you need next is a 'Hill Skills' course. Patrick Norris runs one of these new courses. Here he explains what's involved; and I asked him a few probing questions about why hill skills are so important.
---
What is the Hills Skills course?
The Hill Skills course is a nationally accredited programme, introduced in 2014 by Mountain Training, which equips you with the knowledge, skills and expertise to get you out and about hill walking in the UK. On the course you will learn about the following:
Planning – how to successfully plan a hill walk in the UK or Ireland.
Walking skills – what things should you consider while out walking and what can make life easier (pace, nutrition, movement skills etc.). 
Clothing and equipment – being suitably dressed and equipped can make the difference between a great day out and a complete disaster. 
Weather – how it affects the hills and your day out. 
Navigation in the hills – everything from selecting a compass to navigation strategies and an introduction to GPS. 
Environmental knowledge – how to minimise your impact on the hill and information on good practice and useful organisations. 
Hazards and emergency procedures in the hills – how to respond to any hazards you encounter and what to do in an emergency. 
To sign up for a Hill Skills course you must first register with Mountain Training. The registration fee is (at time of writing) £20.00 per adult and if you are under 18, it's £17.00. This gives you access to everything you need to know and it is the gateway to booking on to a course.
My business, Footsteps – walking the beauty of Northumberland is one of many organisations delivering the Hill Skills course.
So, why bother doing a Hill Skills course?
A safe environment
On a Hills Skills course, you can practice hill walking in a safe environment, in the care of an experienced and professional trainer and learn with other like-minded people, who will all be at a similar level to you. The practical element of the course takes place outdoors, in the hills, with a minimal amount of time spent in the classroom.
Getting lost
Perhaps the biggest barrier that confronts the majority of people when considering taking up hill or mountain walking is the fear of getting lost. The majority of call-outs received by mountain rescue teams are to find and rescue walkers lost in the hills and mountains. One of the key reasons for introducing the Hill and Mountain Skills courses is to reduce this number of 'lost people', which has to be a good thing. A Hill Skills course doesn't guarantee you won't get lost, but it will help reduce the chance of doing so and equip you with the knowledge about the actions you must take, if you find yourself unsure of your precise whereabouts.
Hill walking: it's different!
It's a different type of walking as the name implies; your Hill Skills course takes place in the hills, not the mountains. Everybody starts their walking adventures in the high hills and uplands of the UK. You will certainly want to develop your skills in the hill environment and your appetite will be whetted for bigger and higher adventures in the mountains, which come next if that's what you choose to do.
Personal development
I began seriously to develop my hill skills about 25 years ago on Dartmoor, a reasonably forbidding wilderness. I soon understood that I needed to up my skills, if I was ever going to walk beyond the horizon and more importantly get back home again. That's what I did, I attended an outdoor skills course and I haven't stopped since. Those early adventures led eventually to working as a volunteer leader for the Duke of Edinburgh's Award Scheme, a successful Basic Expedition Leader Award and eventually to the Walking Group Leader Award, which became the Hill and Moorland Award in April 2014. That outdoor skills course back in the early 1990s equates to the current Hill Skills course, so if you attend the course, who knows where it might lead you. To far horizons perhaps, I hope so!
Record of achievement
Another benefit of the course is that it gives you access to the Mountain Training online DLOG, where you can record all your walking days, a permanent record of your achievements. As I used to say to young people undertaking the Duke of Edinburgh Award, if you don't record an activity, then it didn't happen! The DLOG allows you to do just that; so keep a good record!
How will it make you feel and what will you be able to do that you couldn't before?
Like any new skill and with most forms of personal development, the Hill Skills course will boost your confidence and encourage you to do more hill walking, more often and in an increasing number of places. The sense of achievement when you can 'take a compass bearing' and apply it is considerable; it is a key skill that you must have when out and about in the hills. There isn't the time on the Hill Skills course to make you an expert navigator with a map and compass, but you will be able to master the basics and get you on the right track.
What do you get from doing a live course that you don't get from reading about it?
The Hill Skills course is designed to be a practical introduction to walking in the hills and uplands of the UK. You will get to have a go at map reading and navigation with a compass in a hill environment.
On the course we run, you will be walking in a working landscape and see a grouse moor up close (and lots of red grouse too) so you will understand how this component of the rural economy works. There will be an opportunity to learn from, discuss knowledge and experiences with other candidates on the course and finally, you'll be walking in the Cheviot Hills of Northumberland National Park, you don't get that from a book!
What does an average day on the Hill Skills course involve?
I can tell you what happens on our course! Apart from the first morning, which is spent in the classroom, the remaining day and a half of our course takes place out and about in the Cheviot Hills. The day begins with a kit check to ensure that everyone has all the things they will need; it's surprising how often the picnic gets left on the kitchen table. Each candidate will lead a 'leg' of the walk, taking it in turns to navigate from point to point, which will include working out a strategy to complete that section of the journey. Over the course of the day, opportunities to learn about hill walking and all it involves will be taken. For example, why are there beehives on the heather moor and what hazard might be associated with them? Candidates will be encouraged to identify features for those discussions and the tutor will also spend time instructing components of the course over the day.
At the end of the day, there will be time for reflection and discussion, ideally in the pub of course. It is expected that the discussion will pick up on themes for future learning, share photographs and stories and look forward to what comes next in your hill walking career.
Why are hills skills so important?
The hills and moorlands that you will walk in are working landscapes. They are likely to be worked as hill farms, grouse moor and forestry. Each has a distinctive flavour, there are key periods of activity such as lambing or a shooting season and each has to be considered in terms of the impact you have on the landscape and the impact that activity may have on your behaviour. Our Hill Skills course looks at land use and in Northumberland, all of the above take place within the Cheviot Hills of the National Park.
How to choose the right course for you?
If you are right at the beginning of your hill walking adventures, the Hill Skills course is the one for you. On the other hand, if you have completed lots of hill walks and you are looking to extend your skills and ability, then try the Mountain Skills course, either way you won't be disappointed. A huge amount of development work has gone into setting up these courses, so what are you waiting for.
As to location, the courses are being delivered across the UK, so you have lots of choice about where you go: it's really up to you. Once you have registered, have a look at the course list on the Mountain Training website and choose.
There are plenty of course providers, but I invite you to come to Northumberland; it's an ideal place to do the course, and with your new Hill Skills Award, you are sure to be back for more.
What do YOU enjoy most about teaching these course and what is rewarding about it?
I developed a real love for training people in outdoor skills as a volunteer with the DofE Award. The opportunity to lead young people on a journey from absolutely no knowledge, to them undertaking an expedition to the top of mountains like Pen y Fan in the Brecon Beacons National Park, remains one of the highlights of my life. I was really pleased to be selected by Mountain Training as a tutor and as a course provider for the Hill Skills course and the chance that has given me to once again teach and share knowledge of the great outdoors. Onwards and upwards then, and I look forward to seeing some of you on a Hill Skills in Northumberland soon.
More about the Footsteps – walking the beauty of Northumberland Hill Skills course
As the name suggests, we are in Northumberland in the very north east bit of the county, just three and a half hours away from King's Cross if you are travelling as far as Berwick-upon-Tweed, less if you choose our other station, Alnmouth. Alternatively, you can fly to Newcastle or Edinburgh, about one hour or so from London airports.

The course will be based in The Cheviot Centre in the small market town of Wooler on the very edge of Northumberland National Park. On the morning of the first day, we will be based indoors in the Cheviot Centre. In the afternoon and for the whole of the second day we will be outdoors practicing your new skills in the Cheviot Hills, just a short walk away from the Centre. The course requires a minimum of four candidates and the maximum number is eight on a course.

Wooler has the full range of accommodation, from an excellent youth hostel, campsites and any number of bed and breakfast, hotel and self-catering establishments to choose from.

Dates for the Hill Skills courses I run can be found listed on my Mountain Training profile page.

The cost per person is approximately £90.00, which includes instruction, group equipment, leadership on the hill and tea/coffee and cakes. Maps and compasses are provided, you can bring your own of course, and the map you will need is the Ordnance Survey Outdoor Leisure 16, The Cheviot Hills. Just to reiterate, you must first register with Mountain Training and then book a course via their website.

Northumberland National Park is the least populated of any of the UK's wild places and arguably the most tranquil and it is an ideal place for the Hill Skills course. Remote valleys, rolling heather clad hills and remote enough to be challenging, it's the perfect place to develop and learn the skills you will need for walking adventures across many other of the UK upland areas. It is similar in terrain to the North York Moors, the Peak District, Dartmoor and the Brecon Beacons for example, so you won't feel too daunted if you choose to visit those National Parks as your hiking adventures evolve and develop. There is a Northumberland promotional video here – it really is that good.
More about Mountain Training
Mountain Training's aim is to educate and train people in walking, climbing and mountaineering. To make this a reality, we have developed a range of nationally-recognised mountain leadership, instruction and coaching awards, as well as skills courses.

Our awards and skills courses are run by approved Providers who are scattered all around the UK and Ireland. When you book onto a course, they're the ones who will train and assess you, teach you how to climb, navigate, lead etc. Our awards would be worthless if we didn't have them, so we like them a lot.
---
This article is a guest post by Patrick Norris.
My wife and I established Footsteps – walking the beauty of Northumberland in May 2011 to offer great guided walks in what is often described as the best walking country in England. As your tutor and guide, I hold the Hill and Moorland Leader Award and I have many years of experience training people of all ages for outdoor adventures, primarily in the UK and occasionally in more exotic locations.
Please get in touch if you want to know more about the Hill Skills course in Northumberland. We have the perfect landscape for the course and Northumberland is always worth a visit. So, make the most of your stay and leave with a qualification in your rucksack and the desire to come back for more of the same.
Photographs 1,2 & 6 are copyright of and used with permission of Patrick Norris and photographs 3, 4 & 5 are used courtesy of Mountain Training.
---
Sponsors
Escape London - click here now!
Welcome! Do you live in London and love walking? I help frustrated London-based hikers to get out on the hills by providing inspiration, ideas, practical advice and encouragement. Satisfy your hill walking cravings! Read more here

Latest Updates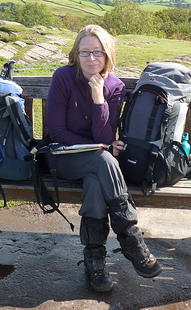 As Seen In: