How I carry my son on a hike
"Exactly HOW many baby carriers do you own?"
I laughed.
We certainly experimented with a few until we finally landed on the one we use almost daily.
We use it around London on daily basis, and we've used it hiking with our son on the Thames Path, in the Lake District, Brecon Beacons, Snowdonia, Peak District and more.
…And it's not a traditional hiking frame carrier that you usually see people hiking with children use.
More about my baby carrying journey!
First we tried a Baby Bjorn…
This is a walk we did on Box Hill, on Boxing Day, about 4 weeks after my son was born (hence my glazed expression).
…And I tried a Baba Sling…
But I soon realised both were a mistake.
The Baba Sling was awkward to use and I could never seen to get a good comfortable carry.
I booked a 1-2-1 session with a babywearing consultant who told me that neither of the carriers I'd purchased were ideal.
The Baby Bjorn is the one that almost everyone gets; but the baby is not positioned in the most comfortable way, which is with their knees up in what is called a 'froggy' or 'letter M' shape.
Tip:
Google 'babywearing' for the best tips and advice on how best to carry children.
You can even find local 'babywearing consultants' to advise you on the best carrier for your needs.
When you are told how a baby SHOULD be carried it makes obvious sense. Babies naturally would not be carried facing outwards, with their legs and arms dangling straight down.
Neither is this a good position for you as the person carrying.
The reason why so many people give up carrying their baby is because they haven't been shown the most comfortable way to do it; particularly, they haven't had the opportunity to learn how to back carry (or don't have a carrier that supports it).
Babies naturally cling on with their knees up, facing inwards towards you, like a little monkey.
A good carrier should support this posture.
Once I got some proper advice, it became much easier.
Next, I got a stretchy Moby wrap and I never looked back. It was AMAZING.
This is great both inside and out of the house as it's so comfortable.
I even wore when we started our Thames Path walk:
Then I tried a bit more wrap carrying.
I fell in love with this beautiful woven wrap carrier. I think it's incredibly beautiful, and I would have worn it much more, if I could.
…But it was fiddly to put on and take off.
And I couldn't imagine securing my baby in it on a muddy path, with the long wrap ends flapping about in the mud.
So for outside the house, the other carrier recommended to me by the babywearing consultant became my best baby investment ever.
It was quick, it was easy, it was comfortable and I love it.
It's called the Manduca
We are still using it and continue to do so after 3 years.
We've used it so much and it's so comfortable we've never actually bothered with a 'traditional' frame hiking carrier that you almost always see hikers with children using.
It costs about £80-90 and looks like this:
Manduca Standard Edition Carrier
After using it around our neighbourhood we started to use it on walks and holidays, too.
Walking along a beach on the Isle of Wight:
In the Lake District:
Yes that's heading towards Catbells! Although I have to admit I didn't make it to the scrambly summit.
Climbing a fell near Ullswater:
Walking in Langdale:
Getting to the top of another Wainwright fell!
In Wales…
In Snowdonia…
…and the Brecon Beacons:
When not in use I either just let it hang from my waist:
My friend says it looks like a welding apron. Heh!
…Or I stuff my bag into it:
Reasons why I LOVE the Manduca
for hiking (and just in general!)
It's sooooo comfortable. It has a really wide, comfortable waist band like a really good rucksack would have. The shoulder straps are padded and soft and don't dig into your shoulders. Carrying my son on my back is like carrying a warm, wriggly rucksack!
It's really secure. There's no way he can fall out and the waistband clip is extremely secure as you have to use two hands to undo it (not just one).
His centre of gravity is close to mine, he's not removed from my body by poles, or positioned high up in an unnatural position. This makes it easier to carry him up or down hills.
You can use the carrier as a handy thing to sit on when having a picnic outdoors!
We can talk easily about what we are seeing around us. I can hold his hand.
I can get him in and out easily and fast.
It is light to carry and folds up so you can put it into a bag.
It dries out quickly
It makes traveling on public transport so much easier
Questions I thought you might ask…
1. What if it's raining?
The Manduca isn't waterproof. If it's rainy our son just wears his waterproof coat and/or trousers. I might also take an umbrella and hold that over us.
I let the carrier get damp. It dries out fairly quickly.
Also, we don't plan walks for very rainy days.
2. Does it fit Dad as well as Mum?
You might notice on the pictures above that when Dad is carrying, my son's head is lower down his back, just due to the fact he is taller than me.
If you are concerned about this, you can try it out at a 'sling library'. There are sling libraries across the country.
3. Can the child see out properly?
People tend to overestimate how much a baby needs to face outward and look around. The world is pretty overwhelming; young babies are generally happy when snuggled up to you, it's more comforting for them.
In a back carry, their head is not above yours as it might be in some frame hiking carriers, but is about shoulder height. They can see a lot from there.
To be honest, comfort and closeness to you is probably a more important factor for your child than having a full panoramic view.
My 3 year old is unlikely to comment on a sweeping vista in front of him, but more likely to find a passing caterpiller extremely interesting.
4. How do you carry him AND a bag?
For short journeys (e.g. walking to the shops, tube, etc), I carry him on my back and on my front I carry a small rucksack. This works fine.
(I did it the opposite way round when he was younger i.e. carry him on my front and the rucksack on my back).
However… when I'm hiking, there's always been two adults so one of us carries while the other carries the bag. I would find it too difficult to hike carrying him and a bag on my front.
5. Can you use it by yourself?
Yes! I put my son in a back carry almost every day by myself. It took a bit of practice at first, but now it's easy.
The only thing I found tricky to do on my own was:
When front carrying, clipping together the back straps was sometimes awkward.
When back carrying, lifting up and securing the sleep hood is impossible.
If I was going on a hike with my child, I would need a bag of things (snacks, water, etc). I would need someone else carry this, as carrying him + a rucksack on my front is ok if I'm popping 5 minutes to the shops but would not be suitable for a longer walk.
I hope this helps you find the right carrier for you!
…and I wish you many happy family adventures.
Manduca on Amazon

---
Sponsors
Escape London - click here now!
Welcome! Do you live in London and love walking? I help frustrated London-based hikers to get out on the hills by providing inspiration, ideas, practical advice and encouragement. Satisfy your hill walking cravings! Read more here

Latest Updates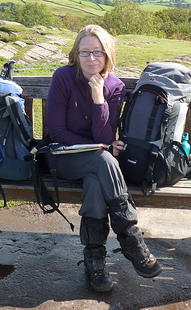 As Seen In: