How to escape London with children
If you're pining for the hills and live in London, organising a hiking trip can be hard. Folks who live closer to the countryside can just get everyone in the car and head off easily enough for a Sunday afternoon hike. But for us, hiking trips take tons of planning and organisation just to even get our boots on the start of the path, and that's if it's just you, never mind if you have children too.
So I asked Kate Limburn, from Baby Routes, to explain how Londoners can combine our love of hiking with children.
Kate doesn't live in London but lives close to it and has tons of experience travelling to various locations for fantastic walks with her family.
I admit to having a personal interest in this topic as we now have a little addition to my family in the form of a 10 week old baby boy! I hope you find her example as inspiring as I do.

How to go hiking outside of London with children
Hi Kate, can you tell us a little bit about yourself? Where do you live? Do you live close to hills or do you have to travel to them when you want to go hiking?
My name is Kate Limburn and I am a keen hiking enthusiast and full-time mum to my 15 month year old daughter and mini hitch-hiker Roo! I am currently combining these two activities through my website Baby Routes which I set up to share family friendly walks, kit reviews and tips for getting free-range kids and outdoor parents out onto the hiking trail.
Although I worked in central London for several years, I currently live in rural Oxfordshire and am lucky to be able to walk out of the house and into the fields and the many footpaths that weave all over this glorious county. Oxfordshire is a great place for day hikes and country rambles, offering woods and fields aplenty, lazy strolls by the rural Thames and the rolling green Chiltern Hills. I love a mountain challenge too and have to travel to the big hills whenever the wilderness itch gets too bad but there are plenty of hiking opportunities on my doorstep to keep me busy in between the bigger adventures.
When did you get into hiking? Is it something you've done all your life or did you get into it at a later stage?
I have grown up in a family who all love the great outdoors and was lucky to have a mother and grandparents who were passionate about nature, teaching me birds and wildflowers from an early age and inspiring my love of the wild. My mum likes to tell the tale of how I was carted up Scafell in the Lake District in a baby carrier on my Dad's back and I have clear memories of scaling the same mountain and learning how to handle a scree slope when I was about ten or eleven. I have been lucky to grow up in the countryside and the outdoors has become a part of who I am. From the Girl Guides, camping in the garden, to just mucking about with friends or the dog, I took every chance to get out and get muddy!
As a teenager, I went on to study at the University of St. Andrews, as much for the fact it was situated on a beautiful stretch of wild coastal walking and also within an hours drive of the Cairngorms, as for its academic excellence in my subject of geography. I have also been fortunate enough over the years to go walking in various parts of the Alps – in particular Switzerland, as well as walks of varying duration and difficulty in Costa Rica, Ecuador, Cuba and the Indian Himalayas.
Where have you been hiking with your children? How old were they when you started hiking with them?
I took my daughter out for her first field walk when she was five days old and that was the start of our walking adventures together. It was literally a 20 minute loop of the fields next to our house and the midwife would have skinned me if she had found out (you should take it very easy in those early days) but I was desperate to escape the house!
Since then we have regularly roamed many a wood, hill and field – mainly short walks exploring the gorgeous Oxfordshire countryside but also further afield – we have been up to Scotland, the West Country, Northumberland… and even out to Switzerland!
How often do you manage to get out walking in an average year? Do you do day walks, weekend breaks, long weekends, or longer breaks? Where do you usually go?
As I am fortunate to be based in a rural area, I go walking several times a week – mainly for short walks from 30 minutes to two hours long, exploring routes in the surrounding counties.
Weekends bring the opportunity to explore a little further with my husband too and we have been slowly tackling County Tops – starting with those nearby and slowly spreading our goals further afield. County Tops have proved a manageable walking target with a baby – you still have a great sense of achievement, enjoy some great views but quite often with a manageable walk that keeps everyone happy! The weekend walks tend to require a bit more travel so we tend to make them a bit longer too to compensate – often anywhere between 2-5 hours, depending on the location, time of year and weather.
We also like to plan a few trips a year to some of the wilder areas, national parks or abroad. Favourites are Dartmoor, the Scottish Highlands and the Lake District but anywhere with some rugged terrain to explore gets the thumbs up and the boots on!
Do you usually base yourself in one location for the trip, or do you backpack and move on?
With a baby it is undeniably much easier to base yourself in one location. This is true whether you are walking or just on a regular trip or family visit. It's perfectly possible to pack up and move on but it takes precious time and for a little one it means getting accustomed to sleeping in a new place yet again which can be unsettling, so it really is easier to take the lazy option and set up 'base camp' somewhere interesting and go for day walks from there instead.
Having said that, we are just about to invest in a family tent as well as exploring options for moving on (YHA have family rooms and there are some other good options out there). I'll keep you posted…!
Do you tend to go hiking alone or with others? Who do you go with (friends, family, an organised group)?
During the week it tends to be mainly just baby and me – a lovely opportunity to bond with just the two of us and a great excuse to chatter and sing away on my rambles without getting odd looks! However we do like to meet up with other mums for walks (I'm currently working on setting up a local parents' walking group) and at the weekends and for longer or international trips my husband, who is also a keen hiker, comes along too.
I think for a lot of people the idea of going hiking with children is intimidating and they may feel that their hiking days are over at least for a few years. What would you say to those people?
I would say that as soon as you have got the physical all-clear and feel mentally up to it – get out and about with baby. Make it a trip to the local park, taking the scenic route to the corner shop or even just mucking about in the garden – it really doesn't matter what or where. This has so many benefits – the first that exercise and walking in itself will re-energise you and help keep those hormones steady that can make you feel out of kilter as a new mum, secondly, you will begin to get used to carrying your baby. If you keep this up regularly as baby grows, your muscles will not get a shock when a year down the line you decide to try hiking with your little dear in a backpack only to realise that rather than a bundle of feathers, it feels like carrying a small horse on your back.
On top of this, it helps shift that baby weight, gets you out the house on those days when the walls seem to be coming in at you , helps you meet other parents and gives you a springboard from which to leap onto more challenging adventures, if that's what you are after! All that fresh air can be brilliant at calming an irritable baby (my main motivation in the early days for getting out the house) and finally – there will always be a reason to make you think your child of any age is going to make hiking tricky – find your feet slowly and be prepared to be flexible and enjoy the variety of walking opportunities presented to you as your child hits each new development stage.
I often suggest Londoners take long weekend breaks to places like the Peak district, Lake District and so on, to get their hiking fix. They can easily travel by train, or they may be driving there if they prefer to. But travelling with children makes the whole thing seem even more daunting. Can you give any tips on how to make the travelling side of it easier?
Weekend trips do become trickier but not impossible. You just need to be very organised but at the same time be prepared to be flexible. My biggest tip would be to work with you child's routine as far as possible. Give them their dinner and bath as normal but then instead of whisking them off to bed, bundle them into the car with an audiobook instead and drive on the Friday night or during morning nap time. Also, don't overstretch yourself – walking now is about making it enjoyable for everyone rather than setting crazy goals to pack into a weekend. That way baby (and you) associate walking with fun and you get home having got your fresh air fix and without being completely frazzled!
In terms of transport types, I would say that for a weekend away it is definitely easier to take the car, sorry, I mean the glorified over-sized baby changing bag… I have written an article on how to make long car journeys easier as well as some ideas for finding family friendly alternatives to your normal service stations.
However, it is perfectly possible by train or bus with a little planning. In fact for older children, the excitement of travelling by train can actually be an added bonus, especially if they have been involved in the weekend planning. Take plenty of activities – books and colouring activities are favourites but also get creative with a train treasure hunt – assign points for each time they spot a windmill or horse etc. out the window. Another idea is to tell a story (or get the kids to help out) for each town or stop you pass. Make it silly/fantastic enough and your little ones won't be able to wait for the journey back and to spot the locations that featured in the tales! For babies, the ability to walk around can be a bonus. Travel over meal-times and book a table seat so you can keep your little one occupied for longer on a nice long lunch! Encouraging your baby to be a bookworm or budding artist also pays off for train trips – reading material, paper and crayons are compact to pack (try the train magazine or timetable if you are desperate).
If you had to recommend just one location for a hiking break that's accessible from London, and suitable for families with children, where would it be and why?
Ok – I cheated – I've got two….but with two National Trails perched right on London's west doorstop offering different experiences for different levels of hiking, perhaps you'll let me get away with it…
For families starting out and learning the ropes then I'd head for the Thames Path. You can start off with some short but lovely stretches in London itself and then when you're ready, head on west. The rural Thames is very beautiful, perfect territory for little boat, duck and Wind-in-the-Willow enthusiasts and also has the bonus of being easily accessible by train making it perfect for an easy day or weekend away. The walking has the advantage of being flat and kind on little legs and beginner baby carriers and there are also options for those who need pushchair friendly stretches. What's more, you can inspire competitive children and get them looking forward to the next trip by working as a family towards gradually completing the entire 294km! I can highly recommend the route from Sonning to Shiplake (start from Shiplake if travelling by train) – a tranquil Thames-side wander through the beautiful countryside that inspired Wind-in-the-Willows.
For those looking for a hill-top adventure, then the Ridgeway offers 140km of mainly lofty walking from Avebury in Wiltshire to Ivinghoe in Buckinghamshire. There are some fantastic stretches and parts of it are accessible with pushchairs. The Whitehorse at Uffington Ridgeway Walk which takes in Oxfordshire's highest point, is a personal favourite and was my daughter's first county top!
Can you give some tips on the practicalities of hiking with children?
If you want hiking with your children to be a lifelong family activity then you need to make sure you plan your early walks with them firmly in mind. Whether that means short walks, walks involving options for scooters (there are some great old railway paths out there) or walks full of history, wildlife or tractors/trains – work with them and their interests whilst they are little and take time to build that den or investigate that fox hole during your lunch-break. That way, when they are a bit older they will be nagging you to go out hiking rather than the other way round. For practical tips on everything from dressing your children for a winter walk to al fresco nappy changing, you can read more on the Baby Routes website.
Going on regular hiking trips can be expensive (particularly travelling costs and accommodation). How do you manage this? How do you justify the expense to yourself?
Hiking with a baby or young children does involve some upfront expenses and if you are planning on doing long or frequent walks, it pays to get the right kit. There are some big bits of kit such as a good quality baby rucksack, an off-road pushchair and good quality water-proofs and warm layers for your children but these generally pay for themselves over time and you can find plenty of bargains on ebay, freecycle, nearly-new sales or the ads in the back of your local paper. It's worth doing your homework before you buy.
In terms of accommodation we are personally lucky to have far-flung friends and family who are equally keen on walking so quite often incorporate walking trips with social visits. However, we are investing in our first family tent this year to help cut expenses on summer trips and with a decent travel cot there are budget options – YHA family rooms and bunkhouses with segregated sleeping areas being just a few. Groupon is also worth keeping an eye on for more luxurious options at short notice. It's surprising how many rural hotels appear on there and you can get some great deals in the low season.
Travel-wise, train fares tend to be cheaper at the weekend and babies and toddlers generally go free or for a very small fare (check your train company's policy) so this can be quite an economical way to travel. If you have a travel card or season ticket its worth checking for special 'days away' rates for family too.
Car travel is always expensive but for older children or if you are going somewhere more remote, can easily justify itself in convenience. At the end of the day, hiking is a fun, healthy,educational and invigorating way to spend a quality weekend with your children and can with some careful planning be very cost effective – especially when compared to the price of soft-play centres, childrens' clubs and coffee mornings!
What are your hiking plans for this year? What will your next trip be?
I'm still exploring the Chilterns and Home Counties on a daily basis and charting out family friendly walks for Baby Routes as well as revisiting walks in the West Country where I grew up. I have a trip to Scotland planned in March which will hopefully take in some more of Northumbria on the way as well as parts of the Borders and Midlothian and we hope to head up to the Scottish Highlands in late spring too for our first 'proper' mountain fix of the year. Hopefully we will also get abroad at some point too for some walking in the Alps.
This is also going to be an exciting year for Baby Routes with a charity pushchair walk planned for later in the year – watch this space!
Where can people find you online?
You can find me at:
Website: http://babyroutes.co.uk
Facebook: https://www.facebook.com/BabyRoutes
Twitter: https://twitter.com/BabyRoutes (@babyroutes)
Many thanks to the awesome and inspiring Kate for sharing her knowledge! Pop on over to BabyRoutes for more of her advice and suggestions. Or, if you have any comments on this post, come on over to the London Hiker Facebook page to have your say!
Sponsors
Escape London - click here now!
Welcome! Do you live in London and love walking? I help frustrated London-based hikers to get out on the hills by providing inspiration, ideas, practical advice and encouragement. Satisfy your hill walking cravings! Read more here

Latest Updates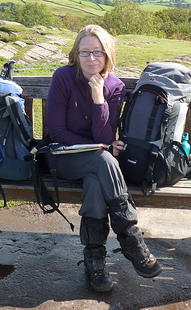 As Seen In: