Four simple steps to getting more hiking done this year
One of the reasons why I wanted to set up this site was about motivation, for myself and others who live in London and who love walking.
Living in London, when you're not a stone's throw from amazing countryside, it's easy to let time slip by and let other things take priority, and before you know it you haven't been out walking for months (or even years).
There's no denying that getting out on a walking trip from London takes some effort and preparation. You don't roll out of bed on a Sunday and think "Oh let's have a potter round in the Peak District today".
Even for a day walk, you have to prepare everything the night before, hoist yourself out of bed at some ridiculous hour, make sure you get to the train station on time, get your tickets, make sure the guide book is packed, and so on and so forth.
You have to be really motivated and determined to make sure it actually happens.
Here is how I recommend you live the year you want to and get more time outdoors this year.
1. Plan ahead
I find a good way to make sure I get out and about is to plan ahead, and one way of doing that is to think about having some walking goals for the year.
Maybe you'll be wanting to complete a National Trail, either in stages or all in one go.
Maybe you'll be wanting to tick off a certain number of Wainwrights, Marilyns or Nuttalls (or Munros if you are extra ambitious!)
Maybe you'll be aiming to go walking in areas of the country you've never been to before.
Maybe you just want to do a good walk at least once a month, or once every couple of months.
(Or maybe… ahem… you might want to try some of the awesome hiking weekends I recommend?)
Whatever it is, if it makes you happy to do it, you should prioritise it in your life and make sure it happens.
2. Tell people about it
One way of making sure you'll do it is to declare your ambition. Tell your friends, colleagues, hairdresser/barber.
When they start asking you how the planning is going, it'll shame you into getting going with your goal.
3. Book the time off work
Allocate some time at the beginning of the leave year to achieving your goal and ring fence it for that purpose.
Don't let other things creep in, unless it's something you really want to (or have to do).
I usually have one major holiday per year but then I love to have several shorter trips throughout the year too (and that's what this website will mostly focus on).
I cherish my leave and use it carefully.
In fact, you don't always need to take leave as you can have a fantastic memorable trip in just an ordinary weekend (I have some ideas here).
4. Book the train (or the accommodation)
Commit, dammit!
This is a sure fire way to make absolutely certain it'll happen.
It helps to have a friend who'll just tell you to stop talking about it and flippin' just get on with it already.
When you get to this stage, you've crossed the Rubicon. You've taken the first step. Congratulations!
From little steps come HUGE achievements.
Good luck!
Do you want more suggestions for things to do this year?
Be sure to do this quiz; it'll identify what type of hiker you are, and you'll get the opportunity to find out what my suggestions are for you!
p.s. All of the photos and the short video on this post are of me at the start and end (woohoo!) of the Coast to Coast walk, a long-time ambition I had that I finally achieved in 2010. And it started just by booking the train to St Bees.
Sponsors
Escape London - click here now!
Welcome! Do you live in London and love walking? I help frustrated London-based hikers to get out on the hills by providing inspiration, ideas, practical advice and encouragement. Satisfy your hill walking cravings! Read more here

Latest Updates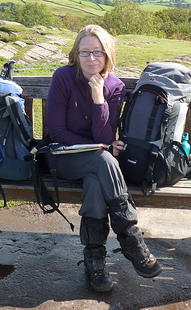 As Seen In: