How to pack your rucksack in 5 minutes
Some days you're stood on the District Line in rush hour with your nose in someone's armpit and you think
"BLARGGHH! I really need to climb the fuck out of a mountain!".
A few hours later and then yay! You planned a spontaneous weekend hiking trip!
Boo. That means you have to pack your rucksack.
BORING (and worrying, because if you forget something vital like waterproofs, it could be a serious matter on the hills).
Do you hate packing as much as I do?
Packing for a hiking trip can be a right old tedious pain in the bum.
Here's 2 simple steps I use to make a fast getaway.
1. Keep all your hiking gear and clothes in one location.
I use a large box that sits on top of the wardrobe.
Get your hiking socks out of the sock drawer and into the box. Same with your hiking t-shirts, trousers, and all the other stuff you will need. No more rummaging around in your sock drawer trying to find your hiking socks. Do this once, and it'll save you so much time in future.
Get a wash bag and fill it with a spare toothbrush, toothpaste, soap and other bits you'll need. Keep it with the hiking gear. No more forgetting to pick your toothbrush up from the bathroom.
Next time you're packing for a trip, just get the box down and quickly stuff that rucksack full of everything you need.
2. Use a pre-printed packing checklist and keep it with the hiking gear.
If you're like me you worry about forgetting something important.
For years I would sit with a pen and pad painstakingly writing out my packing list every single time I'd be going away.
Then it dawned on me. Duh. Type up the list once and for all, print it out and keep it with the hiking box.
Now, I grab the list, quickly tick everything off and cross out anything I don't need for this particular trip, and job's a good 'un. I can relax, knowing I haven't forgotten anything crucial.
I've made a free, editable packing checklist that you can use for this purpose.

To get it, fill your name in the box at the bottom of this post and join my free updates list. (You'll get other freebies too).
Now you know how to pack your rucksack in five minutes.
Now where's that mountain?
Sponsors
Escape London - click here now!
Welcome! Do you live in London and love walking? I help frustrated London-based hikers to get out on the hills by providing inspiration, ideas, practical advice and encouragement. Satisfy your hill walking cravings! Read more here

Latest Updates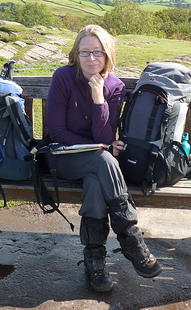 As Seen In: