Londoners: Is perfectionism stopping you from going hiking?
I got an email from a reader who raised a problem I think is a common one for hikers especially those of us based in London.
It's about perfectionism and walking.
Here's what they wrote:
"I have many friends that live in the London area. They are all into camping, but myself and a few others would like them to get more into just getting outside and walking/hiking as opposed to doing the whole full blown bushcrafting thing that so many people have created for themselves as an excuse, because they think they lack the gear.

Instead of having to acquire all of this supposedly required gear, they just need to get out on the trails and walk and breathe in the air, and gaze upon the views …but I doubt they will." [Barefoot Child]
I do think this is a problem for many people.
Does this sound familiar?
"I want to walk the Pennine Way one day but have to wait until I have the time to do it all in one go 'cause that's the PROPER way."

Result? Never actually walks any of it.

"I want to go hiking in the Lakes but it's only really proper hiking if it's wild camping, and I don't have a tent or the right equipment right now, so I can't do it yet"

Result? Never actually goes hiking in the Lakes at all.

"Maybe one day when the time is right I'll do more walking."

The time will never be 'right'. What's wrong with now? Next month? This weekend?

"I live in London now so it's too much hassle and trouble to go out hiking. When I live somewhere else, then I'll do it"

What's the betting 10 years later, nothing will have changed, and you haven't moved so you've never been on the hills.

"Walking in the South is not proper walking. The only proper walking is in Scotland."

Guess what? Never goes to Scotland, has ruled out walking in the South, never goes walking at all.

"I could go hiking but what if the weather's not sunny and perfect? I'll have to wait until there forecast is just right"

The weather is never just right, therefore never goes.

"I love hiking but I haven't got anyone to go with. I can't go on my own!"

In truth, could actually go on their own. Never does.
If you love hiking, then just DO IT. It doesn't have to be perfect. It doesn't have to be exactly as you imagined.
But if you are putting it off for some reason because the situation or circumstances are not quite perfect for you, ask yourself: in a year's time will anything have changed? Will you be looking back over some really great memories of several hikes you've done? Or will you still be sat here in the same situation still putting it off, not having ever done any walking, and the only thing that has changed is that you're a year older?
Not to be morbid, but life is short and if something lights you up and makes you excited and full of joy you need that thing if your life now, not "some day" that never actually comes.
Blogger Leonie Dawson (whose website is nothing to do with walking, but credit where credit's due) says this:
"Do what is doable for you right now."
Your hiking activity does not have to be 'perfect' to have value.
Especially if the alternative is not doing anything at all.
If you have a comment on this post, feel free to tweet me, or come over to Facebook and comment! (Or, of course, sign up below for more of this kind of thing!)
Sponsors
Escape London - click here now!
Welcome! Do you live in London and love walking? I help frustrated London-based hikers to get out on the hills by providing inspiration, ideas, practical advice and encouragement. Satisfy your hill walking cravings! Read more here

Latest Updates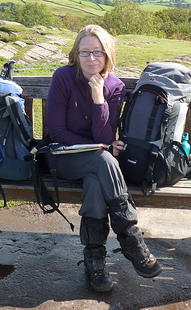 As Seen In: