Packing for a hiking weekend?
So you're going on a weekend hiking trip and you're writing your packing list.
Waterproofs?
Check.
Map, compass, guidebook?
Check.
Ok clothes… shirts, trousers, boots…
How many days are you walking? Two…
So you write down TWO pairs of socks.
Right?
Wrong.
Trust me on this one!
You need an extra pair of socks!
I know because I made this mistake once, on one of my many weekend hiking trips away from London.
I was walking on Saturday and Sunday, and travelling back to London on the train on a Sunday night.
Unfortunately, it was a very wet weekend.
I don't mind getting wet in the rain, and waterproofs kept most of me dry, but both pairs of socks got soaked, and my boots were soggy too.
When I got back to Windermere station I shoved my wet waterproofs into a plastic bag and into my rucksack.
No problem.
But… my boots and socks were sodden.
And I didn't have any dry ones with me.
I ended up travelling on the train back to London for 3 hours – and THEN another hour to get home on the tube – in wet, soggy (not to mention stinky) socks.
By the end of the trip my feet felt utterly disgusting and I was extremely uncomfortable. When I finally peeled them off at home, my feet were like prunes.
YUK.
(I know, it is disgusting! But I am only telling you this to save you the same pain!)
So: don't make the same mistake I did!
Pack a spare pair for your journey home.
Even if your boots are still damp, a change of socks will make the journey back much more pleasant.
Want to do more hiking weekends from London?
Find out how to do this – without a car – at Walk Your Weekends
Sponsors
Escape London - click here now!
Welcome! Do you live in London and love walking? I help frustrated London-based hikers to get out on the hills by providing inspiration, ideas, practical advice and encouragement. Satisfy your hill walking cravings! Read more here

Latest Updates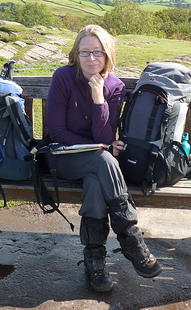 As Seen In: