Visiting or moving to Britain and planning to go hiking? Here's a simple guide to some of the things, words and places you might encounter (See Part 1 here!).
E
Etiquette
We say 'hello' or 'morning' to strangers on the hills, with a cheery smile.
But if we passed in the street, we'd avoid eye contact.
That's just how it is, and we like it that way.
Fellow hikers who don't say hello are generally frowned upon (but only after we've passed them, naturally).
F
Fells
This is what hills and mountains are called in Cumbria and the Lake District.
Fell runner
Held in awe by ordinary mortals, these wiry, super human men and women can run the same route in an hour that you took a day to walk.
Like gazelles, they spring between boulders and sprint down scree slopes like their feet barely touch the ground.
They are like elves to our dwaves.
Folly
A random piece of architecture (a tower, a grotto, or a strange building) that a rich landowner built for fun or to commemorate someone or something.
It's called a folly because it's considered a foolish waste of money.
But they generally look nice and interesting in the landscape.
G
Grid reference
A precise location (co-ordinates) on an Ordnance Survey map, described in a code form, e.g. NT 27560 72964.
Geocaching
A form of 'treasure hunting'.
People hide small plastic containers (the 'cache') in the countryside with small objects and a sign-in notebook inside, post up the rough co-ordinates online, and others have to hunt for it.
When the container is found, the usual practice is to sign the logbook and then exchange one token for another.
Can become a bit addictive.
Gill
Another name for a stream, usually used in the north, especially the Lake District.
H
Horseshoe
A 'U' shaped ridge walk. There are many of these, for example, the classic 'Fairfield Horseshoe' in the Lake District, pictured above (which features in the Escape London Adventure Pack).
These are great as once you've made the effort to get up on the ridge, you simply coast along.
Highlands
As in: the Scottish Highlands, in the west and north of Scotland.
Arguably the most spectacular scenery in the UK, and a must-see for any visitor to Britain.
You can go to sleep in London and wake up in the Highlands, by taking the Scotrail sleeper train to Fort William.
Hadrian's Wall
A Roman wall, built by the Emperor Hadrian in the north of England, which marks the edges of his empire.
The remains of the wall are still visible and are a major tourist attraction, as well as a long distance walk.
I
International Distress Signal
This is why you should always have a whistle with you.
The signal is: Six good long blasts. Stop for one minute. Repeat until rescued.
J
Julia Bradbury
Lovely television presenter on the BBC, who has made a lot of programmes about walking in the last few years.
We looooooove her!
K
Kendal Mint Cake
A white, minty bar which is essentially pure sugar flavoured with mint. Energy food for walking, especially in Cumbria, where the town of Kendal is situated.
You can get bars made from brown sugar, or bars with a chocolate coating.
Famously it was taken up Everest by Edmund Hillary in 1953.
Good for a morale boost if you're on an awful trudge in the rain.
"Fancy a bit of Kendal Mint Cake?"
"Oooh yes please!"
Kissing gate
A gate where the hinged middle section 'kisses' each side as you pass through it.
Or alternatively, a gate where you have to kiss someone to pass through. You decide.
Also known as: gates you get stuck in whilst carrying a rucksack:
L
Lake District
In the county of Cumbria, this is one of the UK's most beautiful and popular hiking areas.
There are stunning photo opportunities round every corner; with its combination of serene lakes and craggy fells, it's a must-see.
Loch
A Scottish Lake. Monsters optional.
Enjoyed this post? You will LOVE my free Hiking in Britain email series <--- CLICK HERE to find out more and sign up for FREE: OR pop your details in the box below!
Sponsors
Escape London - click here now!
Welcome! Do you live in London and love walking? I help frustrated London-based hikers to get out on the hills by providing inspiration, ideas, practical advice and encouragement. Satisfy your hill walking cravings! Read more here

Latest Updates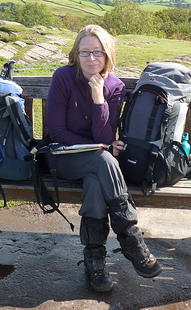 As Seen In: