What is stopping you?
Do you:
Live in London?
Sometimes get a bit of cabin fever?
Find yourself missing the hills and open spaces?
Keep thinking nostalgically back to the last time you were out in the countryside?
Feel a little bit trapped sometimes?
Talk and think about getting out of London more often than you do it?
Keep thinking you'll go out hiking 'someday', but 'someday' never comes?
Sometimes go on day walks close to London, but feel like doing a bit more exciting involving proper hills?
Are you:
Stuck for ideas?
Unsure of where to go and what to do?
Needing a bit of encouragement and motivation?
Too busy to do the thinking and research?
Or is it something else that is stopping you?
Sponsors
Escape London - click here now!
Welcome! Do you live in London and love walking? I help frustrated London-based hikers to get out on the hills by providing inspiration, ideas, practical advice and encouragement. Satisfy your hill walking cravings! Read more here

Latest Updates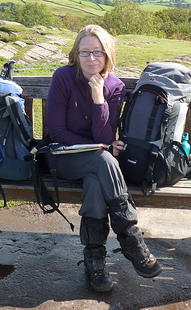 As Seen In: