6 reasons why you should spend your money on hiking trips
You're hesitating aren't you?
Don't worry, I do it too.
You've investigated the trip, imagined how you'll feel as you hop off the train and your boots make contact with the grass, the view from the top of the hill and the feeling of being away from it all.
It sounds wonderful…
But then you check out the cost of the travel and wince.
Why do train tickets have to be so bloomin' expensive?
Like 40% of Londoners, I don't own a car (compared to 25% in the rest of the country), so I have to travel by public transport. If you're like me, perhaps you have these thoughts running through your mind when you're thinking about booking a trip away:
Yes technically I can afford the ticket, but can I really justify spending that much money on a weekend?
I should be saving every penny. I should be frugal. This is a luxury.
I shouldn't really.
This is why you should
You know that train ticket? The one you've carefully pinpointed to be the cheapest one you can possibly get, yet still the cost is making you hesitate over the 'buy' button?
That one?
Some people spend twice that much every weekend on a shopping spree on Oxford St.
Some people fritter away that much, buying three Starbucks Cappuccinos every single day for a month.
Some people spend that much, and more, on their hobby every week.
I'm betting you're pretty careful with your money and frugal in lots of ways.
Don't you love walking as much as those people love their passion?
Don't you deserve to spend your well-earned cash on something you love?
If you're feeling like you need a bit of permission, here are 6 reasons why you should buy that train ticket:
1. Lifetime memories
You know when you get out of your routine – like when you go on holiday – and feel totally alive?
Everything's new and vibrant. You're buzzing, you're alert.
It's like that when you go out to the hills, isn't it?
And when you get back you can remember every bit of it, every twist and turn, every step. And sometimes you think about your past trips when you're sat on the tube and you smile.
2. Tranquillity
Peace and quiet and stars in the night sky.
Birdsong.
A hovering kestrel.
Bluebells.
A blanket of mist.
Clouds.
Grass waving in the wind.
Streams.
Dew on your face.
Beauty.
Awe.
3. Adventure
As you step off the train, swing your rucksack onto your back and head off, you're heading into the unknown.
Even a walk you've done several times already will be different every single time. The time of year, the weather, the companions, the wildlife, the obstacles, the snow, the rain, the wind, the sun.
And then there's trying out the new accommodation, a new cosy pub at the end, new food, new faces.
Walking round a village you've never been to before.
Exploring.
Knowing you're going places most people will probably never see.
4. Progress
Time to think.
Reconnecting with yourself.
Insights.
A sense of perspective.
Self confidence.
Actually, I can do this.
Imagination.
Noticing the little things. Noticing the big things.
Deep breaths. Deep thoughts.
Or:
Hysterical laughter.
Giggles.
Triumph over adversity.
A team, made stronger.
Deep conversations. Deeper conversations.
5. It's still cheaper than owning a car
According to the RAC, the average annual cost of owning and running a car is £6,689 [thanks to Andrew Bowden for this astounding information].
Kinda puts your train ticket into perspective, doesn't it?
6. Life is short
…so why not do it now.
Seriously? No-one ever lay on their death bed saying ruefully: "I wish I hadn't spent all that money on trains going to the Lake District*" [*replace with favourite hiking location here]
So do yourself a favour and buy that ticket today!
Sponsors
Escape London - click here now!
Welcome! Do you live in London and love walking? I help frustrated London-based hikers to get out on the hills by providing inspiration, ideas, practical advice and encouragement. Satisfy your hill walking cravings! Read more here

Latest Updates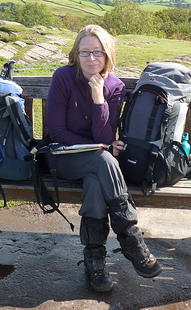 As Seen In: