10 questions & answers about me
This website isn't about me.
It's about you; and what information I can provide you with to help get you out of the city and into the hills more often.
But, since I'm writing this on a rainy Monday morning in December, ten days before Christmas, and there isn't much hiking going on, I thought I would take the opportunity to answer ten questions that Kathryn Hall of The Business of Introverts set for me a while ago.
She kindly nominated this website for a 'Leibster award' (ooo!) which is really just a really nice way of supporting other bloggers.
You nominate three blogs you like, ask them 10 questions and they can do the same, if they wish.
So as part of the process, she asked me ten questions. And here finally, are my answers!
1. Why did you decide to start your blog?
Several years ago I was sat in the pub with my partner contemplating my first solo two-day hike, along the South Downs Way – and finally plucking up the courage to make the call to the B&B. Since then I've been hiking in various places around the UK and I wanted to pass on the benefit of my experiences to others.
Below is a picture I took in 2006 on one of my first walks along the North Downs Way, in January. I was so pleased to be there, when I would normally have been in the office (best feeling ever)!
In fact, I was stunned by how quiet it was and how few people were out walking.
Why didn't more Londoners do this, I wondered? This is BRILLIANT!
2. What's your favourite season and why?
I think I'd have to say autumn. Summer is a bit hectic but things seems to settle down again in autumn… the trees of course are completely stunning, and the light is spectacular.
Many of my walking adventures have taken place in autumn. I will never forget the quality of the autumn light in Dufton, in the Eden Valley, as we headed down from High Cup Nick, after a few days on the Pennine Way.
A. Maz. Ing.
3. What is the last great book you read?
I'll cheat and name two.
My last hiking related book was Simon Armitage's book Walking Home, about walking the Pennine Way from Kirk Yetholm to Edale, and doing poetry along the way. As a long distance walking fan and a Pennine Way fan, I absolutely LOVE to read other people's accounts of walking it, and even recognised some of the accomodation and people he describes from my own trips on the route. This is a great read, and it has a rather controversial ending…
Non hiking-related, I guess it'd have to be The Icarus Deception by Seth Godin. This is an incredible blast of procrastination busting advice on how to follow your creativity, follow your dreams, and aim high, rather than playing it safe.
4. What 3 things would you take to a desert island?
The biggest sack of tea bags that it's possible to buy.
A stove.
Milk.
5. Name 3 people that have inspired you
Josie Dew. Her books about cycling alone around Europe and the world were so exciting and inspiring. Her first book especially, Wind in My Wheels, is an entertaining and gripping read – especially at the end. But I won't spoil it for you by explaining why. Just read it!
My mum. She and I walked the Pembrokeshire Coast Path when I was nine, while my dad looked after my younger brother, and set up camp for us both each night. Apparently we did twenty miles one day (and I wore cullottes and trainers).
Here we are together on a munro, when I was pregnant with my son.
For this post I asked her what she did whilst pregnant with me. She replied:
"There were a few….We tried to do the five sisters of Kintail but only managed one….and on Skye we walked from Elgol to Loch Coruisk 6 miles one way ie..12 in total taking no food or water, and there is a bit called the bad step…the hillside was so steep and large flat rocks leading down to the sea…we didn't manage to do it as it was too dangerous. Also we went to see the falls of Glomach and the hillside in places around the falls were so steep I was quite scared and had to cling on to clumps of grass! So take your pick…I tried to get your Dad interested in bird watching, I thought that might curb the extreme walking a bit…didn't work :-)"
My friend Jane. She and I walked the famous Fairfield Horseshoe hike and got soaked to the bone due to our inadequate/nonexistent waterproofs. She goes after what she wants with an incredible focus. For example: when she lived in London, she decided she really wanted to own a horse. 'They' said it wasn't possible. She got one. 'They' told he she had to stop riding him when she was pregnant. She said, sod that. 'They' expected her to give up her horse when she had a baby. She found a way to keep him.
Here she is on the beginning of that fateful day on the Fairfield Horseshoe, when the weather looked promising… on the way up Nab Scar.
6. How do you relax?
Hiking of course! But when that's not possible, yoga. I recently got into yoga about a year ago, after having my first baby. I needed to do a form of exercise that wasn't too strenuous and that would help stretch my aching muscles and bones, scrunched up and twisted after looking after a newborn all day and night.
I was lucky to find a brilliant teacher, Doretta, who really makes an effort in her classes, unlike some other teachers who just go through the motions.
When I managed to get away from the newborn for my first class, and I lay on the mat at the end of the class, and the lights were lowered, and I just lay there without having to do anything, I nearly burst into tears.
7. What do you like most about writing a blog?
Hopefully helping to inspire people to go further and explore some of the best of the UK on foot!
I also really find it satisfying to highlight others' work, that's why I really enjoy publishing guest posts.
8. Where's your favourite place to write?
It's definitely not my favourite place, but right now I'm sat in my local gym, whilst my son is in the crèche for an hour. I take him here about three times a week for some dedicated computer time, and this is where I get most of my London Hiker stuff done (although for some reason the system keeps logging me off, grr!)
Ideally, I'd be in a lovely bookshop café with a large latte, taking my time for a couple of hours, and then browsing the books.
But with a small baby around, this is the best I can manage at the moment!
9. Are you a night owl or morning lark?
Definitely night owl! I've never been bright and breezy in the mornings.
But with a year of baby-disrupted sleep, I'm mainly a sleepy owl!
10. What is your most memorable trip?
Gosh… so many!
I'll have to narrow it down.
A holiday in Iceland… one of the most incredible places I've ever been. It was stunning, one incredible natural feature after another as we drove around the island.
In the UK, it has to be either the Coast to Coast walk (which I didn't want to stop when I got to the end) or the Pennine Way. Even though we did the Pennine Way in stages, I have LOTS of brilliant memories about each stage – even getting snowed in at Bryness Hostel in March, preventing us from finishing the final two days.
So that's my ten questions answered!
So… here are my nominations of some great blogs to check out:
My ten questions, if you wish to accept them (absolutely no obligation here, it's just for fun!), are:
What is your favourite area of London & why?
What is the best weekend away you've done from London?
What location should every Londoner visit?
What are your big travel or walking plans for 2014?
What's the best book you've read recently?
Do you love The Shard, or hate it?
What's your favourite London restaurant?
What would you put on the fourth plinth if it was up to you?
Where is the most beautiful part of the UK you've visited?
What piece of travel or walking gear could you not live without?
Sponsors
Escape London - click here now!
Welcome! Do you live in London and love walking? I help frustrated London-based hikers to get out on the hills by providing inspiration, ideas, practical advice and encouragement. Satisfy your hill walking cravings! Read more here

Latest Updates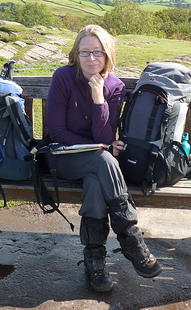 As Seen In: