11 opportunities to help improve London's Green Spaces
From making habitats for hedgehogs, footpath checking, river clearing, walk leading, gardening, photography or even admin; here are 11 volunteering opportunities to help maintain and improve London's green spaces.
1. The London Wildlife Trust
"Whether you're a nature novice or an ecology expert, everyone's welcome"
2. The Conservation Volunteers
"We undertake a range of activities in both urban and rural areas, from planting trees and wild flower meadows, to building stiles, clearing footpaths or creating new food growing projects."
3. Mayor of London's Team London
"Our Team London website offers over 50,000 opportunities from 2,000 charities. To make it easier for Londoners to fit volunteering into their lives, Team London has partnered with Do-it to launch London's first Speed Volunteering Service. Speed Volunteering roles are different from some of the more traditional volunteering roles you may have seen. They make it easier for people to give a little bit of time while still making a positive impact."
4. South West London Environment Network
"Volunteering in the environmental field is very rewarding and enriching. You can learn news skills or gain knowledge as well as enjoying yourself without the pressure of a work setting. SWLEN, and around 100 environmental groups we support, could not function without volunteers. Many of these groups are 'friends of parks' or 'environmental conservation' groups and volunteering with them means spending time outdoors in the wonderful setting of the parks, green spaces and river corridors of leafy south west London."
5. Hands on London
"Our goal at Hands On London is to bring a variety of volunteering opportunities for local charities and community partners to as many busy Londoners as possible, in a flexible and manageable way."
6. Royal Parks Volunteering Scheme
"As the charity for London's eight amazing Royal Parks, we rely on volunteers to help us raise funds for and support an exciting range of projects, from wildlife conservation and landscape restoration, to education, art and community sport. Every hour you give means so much to the people and wildlife that benefit from our projects, now and in the future. Whether you want to help wildlife, learn more about the Parks, meet new people or gain work experience through an office-based role, we're likely to have a suitable volunteer opportunity for you."
7. National Trust Volunteering Scheme
"It's the skills, time and passion of our volunteers that make our places special. Whether you're looking to help in the great outdoors, connect with the public or get up close and personal with our houses, we have something exciting happening near you."
8. Groundwork London
"Groundwork is a national charity that works with communities across the UK supporting them to create better places, live and work in a greener, more sustainable way and to improve their economic prospects. Whether you're looking to gain work experience and broaden your horizons, fulfil your passion for environmental issues or simply want to give a few hours a week to a cause that benefits your community, Groundwork can help you to do something special."
9.The Ramblers / Inner London Ramblers
"Volunteers have always been at the heart of the Ramblers. They run path maintenance teams, champion walkers' rights, and help thousands of people enjoy getting out and walking to help improve their health and wellbeing. They also help walkers connect with their community and with the Great British countryside."
10. RSPB London
"However you can help, whether it's face painting, digging, media work or photography, a little time from you can make a world of difference."
11. Thames Path National Trails Volunteer Scheme
"Volunteers perform a vital role in helping to maintain the Thames Path through an ongoing programme of maintenance and improvements. Tasks include vegetation clearance, installation and repair of signs, gates and bridges and some workshop tasks. Led by staff from the National Trails team, tasks take place most weekdays and occasional weekends. All tools and training are provided and the tasks are a good way to meet like-minded people. Alternatively, volunteers can become 'monitors' by adopting a 2-3 mile section of a Trail, walking it once a month and reporting back any problems."
---
Sponsors
Escape London - click here now!
Welcome! Do you live in London and love walking? I help frustrated London-based hikers to get out on the hills by providing inspiration, ideas, practical advice and encouragement. Satisfy your hill walking cravings! Read more here

Latest Updates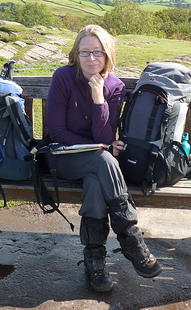 As Seen In: