Back from my holidays… and a special offer!
I've just got back from two weeks in the Lake District!
We had a great time and managed to climb a few fells with our 7 month old baby (the photo above is of us on Catbells; although I have to admit we didn't go all the way up to the very top of that one with him!).
To celebrate baby Sam's completion of his first two Wainwright fells, and while my very limited stocks last, I'm giving away freebies to people who buy the Escape London Adventure Pack!
If you buy, I'll post to you a bonus gift of:
A survival blanket! (rustly, shiny and cosy!)
AND: A pack of two whistles! (no fear, I've got my whistle!)
AND: Some Kendal Mint Cake! (yessssss)
To take advantage of this offer, click here: Escape London Adventure Pack, scroll down and then click the buy now button! I'll then email you to get your postal address.
Now I'm back from my hols I'm going to be updating the site regularly with lots more content. To be the first to know when there's something new, put your email in the box below!
Sponsors
Escape London - click here now!
Welcome! Do you live in London and love walking? I help frustrated London-based hikers to get out on the hills by providing inspiration, ideas, practical advice and encouragement. Satisfy your hill walking cravings! Read more here

Latest Updates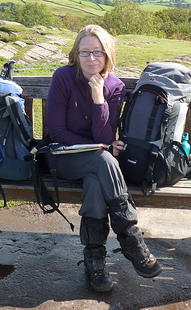 As Seen In: