How a Richmond Ramble became something much more
Jean Straus explains how a simple ramble round her favourite London park grew into a annual fundraising event.
---
What began as an individual challenge for me as a fundraiser and hiker has turned into an annual event. Here's my story.
Three years ago I was working at Action on Hearing Loss as a winner of the Vodafone World of Difference competition. Despite being retired for several years, I had jumped at the chance of some short-term paid work where I'd get to know the workings of a charity that looks after the interests of, among others, people like me, who lost my hearing (not completely) suddenly.
"
Richmond Park" (CC BY 2.0) by chrisbulle
I was engaged to learn the ropes of a large charity, and during my few months there, I watched as colleagues signed up people to abseil down a tower, as someone swam the English channel, others ran the London Marathon and a few daring cyclists cycled up and down mountains in California.
As someone whose stamina boils down to typing 100 words per minute for a few minutes, I could only be asked to donate to rather than participate in such activities.
But I wanted to do something as well that would stretch but not destroy me.
I love walking. I love Richmond Park.
And over the years I've discovered it can be extremely satisfying simply to walk the perimeter of the park, which is 7.4 miles.
How about if I set myself the task of walking the perimeter twice?
The rest is history.
Friend Pauline joined me for the first lap; friends Christine and Anne came along for the second, and I managed to raise more than £1000.00.
Soon after, Action on Hearing Loss decided to approach the park to make this an official walk; I think the charity liked the idea, as have done families, and participants who were not used to being fit enough to take part in active charitable events.
Eighteen people came along to the second walk, including young children whose parents feared the walk would be too hard for them but were pleasantly surprised. Moreover, I think many contributions came in from people who could actually imagine that they could take part even if they were not free to do so on this occasion.
I was sure the possibility of a stop along the way to get an ice cream was a strong drawing point, along with the opportunity to view deer in the open, or to gaze out from the viewpoint over St Paul's Cathedral, ten miles away, but actually feedback has been that people just enjoy the ramble and getting to meet new groups of people.
The third year brought in people who'd heard about it through twitter, the Action on Hearing Loss website, audiology clinics, even university billboards, and how rewarding it has been to see it grow from being one person's walk to something shared in a community.
Last year the Mayor of Richmond agreed to come along, and we handed him a ribbon to cut after he made a short speech. Then off we went!
I'm looking forward to this year's gallivant.
It would be great to be joined by new people and past participants. See you there, rain or shine!
---
Jean Straus is a retired teacher of vulnerable pupils, who became involved with charity work when she lost much of her hearing in the last ten years. She now writes reviews for the Action on Hearing Loss (formerly RNID) Magazine, has served on a Steering Group to do with prioritising research questions to do with hearing loss, and she's currently a CLAHRC fellow within the NHS, where she is looking to find ways to reduce the depression people often feel with losing their hearing. Jean regularly walks in her local park (Richmond) but has gone on treks on the southwest coast in Devon and Cornwall.
Ramble Round Richmond is Action on Hearing Loss' annual sponsored walk around the Tamsin Trail of Richmond Park. Join Action on Hearing Loss for a 7.4 walk around the blissful park, soaking up the rare tranquillity that this area of London has to offer. This year the walk will be taking place during Deaf Awareness Week (2nd-8th May) and as one of the quietest places in London, where better to help Action on Hearing Loss celebrate and raise awareness for this hidden disability. The event is open to all and we would love to see as many families rambling together as possible. All walkers will be provided with a map and some information on the park. There will be rest points along the way and some light refreshments will be provided to all walkers. Click here for more information.
---
Sponsors
Escape London - click here now!
Welcome! Do you live in London and love walking? I help frustrated London-based hikers to get out on the hills by providing inspiration, ideas, practical advice and encouragement. Satisfy your hill walking cravings! Read more here

Latest Updates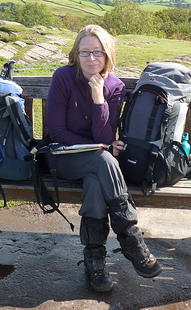 As Seen In: