How to have a microadventure without leaving central London
Late last year Tom Allen, star of the featue length documentary Janapar, did a a thirty-mile lap of central London in 24 hours, by foot, bike, swim, packraft and bivvy-bag.
As he says, "Who said you had to be in the countryside to have an outdoor adventure?"
I asked Tom a few questions:
How effective was the microadventure in getting acquainted with the city?
It was highly effective, mainly because we were on foot most of the time and weren't fixated on a destination. Those two things together serve to open your eyes a little more and notice the things that you might miss if you're just hurrying to get somewhere or using public transport to get around the city.
Did you get a good night's sleep on Primrose Hill?
Surprisingly, yes — no disturbances in our camouflaged British Army bivvy bags from eBay, a stunning dawn, and a Wetherspoons fry-up to round things off!
In the video you'd just moved to London, but you've been on outdoor adventures all over the world. How do you keep the outdoors in your life?
By leaving London! I lasted 8 months in the city before escaping to a farm in the Lake District National Park. Ultimately it's about making decisions based on true priorities, and for me the outdoors takes priority over anything city life has to offer. When I did live in London, I found that integrating the outdoors into my routine worked well. Life is a series of routines, and so making a real habit of leaving the city on a regular basis is one way to keep the outdoors in your life.
What are your plans in 2014?
In February and March I'm off on a much longer journey in the Middle East, which I'll be writing about on my blog tomsbiketrip.com. The plan for the rest of the year is to finish a second feature-length film, publish a couple more books, and have fun doing it all!
Many thanks to Tom for sharing. If you're interested in cycling and more adventures such as wild camping do check out his website for more details, sign up for his newsletter and check out his stunning Janapar film.
Sponsors
Escape London - click here now!
Welcome! Do you live in London and love walking? I help frustrated London-based hikers to get out on the hills by providing inspiration, ideas, practical advice and encouragement. Satisfy your hill walking cravings! Read more here

Latest Updates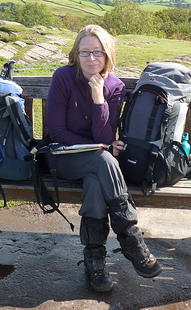 As Seen In: