Planning my hiking year
March is an exciting time of year.
Firstly, the clocks are changing soon. More light! More time! Wonderful!
And secondly, for me, it's the start of a new leave year on 1st April. More leave! More holidays! More possibilities for hiking!
If you're in the same boat, this is an excellent time to schedule in your trips and ensure that you actually do end up getting out hiking before all of sudden it's January again and you realise you haven't don't anything you wanted to.
Here's how it's working out for me:
I'm lucky enough to have 29 days to play with as I've been in my job for yonks and as a result I got some extra days, which is very nice.
10 of those days have been allocated to a holiday in Scotland in July, as there is a family get together, and there will be some walking afterwards.
5 days have been set aside for an Autumn holiday.
I'm taking 3 days from the 6-8th June, which leaves me with a 9 day break due to the bank holidays this year (plenty of time do something interesting).
2 days have been allocated for Christmas.
So that leaves me with 9 days. And that's enough for me to have one long weekend every month from April to March next year apart from June, July, and September, as I'll be having holidays in those months anyway.
So I could potentially have 9 hiking trips this year in addition to my main holidays, if I feel like it!
I don't even need the days to go away as it's easy enough to have a weekend away without having any days off.
But having this as an option means I can feel less rushed about travelling to places like the Lakes, Peak District, Wales, or wherever else I choose to go.
There is certainly a lot to look forward to.
Get planning out your hiking year now!
Sponsors
Escape London - click here now!
Welcome! Do you live in London and love walking? I help frustrated London-based hikers to get out on the hills by providing inspiration, ideas, practical advice and encouragement. Satisfy your hill walking cravings! Read more here

Latest Updates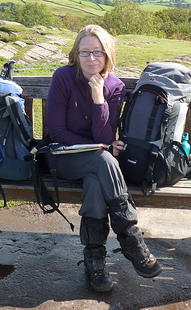 As Seen In: