When being a hiker in London totally sucks
Generally I'm all about accentuating the positive.
But let's be honest: occasionally, being a hiker in London totally sucks.
Here's when:
1. When you have to get up really early on a weekend to get anywhere useful.
2. When the only place to get lunch charges £14.99 for a puny cheese board and you can't get a Stottie anywhere.
3. When 70% of your walk is like this:
4. When you haven't seen a hill in so long if you did see one you'd probably do this:
5. When you have to get the rail replacement bus for part of your journey back home.
6. When your only outdoor activity in the last month was watching Countryfile.
7. When you get a tick in Richmond Park, of all places
8. When your partner insists that the Crystal Palace transmitter is on a hill, so we CAN see a hill from our bedroom window.
9. When geocaching in your local park makes you look extremely suspicious
10. When you get off the train and notice several other people all have the Time Out Book of Country Walks and are obviously all doing the same hike as you and you feel strangely embarrassed
11. When people look at you strangely on the tube because you're dressed like this
12. When you get lost following instructions from one of the walks in the Time Out 'impossible to get lost' Book of Country Walks
13. When the cost of train tickets goes up every year
14. When you have 3 minutes to change trains at Woking and you can't miss the train or the entire day's hiking schedule will be ruined
15. When you visit Edinburgh and realise this is a five minute walk from the city centre
16. When you're hiking up north and people ask where you live and you tell them London and they're like
17. When the weather is atrocious on the hiking weekend away you've been looking forward to for months
18. When you get stuck walking behind very slow tourists
19. When you're waiting at Euston for the train to Oxenholme and they FINALLY announce the platform five minutes before departure
20. When your ex-colleague moves to the Lakes and has their lunch break on Orrest Head and sends you this picture
21. When you accidentally end up walking down Oxford Street
22. When commuting, working and life in general starts to feel a little bit like this
Oh, man.
*Sigh*
Need some cheering up?
(Then sign up below and we'll get you back on the hills in no time. Promise.)
With thanks to Hillplodder, for inspiring this post and Rambling Man, for photos and videos.
(Gifs from iruntheinternet, reactiongifs, memegifs, gifbin, wifflegif, emotiongifs, picgifs, darknessshines, giphy)
Sponsors
Escape London - click here now!
Welcome! Do you live in London and love walking? I help frustrated London-based hikers to get out on the hills by providing inspiration, ideas, practical advice and encouragement. Satisfy your hill walking cravings! Read more here

Latest Updates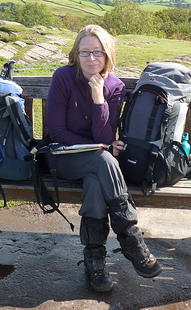 As Seen In: