I want to give you money (seriously!)
Hey, lovely readers!
You might know that I recently launched a package of guides called The Escape London Adventure Pack: ten hiking weekends to get you out of the big smoke and onto the hills.
If you don't, here's the brief, 2 minute video I made which sums it all up (I loved making this so much)!
Well… if you know people who might really enjoy this, and you recommend it to them, you can earn 50% of the price!
How it works
Basically, it's a win-win-win situation!
You get a unique link that's specific to you.
You recommend the pack to your blog readers, Facebook group, mailing list, friends, anyone you think might really like it… or have an image on your website linking to it (like the ones at the bottom of this post)… or tweet about it… or review it on your website… there are lots of options.
Basically you are getting the word out to people who might genuinely benefit from it.
If they buy it through your unique link, you get 50% of the price.
And it doesn't cost you a penny – so you have nothing to lose!
They are happy! You are happy! I am happy!
If you're interested, come on over to my affiliate page to find out more!
And if you sign up, I will be like:
Sponsors
Escape London - click here now!
Welcome! Do you live in London and love walking? I help frustrated London-based hikers to get out on the hills by providing inspiration, ideas, practical advice and encouragement. Satisfy your hill walking cravings! Read more here

Latest Updates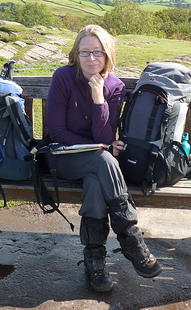 As Seen In: