When you can't go out, let nature back in
Sophie Casenave shares some tips on how to connect with nature in between your hikes.
---
Hiya, my name is Sophie, and I am on a mission: to help every one of us (re)connect with and take care of Nature. Because it's good for us, and it's good for the planet – win-win! (yes, read my bio below and you will see that I'm unashamedly a self-confessed greenie!)
If you're following London Hiker, I'm pretty sure you're like me: addicted to being outdoors!
You know it is what makes you breathe deeply, smile, relax, put things in perspective and generally feel better about yourself, calmer, happier. It's like a drug, really.
And when it's been too long that you haven't seen a mountain, the sea, or just a field with cows or sheep in it, your legs start to itch, you become irritable, you begin to feel the tension in your shoulders (funnily enough, you're absolutely fine when carrying a big rucksack in the wild) … You need to get back to Nature!
The problem is that sometimes, for a whole range of reasons, we just can't get out of the city: a loved one really needs you to stay close; a baby is on the way; you're in the middle of a big project at work or at home; you broke a leg; your bank account is already in the red even before the 15th of the month; your partner gave you an ultimatum that he/she wouldn't allow one more escapade for the next 3 months at least … we all go through similar times at some point! So what can you do?
The only solution, in moments like these, when you cannot go to nature, is to let nature come back into your daily life.
The secret to stay sane is to adapt what you do every day, to multiply opportunities of contact with natural elements, small touch points I call them, and repeat every day.
And the other secret is actually to notice when nature is close to you…. After all, we're all so good at speeding around in our daily life, head down to be more productive, that we forget that even in the middle of a big city, nature is all around us! We just take it for granted while we're dreaming of big adventures.
With this in mind, here are a few suggestions you can apply to let nature back into your everyday life.
1. SEE THE LIGHT AND GO OUT!
Try to get as much natural light as possible during the day. It's good for your mind and for your body.
If the weather is warm enough, try to expose your arms and legs to the sun. Think of all the vitamin D you will produce! Exposure to daylight will also boost your serotonin production (a natural anti-depressant) and will help regulate your sleep. This means walking to work, or if it is too far away, get off public transport a few stops early, or park your car a bit further, and walk the rest of the way.
At lunch, go outside to eat your sandwich, instead of staying indoor and checking your Facebook notifications or Twitter feed at your desk. If you have a park nearby, fantastic. Go and walk there for ten minutes every day, or sit on a bench; slow down; take a few deep breaths in and out.
Clear your mind to focus on where you are, what's around you; listen to the breeze rustling in the trees, the birds singing, even the noise of the cars in the backgrounds; open your senses. If you want, visit the same place every day and start noticing the seasonal changes.
And in the weekend, explore the city to find a little bit of what you're craving for. Catherine's Insider's Guide to Walking in London will come handy!
2. BRING THE OUTSIDE IN
Really can't get outside? Bring the outside in. Research shows that employees who have potted plants close to their desks are more productive and less likely to take sick leave. A quick Google search for "office plants" will show you plenty of options for low maintenance greenery. Read: these plants would be hard to kill!
If you can, position your desk to have a view of trees or grass.
You can apply this option to your home too. Bringing plants into your house is an easy way to invite nature inside. For example, you can grow potted herbs in your kitchen on your window sill: basil mint, coriander, chives… Or buy some fresh cut flowers. If you love the idea of a regular delivery to your home check Bloom & Wild.
If you have some daylight in your bathroom, add an orchid; this plant loves humidity!
Bring the fresh air in: as much as you can, open windows, at least 10 minutes a day, especially in your bedroom, bathroom, kitchen and your working space. Oxygen helps your brain be creative!
If you really can't get out, listen to bird songs or the sound of the ocean, in your earphones if necessary. You can find great tracks to download online (or buy a CD).
Use a picture of your favourite landscape as the background on your phone, tablet or computer: research is showing that even looking at a representation of nature is good for our mind!
You can also start colouring: the success of stress busting adult colouring books that depict elaborate natural environments is also part of our desire to reconnect with nature. There is a plethora of this kind of books on the market. My favourite ones are those by Johanna Basford.
3. EAT AND DRINK WELL
Eat fresh food, ideally local (so it will be in season) and organic. A meta-study led by Newcastle University, and published in the British Journal of Nutrition, concluded that organic crops have substantially higher concentrations in antioxidants compared to nonorganic ones; they also have less cadmium (a toxic heavy metal) and fewer pesticides. And organic dairy and meat has been shown to have a better fat profile that the traditional options.
Check here if you have a farmers' market in your neighbourhood. They are great for making connections with people who know what's growing when, who can make recommendations and share recipes. Not only this will be good for you on the inside (as part of your 5 a day plan); but touching fresh fruits and vegetable, smelling them, tasting them while preparing them… all this is good for your mind too. Being mindful of what we eat is a key part of noticing nature around us.
For convenience, you can sign up to an organic box delivery scheme. I've had one for years, and regularly order when life is becoming hectic and I still want to eat healthily. They now provide delicious, easy-to-follow, step by step recipes.
Drink loads of water, your body is made of it! If you find water too boring, pour it in a jug and add slices of lemons or cucumbers, or a few sprigs of fresh mint, or a few cut strawberries. It tastes delicious!
4. BE WARY OF THE NASTIES YOU DON'T SEE
By this, I mean all the chemicals that surround us. The worst offenders are the ones you will get in contact with for a long time. Most air fresheners that you will breathe in for hours are loaded with chemicals: acetaldehyde and benzaldehyde both carcinogen; propylene glycol, a neurotoxin; etc.
Why don't you just make a potpourri of dried lavender or dried roses after the summer? Orange or clementine peels and cinnamon sticks are great for winter. Or burn some essential oils into an oil burner; eucalyptus or lavender oils work well to purify the air. Mandarin and ginger oils are great to remove cooking smells.
Have a good look at the cosmetics you put on your skin, as ingredients may pass into your blood stream. Go for formulas as natural as possible. Many chemicals found in cosmetic are suspected carcinogens or endocrine disruptors (potentially interfering with your hormonal system). Go for brands that don't add parabens, silicones and mineral oils, and who use organic ingredients as much as possible. Don't just go for a packaging which claims "organic" check the percentage, as any product can call itself organic if as little as 1% of its ingredients are certified as organically produced!
I'm a big fan of organic coconut oil as a make-up remover – it works great even on waterproof mascara! You can also make your own face mask, body scrub or toothpaste. Google is a great tool for finding recipes. I've been sharing a few face masks recipes on my blog. Have fun and experiment!
Most importantly, learn to appreciate nature around you, even in the city – while you're preparing for your next trip to the hills.
---
Like what you've just read? Want some more? I regularly run a "Nature Challenge: 28 days to a happier, healthier you". The challenge guides you to experiment ways to add a touch of nature into your everyday life, so that you can feel all the benefits from a more natural lifestyle. If you are interested to know more and find out when the next challenge starts, please visit the challenge sign up page.
A true free spirit, Sophie Casenave doesn't fit easily in a box! With many interests in life, she plays to her strengths as a natural lifestyle mentor. She is a self-confessed greenie, addicted to being outdoor; she loves connecting with people and supporting them; through her studies (M.Sc. Arch: AEES), she has built expertise about the impact of the built environment on people's well-being and she currently loves learning about positive psychology and ecotherapy. Above all, she is free and happy by nature and she wants to spread the feeling 🙂
Blog and website: www.sophiecasenave.com
Facebook: HappybyNature
Instagram: SophieCasenave
Profile photo of Sophie taken by Rachel V Photography
---
Sponsors
Escape London - click here now!
Welcome! Do you live in London and love walking? I help frustrated London-based hikers to get out on the hills by providing inspiration, ideas, practical advice and encouragement. Satisfy your hill walking cravings! Read more here

Latest Updates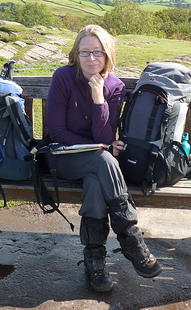 As Seen In: