Driving to the Lakes at 3am: Tanya Oliver's Heels and High Hills
Tanya Oliver cultivated a deep love of the Lake District whilst living in the South of England. She's now moved to Cumbria, and has written a book about her experiences, combining both fell walking and fashion. I spoke to her about her move, her passion for hiking and why getting up at 3am to drive to the Lake District is so worth it.
Can you tell us a little bit about yourself?
I love walking and high heels (not together – I stick to walking boots on the fells). I am a freelance writer and author as well as managing the path conservation programme "Fix the Fells" in the Lake District. I am married and love spending time with friends and family. I have been to lots of different places in the world including Australia, America, India, various countries in Europe but I have never found anywhere quite like the Lake District.
Random fact – I often look after a beautiful black Labrador called Tilly who I adore and who often features in my blogs.
When did you get into hiking? Is it something you've done all your life or did you get into it at a later stage?
I will be totally honest. When I was a child on holiday in the Lake District I did not like hiking at all. I used to complain all the way up. I fell in love with hiking in my 20s but it has become more and more of a passion.
You recently moved from the South of England to the Lake District. You now regularly post up spectacular views from your office window (I'm rather jealous)! How did the move come about?
Yes I live in the Lake District (although I still have a foothold in Sussex). It is a very simple story. I had a moment of inspiration on the summit of Yewbarrow in January 2011. It was a beautiful sunny day and I decided I needed to chase my dreams so as the organisation I worked for as a Director was going through a restructure, I took redundancy and set up my own company. My real passion was the Lake District and I wanted to make a career somehow that focused on it. I wrote a book "From High Heels to High Hills" and then saw the Fix the Fells job on Twitter – working to protect the fells I am so in love with? A perfect job! So I applied. I got it. I moved up. Now I combine that with freelance writing.
Had you always lived in the South?
Yes. I was born and grew up in Kent. I went to university in Exeter and then returned to Kent. I moved to Sussex in 2003 so safe to say I am very southern!
Most of my readers will be living in London and missing the hills. I'm sure you can sympathise. Thinking back to when you lived in the South of England, how did you feel about living so far away from the hills? Did you feel you were able to create a good balance in your life?
I loved walking locally too. Sussex is a beautiful county if very different from Cumbria. I managed to get several holidays in the Lake District with my husband, family, friends or on my own. We still also visited America and further afield though. I was happy with the balance. When I set up my own company I could be much more flexible about where I worked so spent a lot more time in the Lakes.
When you lived in the South, did you do day walks, weekend breaks, long weekends, or longer breaks? Where did you usually go?
For longer walking breaks (weekends/weeks) it was usually always the Lake District. Occasionally Devon and the New Forest. I did a lot of walking in Ashdown Forest, the Sussex coast and the South Downs as well though much more regularly.
Did you usually base yourself in one location for the trip, or do you backpack and move on?
Backpack? Me? I did a great three month back-packing trip around Australia with two friends but I prefer a bit more comfort when I go on holiday so definitely self-catering (for preference) for me but also B&Bs and hotels. I could often book last minute and get a bargain and because I could be outside school holidays it was cheaper.
Did you tend to go hiking alone or with others? Who did you go with (friends, family, an organised group)? Is it different now?
All of those – with family, friends and on my own and all three have their own charms.
Since moving up to the Lakes I walk alone and with family still but also every month or so with a much larger group. It is absolutely great – we always have adventures and a lot of laughs (and chocolate brownies!)
Some women hikers feel nervous about walking alone when they are starting out. What would you advise?
I have got braver and braver and am happy to do 12-15 miles on the fells on my own now (although I started on lower fells and shorter walks). I have never felt anything other than safe in the Lake District fells but I am always alert and sensible. I am confident and have a real sense of independence (which I get from my mum).
If there are women who are nervous walking alone then there are groups of women I know who walk together because of that. If you want to try walking alone then try it somewhere you feel safe and start gently. You have nothing to prove so do what you feel comfortable with.
When traveling from the South, How did you travel? When in the week did you go, what time of day? How long did it take, and what was the usual cost?
By car usually although when in the Lakes I do also use buses and when walking with friends we car-share. I would travel up around 3am, arrive in the Lakes and do a walk straight away! Then I would get back down in time to get into my self-catering place. Costs varied a lot!
Going on regular hiking trips can be expensive (particularly travelling costs and accommodation). How did you manage this? How did you justify the expense to yourself?
Life is for living!
Is it fair to say that the Lake District is your favourite hiking location? What is so special about it?
Yes indeed. What is so special? I wrote a book about just that. To summarise though – it is just beautiful. When I see the mountains in sunshine or rain I feel emotional. To stand on the summit of Yewbarrow and see the sunshine glistening on Wastwater as though there are stars trapped under the surface and to arrive at Stickle Tarn and see the dark, craggy massif of Pavey Ark looming over it with a majestic dominance simply takes my breath away. It is magical.
What are your hiking plans for this year? 
I finished the 214 Wainwright mountains exactly a year ago and since then I have loved going back to old favourites and not having a list to tick so the plans are to climb again and again the ones I love (they always seem different because of the weather or taking a different route) and to go back to some where I was covered in rain or cloud so I can see what views I missed.
If you had to recommend one walking location that's accessible from London in a long weekend, what would it be?
You can get the train to Windermere and from there, hundreds of low level or high level walks can be accessed by bus or car and if you walk down to Bowness, by boat.
You recently published a book From High Heels to High Hills. What's it about?
"One woman walking in the Lake District in her own style". It is about my love of the Lake District. The mountains of course but also lower level walks, pubs, restaurants, childhood memories (I have been visiting the Lakes since I was a baby). It is how it actually feels to climb a mountain not the technical route maps. How I got things right and wrong and the lessons I learned. All this combined with a love of a bit of style and glamour, with my favourite heels alongside my favourite hills and a bit of pink thrown in. It is humorous and I laugh at myself. But I know my stuff as well so something for walkers and non-walkers alike.
What projects are you working on now?
I am writing several freelance articles, going on adventures and blogging for Cumbria Tourism and I have a writing project that is totally different – but more of that another time….
Where can people find you online?
Blog: http://www.heelwalker1.blogspot.co.uk
Twitter: http://www.twitter.com/heelwalker1
Facebook: http://www.facebook.com/heelwalker
You can get hold of Tanya's fantastic book, "From High Heels to High Hills" from Amazon.co.uk or from www.stridingedge.com. It is also on sale in the London Piccadilly Waterstones and most bookshops in the Lake District.
Sponsors
Escape London - click here now!
Welcome! Do you live in London and love walking? I help frustrated London-based hikers to get out on the hills by providing inspiration, ideas, practical advice and encouragement. Satisfy your hill walking cravings! Read more here

Latest Updates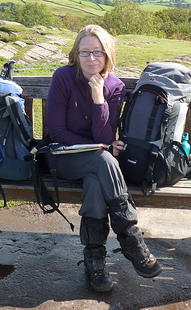 As Seen In: