My trips to the hills are that bit more special: Matthew King
Matthew King, a.k.a. blogger 'Hillplodder' regularly takes weekend 'lightning raids' to the Brecon Beacons, mid Wales, Lakes, Snowdonia, Dartmoor, Pennines, and Peak District.
What's more, he does it all from London by public transport.
He spoke to me about his plans, how he travels, the cost of the trips and how living far away from the hills makes you appreciate them even more.
Matthew King at the start of the Cambrian Way
Can you tell us a little bit about yourself?
Apart from 7 years when I lived in Devon for university and my first job, I've lived in the south east all my life, originating from Kent and now living in Essex. So it's fair to say I'm definitely a southerner. By trade I'm a freelance project manager specialising in finance projects, which generally means working in London. So I spend a lot of time on trains, either commuting or escaping to the hills.
When did you get into hiking? Is it something you've done all your life or did you get into it at a later stage?
I did a bit of hiking as a youth in the scouts, being memorably pulled out of the 50 mile district hike for being many hours behind everyone else. After that hiking was for many years confined to the walk across the fields to the pub and back. My first mountain was Helvellyn in 1992, and that was pretty much a spur of the moment thing. I then didn't set foot on anywhere hilly for another 13 years. What got me back into it was a charity 3 peaks event that work wanted to enter a team for. I seized the opportunity, ended up captaining the team and although I myself didn't finish, it sowed the seeds of the current passion for the hills.
Periodic trips to the hills became my way of coping with the stress at work – my wife once even ordered me to go to the Lake District for a few days as I was so wound up. I've not been able to recreate that trick sadly.
How do you feel about living so far away from the hills?
I guess it's what I've always done, so it doesn't feel like an exile as such. Of course if I had my time again I'd look to live somewhere more convenient for the hills. Living so far away does mean that my trips to the hills are that bit more special, partly because they aren't always that often, and because they represent a very stark change of scene from my everyday life working in London. So in a sense, I wouldn't have it any other way.
At the summit of Great Rhos
How often do you manage to get out walking in an average year? Do you do day walks, weekend breaks, long weekends, or longer breaks?
I generally get 3-4 big trips a year, squeeze a few hilly day walks out of family holidays and then it's down to what I can create from weekends. I've managed at least one Lake District trip every year since 2005, sometimes as many as three, and every year I spend a few days walking a section of the South West Coast Path with my Dad.
But it very much depends on my work pattern at the time and the time of year. I work freelance as it gives me more control over my time, so I'm either tied up for months at a time or on a long break between assignments. When not working I'm either on a walking trip, preparing for one or doing local day walks – recently I've been exploring the Essex shoreline of the Thames.
Do you usually base yourself in one location for the trip, or do you backpack and move on?
Nowadays I tend to backpack the vast majority of the time. Until 2011 when I quit my permanent job I did do more walks based in one location, but the break I took on leaving led me to some more adventurous walk plans and I gradually backpacked more and more. I started wild camping last year, originally as a means to bag some specific Wainwrights that were difficult to reach without a car (I'm trying to do them all without the use of a car), and that has become my default way of doing a trip. Indeed, I now go on some walks specifically to camp more so than to walk.
Do you tend to go hiking alone or with others?
For the most part I'm a solo walker, and feel quite comfortable not seeing anyone for days – indeed that's part of the attraction when I'm working in London. But I do have the annual walk with my Dad, and increasingly I'm meeting up with Twitter friends for weekend walks and camps. I may walk solo most of the time, but all of my walks are social in a sense as they are all shared live on Social Hiking (shareyouradventure.com).
If you had to recommend one walking location that's accessible from London in a long weekend, what would it be?
Just one? There are more in range than people realise – The Lakes, most of Wales, Scotland, Peak District, Dartmoor… I could go on for ages. Most of these are only a few hours train ride away and all it takes is some planning and the desire to get out and do it. If you are forcing me to choose just one, then I would have to say the Lakes. A 3 hour train ride from London is all it takes. It's perfectly possible to go up for a weekend without taking any time off work.
A recent wild camp in the Lakes (on Great Carrs)
How do you travel?
Almost always by train. It's usually too far to drive by myself unless it's a local walk. I now have an intimate knowledge of the public transport system in the Lake District, through my quest to complete the Wainwrights carless, and I actually enjoy the planning and research when trying to access an area that isn't that obvious travel-wise. If I'm not working then I go off peak because it's cheaper and less busy – both on the train and on the hills. Typically I spend in the region of £80-100 on train travel on a trip (booked in advance), plus a bit for buses.
One tip is to buy your tickets from your local train operator rather than thetrainline. This may save you a booking fee and works irrespective of where you're travelling from and to. I also try to break a journey down into chunks – I don't buy Advance Singles each way if I can avoid it as they tie you to a specific train – instead I try to get a flexible open return for that part of the journey that is common in both directions and then just buy local singles for the extra bits on the ends.
Going on regular hiking trips can be expensive (particularly travelling costs and accommodation). How do you manage this? How do you justify the expense to yourself?
Well firstly, I don't even bother justifying it to myself – that would suggest there's some doubt that it's the right thing to do! I don't live extravagantly and I'm fortunate enough to have a job that pays decently and means I don't have to work all year round – but I've had to go through years of professional pain and stress to get there. The money isn't so much the issue – it's the time, as when I most need to be in the hills is when I'm stuck in work. In the last year I've spent very little on accommodation because of the wild camping, but most of the savings have gone on new kit. I've done some trips for about £100 all in, most of which is train fare.
What are your hiking plans for this year?
I had been hoping to do the Cambrian Way this year, and did manage to do a 113 mile chunk of it back in May (from Cardiff to Storey Arms), but I've had to postpone finishing it until next year due to work.
My very next trip is the annual week on the South West Coast Path with my Dad – we're walking from Looe to Falmouth. Next month I'm meeting up with some Twitter friends for a walk and wild camp in the Peak District and after that as I'm largely tied up with work until the middle of next year, I'll mainly be doing weekend getaways to Wales and the Lakes, hoping to polish off most of my remaining Wainwrights. And any spare weekends I get amongst that lot will be devoted to local walks – finishing the North Downs Way (I've got as far as Chilham) in particular, before I move on to another local long distance walk.
Where can people find you online?
I'm in all of the usual places (Facebook, Google+ etc) as "hillplodder", but most of my online content is in 3 main places:
My blog at http://hillplodder.wordpress.com
On Twitter @hillplodder
And my walks on Social Hiking at http://www.shareyouradventure.com/user/profile/hillplodder
If this interview has inspired you to do more hiking, do sign up below for more updates and similar articles. If you have any comments to share, come on over to the London Hiker Facebook page to have your say!
Sponsors
Escape London - click here now!
Welcome! Do you live in London and love walking? I help frustrated London-based hikers to get out on the hills by providing inspiration, ideas, practical advice and encouragement. Satisfy your hill walking cravings! Read more here

Latest Updates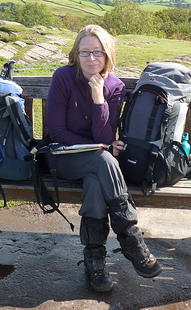 As Seen In: