The Dark Hiker: from London to the Dark Peak
Alvin Vassoodaven is the man behind the Dark Hiker blog. He and I have a couple of things in common: we both love walking in the Peak District, and both live in the same part of London! I asked him to share his hiking experiences with us.
Can you tell us a little bit about yourself? How long have you been living in London?
So where should I start, well I was born and bred in Mauritius, until I left to go to study in a Singapore University. I have always been active since I was a kid as I was swimming competitively and playing water-polo, even when I was in Singapore I still carried on with all sort of activities.
I suppose one of my reasons for liking the outdoors came from the fact that I was living in a concrete jungle in Singapore and when I was working on computers that had windows XP, there was this background screen showing the British countryside.
I came to England in 2003, as the wife wanted to come back to England, and we lived in Eastbourne for 6 months. There I got to do quite a bit of walking on The South Downs and around the South East.
After that we moved to London due to work. I did all sort of work and we had some hard times, which by then I have forgotten about my interest for the outdoors.
It's not until 2010 that I got back into hiking, thanks to a very good friend of mine. Long story cut short I have been doing it ever since and I am now working in IT (which is what I always wanted).
What are your favourite things about living in London, and what are your least favourite?
I think the beautiful thing about London is that there are a lot of attractions like museums (and it's free), and historical buildings (e.g. Hampton Court). There is always something to do and always something going on.
Saying that, there is one major thing I don't like about living in London, it takes me forever to drive everywhere for wild camping and hiking, it is so far away from places like the Peak and the Lake District.
I suppose that is why I find it hard to balance both my hobby and living in London and the fact that I do work a lot of hours does not help either. But then again I tend to procrastinate sometimes.
But this year I have decided to get out more, especially to places like Wales which is not very far at all.
In your blog you write: "I just wanted to start this blog, mainly for fun, but as well because I haven't met any ethnic people wild camping and trekking during my trips. " According to the British Mountaineering Council, people from black and minority ethnic communities are under-represented within mountaineering activities, including hill walking and climbing. Could you elaborate a bit on this? What has your personal experience been hiking in the UK?
My blog is mainly for fun but in a way to encourage more minority ethnic people to go hiking as well. In all my trips and even social meets, I have hardly seen any ethnic people if any at all hiking. Hence the twitter name of DarkHiker and my blog as well.
I think a lot of minority ethnic people have this misconception that in countryside, people may be unfriendly and not very cultivated, but from my own experience I have never experience any prejudice.
In fact people tend to be very friendly where I go, though they do seem surprised at times.
How often do you manage to get out walking and where do you usually go?
As I said earlier living in London, makes it quite hard to go wild camping and hiking, but now I try to go for day walks almost every weekend that is if I'm not working.
I do mainly low level walking, like walking from Wimbledon to Richmond; Box Hill; Beachy Head; South Downs; Hampton to Kingston. There are actually a lot of walks on the outskirts of London.
At the moment I have been doing a lot of camping/hiking in the Peak District as there are a lot of the people I know who go there very often and I have been to Wales a couple of times. I actually do not mind whether going in group or solo, both has its own advantages.
I like Peak District a lot as I did my first wild camping there, on the edge of Kinder Scout.
If you had to recommend one walking location that's accessible from London in a long weekend, what would it be?
In terms of recommendation for walks that are easily accessible from London for a long weekend, I think the South Downs and Wales would be perfect as these places are relatively nearer and more accessible whether by train or car.
Luckily I drive, I did buy a diesel car 3 yrs ago for that purpose and it does not cost me that much in terms of fuel, I just like the comfort of the car and getting to remote places easily.
Hiking in itself does not have to be expensive, you do not really need much equipment and these are pretty cheap compared to a few years ago.
What's the best way of meeting like-minded hikers?
In terms of meeting people, well I would recommend Twitter, that is how I got to know people like @TerryBnd, @MixedupMessedUp, @PeakRambler, @Wetspaniel and others, who I trek with.
The funny and weird part is that we all met through a social meet that was organised by @TerryBnd, through twitter. When we met at Monsal Head for the meet no one knew anyone, but we did introduce ourselves with our twitter name!
We do organise social meets for hiking quite often and I am trying to organise one in the south of England.
---
Many thanks to Alvin for sharing! You can find him at Dark Hiker and on Twitter @DarkHiker
All photographs (except the last two) courtesy of Alvin Vassoodaven.
Sponsors
Escape London - click here now!
Welcome! Do you live in London and love walking? I help frustrated London-based hikers to get out on the hills by providing inspiration, ideas, practical advice and encouragement. Satisfy your hill walking cravings! Read more here

Latest Updates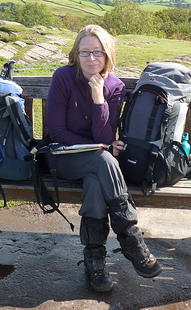 As Seen In: