Tubular Fells: Interview with Peter Burgess
I can remember where I was when I first saw the awesome 'Tubular Fells' map. I was leafing through a hiking magazine in Covent Garden's Cotswold store. As soon as I'd seen it I prodded my partner excitedly: "Look at this! It's GENIUS!". The combination of the classic London Underground iconography with Alfred Wainwright's series of fell guides is absolutely brilliant; it is the perfect mash-up of London and the Lake District. And I now have a copy of it on my wall at home.
Later when I discovered that the map's creator, Peter Burgess, was London based, I was intrigued. So I decided to ask him how he combines London life with a love of the hills.

Can you tell us a little bit about yourself?
I came down to London to teach for 5 years and ended up staying. I live in East Ham in the London and Olympic Borough of Newham. After nearly 20 years of teaching I now run my own fledgling business designing, publishing and selling my quirky and urban looking topological maps of the mountains. I also carry out freelance assessments in schools. My series of topological maps started two years ago with Tubular Fells which has been a great success. I also sell a Scottish version called MunrOverground. Other maps are in the pipeline (or should that be tube line) with the release of my Snowdonia version this spring. The latest map is titled Snowmotion!
I also founded the Online Fellwalking Club in 2001, at the height of the Foot and Mouth crisis when no-one was really able to get out into the countryside. It's a very laissez-faire club, with no committees or rules but just a nice place to talk about walking, share photos and even organise walks together. Many great friendships have flourished and although activity on the message board is sometimes slow, people walk together and also make links via Twitter and Facebook. The OFC has a firm foundation in a common notion of camaraderie and most people seem to be of the same ilk!
How long have you been living in London?
I have lived and worked in London for 20 years. I live in East Ham in the London Borough of Newham, host borough of the Olympic Games.
As a child I lived and grew up in the Ribble Valley of Lancashire (Tolkien's "Shire"), one of the most rural and least densely populated areas of the UK. In matter of fact, I'm not a northerner as the geographical centre of the United Kingdom is just north of Dunsop Bridge a few miles from where I lived. I attended secondary school in the small market town of Clitheroe. I read for my Geography degree in the lovely city of Lancaster and spent one year completing my PGCE training in Liverpool. After these two places, which already seemed large to me, it was logical to move for work to the biggest place in the country beginning with 'L'. In all honesty I wanted to broaden my horizons and experience.
What do you do in London?
I did teach for nearly 20 years. I worked initially at a boys school in Stratford which was the closest secondary school to the Olympic Park. I also taught in Hackney and was part of the delegation that took the British Olympic bid to Singapore. I chaperoned two pupils from my tutor group who were part of Seb Coe's secret group of children who helped seal the success of the bid. To end my own Olympic journey I volunteered to be a London Ambassador and welcomed people into London at City Airport. It was all a really great experience and one which I was proud to be a part.
Through my time teaching I became Head of Department and worked with the Geographical Association on a working party on how to teach the subject to urban pupils. It was a proud moment when I was welcomed as a Fellow of the Royal Geographical Society. I gained a lot through my teaching and one of the most joyous activities was taking pupils to the Lake District on camping trips to walk and explore the area. There were many amusing stories to retell but non more than the hilarity of seeing urban children scared of sheep! I hasten to add this was at weekends and in my summer holidays.
What are your favourite things about living in London, and what are your least favourite?
London is the most diverse city and is almost the polar opposite of my experiences as a child. The borough in which I live couldn't be any further from my own childhood home in terms of its cultural and ethnic mix. It's sometimes frustrating, but I've learnt and experienced a wealth of things and on balance it's no worse to living elsewhere, it's just that there are more problems. Believe me, people are no different and even in The Lakes and rural Lancashire there are still a fair share of problems, just a smaller population to make these situations less frequent.
As I live near Upton Park I have a season ticket to watch the Premiership football there and there's nothing better than a Sunday morning visit to one of our great museums or an evening visit to a restaurant in Brick Lane. As Samuel Johnson stated, "…when a man is tired of London, he is tired of life; for there is in London all that life can afford." As I say, it is a whole different 'country' in comparison to the rest of the UK. I made the decision to move here in order to pay my social debt and to gain a greater experience, which I have certainly achieved. I have learnt a lot living in the inner city and in contrast to my own rural upbringing it has expanded my own experience and knowledge. I feel that I can contribute a lot to society through the life skills and experiences I have learnt.
To be honest, I do get frustrated by the way some people behave, but I always challenge anti-social behaviour and things like littering especially in my area and along my street. The notion that you shouldn't challenge people is a nonsense – very few people actually carry a knife. Perhaps the greatest bugbear is the travel arrangements in the city, but when I hit my bike or get on the tube I get around quickly and easily. Most people who complain about the transport arrangements are commuting in from 30 or more miles away – their choice!
We all complain, but to be honest, there's not much wrong with the place and I think as a nation we should be proud of what our capital can offer when compared to other cities in the world.
When did you get into hiking? Is it something you've done all your life or did you get into it at a later stage?
I have always walked in the outdoors for as long as I can remember. I lived in a village as a child and we used to walk a lot in the local area. The greatest memories from childhood are the snowy days when I would go sledging. It would be 1978 and 1982 when I remember walking over 10 foot high snow drifts and I thought it was magic. I always preferred to go out in the snow than in the hot sun. How I hated the summer of 1976!
Everyone around me was into walking. My dad thought nothing of walking to work, despite the fact we lived on a hill and from an early age I can remember going to the Lake District, or at least around the Ribble Valley for a walk. Walking was instilled in me from an early age and apparently once I started, I refused ever to go back in my pram! In my later teens I was also fortunate enough to become acquainted with a RC Priest in the small village where I lived. He was the brother of the Catholic Bishop of Cumbria at the time, Bishop Pearson (who famously 'bought a mountain'). Although I wasn't a Catholic, I accompanied Fr Pearson on the fells, for his own safety more than anything else. Undoubtedly in his younger years he was a great walker and had a brilliant knowledge of the fells which he passed onto me. I owe a lot to him and for introducing me to the works of Alfred Wainwright.
In later life, especially at secondary school I began walking with the school's walking club run by my classics teacher who, has it happens, is also a published author on George Mallory. The enthusiasm of people like that teacher (who I still correspond with) and others around me really got me into fell walking. I used to fellrun at school with Pendle and the nearby Forest of Bowland the constant targets. I have to say we used to run in all weathers through fog, snow and rain, but we loved it. The walking wasn't mountain spectacular around home, like Lakeland or Scotland, but you can walk for ages and not meet a soul.
How do you feel about living so far away from the hills?
I feel fine. The hills and mountains will be there long after I've gone. As long as I know they're there then I am happy until my next visit. I survive by holding onto my last outing or ascent mixed with walks in the more pastoral south. In any case, the Downs and Chilterns aren't far away!
Do you feel you've been able to create a good balance of city life and hiking, or ideally would you want to spend more time in the countryside?
After 20 years of hard work, I feel like it's about time to move away from the city. As much as I love London with all it has to offer both in terms of leisure and the cultural opportunities I couldn't imagine living where I do in 20 years time. I feel my area is for young people as it's now so transient in terms of its migrant population and that does bring related problems. A big issue on my street is the increase in rented properties where absentee landlords often break the law with illegal conversions and an increase in multi-occupancy. Sadly, the turnover of population moving in and out means it's very difficult to maintain a status quo such as explaining how to use the recycle bins and simple things like the look of properties through well maintained gardens. Money seeking private landlords have a lot to answer for in my eyes.
How often do you manage to get out walking in an average year?
Not enough! We try to get out at least once a fortnight if not more. I try to cycle in the area and I'm really interested in the socio-economic history of this part of London, especially around the Royal Docks and up the Lea Valley. Just over a century ago where I live was farmland and the metamorphosis has been incredible. It's gone from farmland, to a wealthy suburb, to a poorer inner city borough all in about 120 years!
Do you do day walks, weekend breaks, long weekends, or longer breaks? Where do you usually go?
I walk locally. I explore places like the North London Sewer Bank and Lea Valley and even to the summit of Newham's highest point at the Beckton Alps (lots of good jokes there). It's a dizzy 82 feet or 25 metres above sea level! Well before the Olympics I was documenting the change in the Lea Valley around the Olympic Park. It was and still is a most interesting urban landscape.
If I can manage it, we'll go out further to places like Epping Forest which I really like. Wherever I walk, I try to get off the path and with Epping Forest it's no exception. There are some really interesting locations with a great history to boot from, the iron age enclosures of 'Boudicaa's camp' to the RAF airfields of North Weald. I guess if you're comparing it all to Striding Edge or the CMD Arete there's no competition, but to me there is as much beauty if you look for it. It's about appreciating the landscape in whatever form it takes. I guess my interest in Geography gave me the eye to discern a landscape whether it's a declining industrial dockside or the back wall of a glacial arete.
Do you usually base yourself in one location for the trip, or do you backpack and move on?
I am lucky in that my mother lives in Lakeland. As a result I often do day walks and have the good fortune to even walk from the door if it's an outing on the Far Eastern Fells. Less so now, but I used to run the Kentmere horseshoe from the door. I also stay with friends in the area, overnight in Youth Hostels and camp. Occasionally I push the boat out and stay at an inn or guesthouse. My last Lakeland trip before Christmas saw me staying at the iconic Wasdale Head Inn which was just brilliant! I'd recommend it to anyone.
Do you tend to go hiking alone or with others?
I love to go alone onto the fells, but I also enjoy the camaraderie of walking in a group, usually members of the Online Fellwalking Club (OFC).
The majority of my walking is solitary, but as stated I walk with the OFC; we organise a meet, most notably on Remembrance Day in recent years, and occasionally I've walked with members of the Wainwright Society of which I am a founder member.
I get the impression you particularly love the Lake District. Is it fair to say that's your favourite hiking location? What is so special about it?
The Lake District is my favourite location. I think it's because of my own broad ranging knowledge that endears me to the place so much. It is such a diverse and contrary to belief a massively human landscape. I love how the human interactions with the landscape has woven an amazing fabric of landscape across the fells. From the geological history, which is almost second to none in terms of its variety, to the human history dotted across the area, it's a really amazing area. As became evident on my own map, the Lake District is roughly the same size as Greater London but within that small area are 17 major valley lakes, iconic properties, mountains greater than 3000′, but with geological characteristics that make them as varied as the Badlands of Dakota to the Alps of Europe. I have travelled quite a lot and from my own knowledge of the planet, I doubt there is as varied an area of ground on earth with as much interest and shear diversity of beauty. It's not the greatest landscape in terms of scale, but it's certainly one of the most intimately beautiful.
If you had to recommend one walking location that's accessible from London in a long weekend, what would it be?
I've driven to Seathwaite in Cumbria and back in a day on a few occasions, so for a long weekend Lakeland is easily accessible. Of course, the further west and north you go in the national park the longer it will take to get there, so for a long weekend I might just choose to stay with my mother, which is of course a personal advantage for me in terms of accommodation. Just last week I was recommending Coniston to a family who were travelling up from the south. However, one of my favourite weekends is around Remembrance Sunday. I usually drive up from London on a Friday night and stay with my mother. The Saturday will usually involve a day walk with my Saturday evening spent in Loweswater so that reduces the stress of long driving. I am again fortunate enough to have friends in Loweswater who are very kind at accommodating me.
After a fantastic day on the fells, there's nothing better than returning to an iconic Lakeland pub like the Kirkstile for a meal, a few pints of local Mellbreak golden ale and the conversation turned to the days exploits. I think that's what most people long for!
How do you travel? When in the week do you go, what time of day? How long does it take, and what's the usual cost?
Latterly I have been so fortunate in that I am able to spend time in Lakeland during off peak times like my trip before Christmas. As a result of this I was able to stay in hotel accommodation at a lower rate which was rather a treat. For all those years as a teacher a mad weekend dash up the M1 and M6 might entail putting up a tent in the pitch black if I stayed in Eskdale, say. I used to frighten the life out of my friend if we had to drive over Hardknott Pass in the dark!
Going on regular hiking trips can be expensive (particularly travelling costs and accommodation). How do you manage this? How do you justify the expense to yourself?
I justify the costs by the fact that I don't really squander money on anything else. I live quite modestly and don't squander money on lots of consumables so I convince myself that way. I also try very hard to support the local economy when I'm in Lakeland, so in a counter intuitive kind of way, instead of trying to scrimp and save, I do show my support of local services and facilities. People think car parking charges are rather high and in some cases it can be quite costly, but the monies especially on National Trust areas for sure, are pumped back into the local environmental projects which of course includes the salaries of rangers, bridge repair, vegetation management and even the maintenance of local facilities. I suppose I could travel a lot cheaper from London Euston to Burneside by train, where I could walk to my mother's, but the car does give me the option to take all my kit, which more recently includes an inflatable canoe (I've now had some great ascents which have happened after a paddle across a lake to get there!)
Let's talk about Tubular Fells which is the perfect mixture of London and the Lake District (and a brilliant name by the way)! It seems to have been really successful as I keep seeing it everywhere. How did you come up with the idea and how long did it take to complete?
I suppose the map was 30 years in the making. My dad was an aircraft engineer and used to go on about Harry Beck (the London Underground draughtsman) when I was a child. I guess you don't realise at the time, but it obviously stuck with me and perhaps even directed my thoughts into Geography which I loved studying at school. I read for my degree and then trained to teach, which led me to London. One of my earliest trips on the Jubilee Line had me thinking about the weird connotations of topology as I fantasised that Stanmore (the northern terminus) could be up in Yorkshire!
Over the next few years I began to realise that there was a certain feel to Harry Beck's work that overlapped with Alfred Wainwright's love of maps and their approach to design. They were of course from roughly the same era and undoubtedly were influenced by the same clean and simplistic approach to presentation. The crunch finally came when I realised some of the original book covers of Wainwright's pictorial guides matched some of the colours used on the tube map. The colour palette, especially on the older map seemed to reflect those used on the older guides, probably as a result of colour pigments and the printing technology of the time. Anyway, I began to structure a map in my head over many years, until I finally took my career break. Once I decided I'd produce the map, it really didn't take long at all and it materialised over a few weeks. Wainwright had done some of the work for me, as he'd already categorised the various 'tube lines' for me!
You donate some of the profits to Fix the Fells. How has that been working? What do Fix the Fells do?
The decision to donate to Fix the Fells happened by chance. One of the Fix the Fells/National Trust rangers was attending the Outdoors Show at Excel near my home and when he saw the map and knew I wanted to donate monies to a worthy cause, he more or less hijacked it! My original intention was to donate to mountain rescue, but there delay in corresponding with me resulted in Neil Winder taking copies of the map back to Cumbria and really pushing it to everyone he met in his line of work. After my initial print run it was the National Trust shop in Grasmere who bought the first stock and from that day forward I haven't looked back. One pound from every map goes to Fix the Fells and in November 2011 I presented the first £6000. In the next few weeks I am presenting another donation which should bring the monies raised to over £10000.
People can buy Tubular Fells from your website, but is it in stock anywhere in London?
As a geographer it was with the greatest pleasure that Stanfords' acclaimed map store in Longacre, Covent Garden decided to stock Tubular Fells. The buyer was really keen on the design, but he initially stated they'd probably not sell any. What's great is that they continue to sell the map and have already had a few restocks. They don't sell many Tubular Fells, but it's lovely to know my maps is in the company of many others! After the success of the map they also now sell MunrOverground, my topological interpretation of the Scottish Munros. What I love about Stanfords is the way the staff are so enthusiastic about geography. I love spending an hour or two in there browsing around and there's even a nice coffee shop to help while away the time!
What projects are you working on now?
I am really excited, as my new Welsh map of Snowdonia has just gone for proof-reading. It should be available in the spring. Eric Robson the chair of the Wainwright Society, Gardeners' Question Time and media commentator came up with the name of 'Snowmotion' which made me chuckle. After Tubular Fells and MunrOverground I guess the map needed an equally quirky title although I was wary about any bilingual interpretations.
There's been lots of interest and enthusiasm on social media and people have even helped with the design. Apart from a Welsh speaker helping with a translation for 'Tube map of Snowdonia', I've had several people suggest locations via Twitter and Facebook and people have even written to me asking for certain locations to be included. This map has really been a joy to create and has actually felt like a collaboration. It's been a really interesting experience. The map is also raising money for Mountain Rescue in north Wales. I met the Llanberis MRT at the Outdoors Show a few weeks back and they were really excited about the prospect.
Later this year I have tentative travel plans to visit my friend Paul who lives at 10000′ above sea level near the Colorado town of Boulder in the USA. My next map is going to be a topological interpretation of the Rocky Mountains. I have yet to make lots of design decisions, but a visit on the ground will help formulate a plan and gives me the excuse for some walking in high mountains.
What are your hiking plans for this year? What will your next trip be?
I already managed a New Year's Day ascent of Helvellyn, but I plan to visit Snowdonia, Lakeland and Scotland this year. At the start of April I anticipate launching the map somewhere in Snowdonia and so I'm sure there'll be a few ascents there. I've done quite a bit of walking but never been on the likes of Cadair Idris which of course features on my new map.
At some point, as already stated, I need to present money to the Fix the Fells project and with the John Muir Trust opening a new shop in Pitlochry, I will be giving the Trust as well as Scottish MRT some cash as 75 pence goes to each charity from the sale of every MunrOverground. If I get to Lakeland I will undoubtedly go scrambling and walking on the fells and a visit to Pitlochry gives me a fabulous chance to get on the hills above Blair Atholl.
If nothing else, my map projects are giving me the excuse to visit the hills and walk in places I'd perhaps never consider. People are also suggesting maps for me to create such as Dartmoor, the Yorkshire Dales, Ireland and one which includes the walking areas of the UK – lots of projects to be getting on with there then. To be honest, I also want to map the Himalaya.
Where can people find you online?
My website, www.tubularfells.com contains lots of information about the maps and your chance to purchase, but it also includes background information on Fix the Fells, free walk downloads, a free route card to download and utilise and lots of other information concerning footpath erosion and the news surrounding my maps.
You can find the OFC at Online Fellwalking Club.
Many thanks to Peter for this fantastic interview! If you have any comments on this post, come on over to the London Hiker Facebook page to have your say!
Sponsors
Escape London - click here now!
Welcome! Do you live in London and love walking? I help frustrated London-based hikers to get out on the hills by providing inspiration, ideas, practical advice and encouragement. Satisfy your hill walking cravings! Read more here

Latest Updates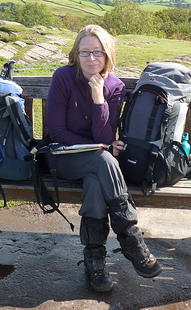 As Seen In: