How to walk 12 miles every day: Walking Girl speaks
How can walking improve your physical and mental health? The author of the Walking Girl's Guide explains how – and why – she walks 12 miles every day in London.
How long have you been living in London?
 
I've lived in London for about 6 years now – it's actually a little scary that it's been so long. I grew up in Chester, which was great from a walking perspective as you can get to the welsh hills pretty easily, and it's also not too far to the Lakes. Having said that, I really didn't appreciate that the when I was living there!
  
What are your favourite things about living in London, and what are your least favourite?
There are lots of fantastic things about living in London. For a start, all of my good friends from school and university live here – as well as new friends I've made since I moved. I also met my fiancé here, which means it has a special place in my heart.
It's a very exciting location to live in, with so much going on all the time. It's also – perhaps surprisingly – a great place to be a walker, in the sense that it's been built so that you really can commute to work on foot (as long as you live relatively centrally). I also have no need for a car, as I can get anywhere I want by walking or by taking public transport.
 
My least favourite things about London are definitely missing the countryside and not being able to afford a place to live with outside space. I know it's possible to get out to the countryside relatively easily, but it's certainly not a case of just walking down the road – which is what it's like at my parents' house in Chester.
 
When did you get into hiking? Is it something you've done all your life or did you get into it at a later stage?
A good question, and not actually straightforward for me to answer! My dad absolutely loves hillwalking – it really is his passion, so when I was small, I used to go hiking all the time. Every family holiday was spent in the Lake District and I'd climbed hills like Hellvelyn, Scafell Pike and Snowdon before I was eight years old.
 
To my dad's dismay though, I lost interest as a teenager and didn't really do any walking at all after that. I only got back into it around May 2011, when I took on a challenge to walk a charity marathon. I started walking round London, and it wasn't long after that before I started planning my own holidays to the Lake District – much to my dad's surprise and delight!
 
How do you feel about living so far away from the hills?
 
As mentioned, I do miss the countryside a lot – particularly the wilder countryside up north. I find it quite difficult to get the balance right at the moment. My London life is usually very hectic and I don't often get a free weekend. I also worry about the costs of travel, so I'm not keen on just doing a weekend away as it's so costly. Probably if I had a bit more time to plan I could find some cheap options, so it's probably fixable – I just need the planning time!!
 
On Walking Girl's Guide you talk about the physical and mental benefits you've gained from walking, and this is clearly a significant benefit in your view. Could you give us a summary of your story?
 
Things have changed a lot for me since I took that decision to take part in the charity walking marathon. I was always very unhappy with how I looked, and really wanted to lose weight. I'd also struggled with bouts of mild depression, which I think were very much linked to those feelings about my weight and my confidence. I'd tried various diets, and tried to eat healthily, but I really struggled to do any exercise – nothing I tried really 'stuck'.
 
When I signed up for the marathon, I decided to train by walking to and from work every day, which was about six miles in total at the time. To go from doing hardly any exercise to doing that every day, had an almost immediate impact. I lost about a stone and a half in just a couple of months!
 
After that, I didn't look back! I started walking everywhere I could, not just to and from work. It wasn't just the weight loss either – I felt much healthier, and it made me feel happier too. Happy because I was losing weight and getting healthy, but also happy because I was outside, getting some fresh air instead of being crammed in a tube carriage.
 
I still walk to and from work, which is now about 12 miles a day. In fact, my fitness has increased so dramatically that I now run to work twice a week too – something I never, ever thought I'd be capable of. I've lost over four stone and feel absolutely fantastic. The best thing is that it's not some faddy diet – I know how I lost the weight and I know that this is a permanent change to my lifestyle. Walking is just a part of me now – I couldn't give it up.
 
What do you hope to achieve with your website www.walkinggirlsguide.com?
That's a good question. I love writing, and the more passionate I became about walking, the more I started thinking about sharing that passion through writing. And so that's what I've done essentially. I want my website and my blog to inspire people to go walking, whether that's people who love it already getting some new ideas about walks, or people who don't walk at the moment getting out there.
 
I know there must be so many people like me who want to lose weight and feel better about themselves, and I passionately believe that walking is a brilliant solution that needs to be talked about more.
 
How often do you manage to get out hiking in an average year?
Well, in terms of walking around London I do it every day! But getting out and about to the countryside is a lot less regular unfortunately. I do the odd day walk from London, but that's maybe once or twice a year. We usually try to have a least a week in the Lake District every year too, which I always absolutely love – even when it's tipping it down with rain. And I also go walking with my dad when I'm back up in Chester and we have the time, which is maybe three or four times a year. Then, we tend to go to Wales, particularly Snowdonia.
 
What is your favourite hiking location? What is so special about it?
The Lake District is my favourite place, absolutely no question. It's such a stunning place to be and yet it feels familiar to me from my childhood. Everything about it is special. I love the walks, I love the hills, I love the views and I love the people. And it holds so many special memories for me – particularly now, as on our last trip I got engaged at the top of the Old Man of Coniston.
 
If you had to recommend one walking location that's accessible from London in a long weekend, what would it be?
I would probably say the South Downs or the Chilterns – I've had really nice walks around both. Hopefully I'll be getting out there again soon! I've also been recommended the Peak District, as that's a bit nearer to London, so I'll have to try that out.
 
How do you travel to your hikes?
Well, we don't have a car, so unless I rope my dad in when I'm in Chester, I have to get everywhere by public transport. That can be pretty limiting if you're going somewhere like the Lakes, but I've done some nice walks that go from train stations around London. My walk in the Chilterns last year went from one train station to another – I think if you're going by train, my tip is definitely to do your research and find a route that's either circular or runs between two stations on the same train line so that you can buy a return ticket.
 
 
What are your hiking plans for this year?
Well, we've already been to the Lakes (back in May), so the rest of this year is likely to be day trips or walking with my parents. I hope to go to Wales with my dad in October, which should be great. We're also planning to go to Wicken Fen at the end of August, and I've just had a new South Downs route recommended to me which I'll hopefully try out later this year.
 
Where can people find you online?
You can find me on Twitter – @walking_girl – and of course on my website – www.walkinggirlsguide.com.
 
All photographs courtesy of Walking Girl's Guide.
Sponsors
Escape London - click here now!
Welcome! Do you live in London and love walking? I help frustrated London-based hikers to get out on the hills by providing inspiration, ideas, practical advice and encouragement. Satisfy your hill walking cravings! Read more here

Latest Updates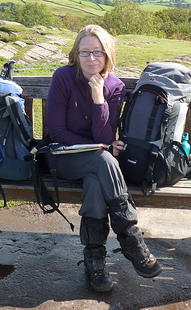 As Seen In: