The 4 best South Downs walks from London
The South Downs National Park is London's closest National Park and it's one of the best places for getting superb views and a feeling like you're really getting out of the city and into the countryside.
What's more, it's really easy to get to by train: and the Time Out Book of Country Walks includes some of the best, classic day hikes from station to station (via a pub of course).
Here are the 4 best walks on the Downs for Londoners – in my opinion – from the excellent Time Out Book of Country Walks.
1. Hassocks to Lewes
[Looking down from Ditchling Beacon by orbyn (CC BY-NC-ND 2.0)]
This is THE walk on which most Londoners first encounter the Downs. In fact it was mine, I remember it well, and I've done it several times. A short walk from Hassocks station and you are soon approaching the Downs; a short climb and then you're up on top for several miles, following the South Downs Way past famous viewpoints like Ditchling Beacon. Then you descend to Plumpton for a pub lunch. After that, it's back on the Downs again for a lovely, grassy stroll to the historic town of Lewes, which is well worth spending time in. An absolutely classic introduction to the South Downs.
(Time Out Book of Country Walks, Volume 1)
Top tip
Take plenty of mid morning snacks because you'll probably get peckish before you reach the pub.
2. Seaford to Eastbourne
[Hope Gap by Andrew Bowden (CC BY-SA 2.0)]
A truly classic walk, many people consider it one of the best in the south-east and a must do. This excellent walk sticks to the coast for the day, following the cliffs from the beach huts at Seaford to the beauty spot of Cuckmere Haven and then up and over the famous 'Seven Sisters'. Following rolling grassy paths, which are a pleasure to walk along, it passes beauty spots like Beachy Head and Birling Gap to finally descend to Eastbourne. Don't miss this walk – it's a real stunner.
(Time Out Book of Country Walks, Volume 2)
Top tip
The cafe at Exceat, Cuckmere Haven is extremely nice (and also has public toilets).
3. Hassocks to Upper Beeding
[South Downs from near the Devil's Dyke by Donald Macauley (CC BY-SA 2.0)]
It's back to Hassocks again! But this time, you'll head in the opposite direction (west) along the Downs. This great walk takes you up three hills, which is great if you want something a little more challenging. It's a little less busy, too – at least, until you get to the incredible 'Devil's Dyke', which is a worthy contender for best viewpoint in the south-east (John Constable described it as "the grandest view in the world"!) There's also a handy pub if you fancy refreshments, and you can catch a bus back to Brighton or continue along the Downs to Upper Beeding to finish the walk.
(Time Out Book of Country Walks, Volume 2)
Top tip
This walk ends at a bus stop, so check the bus times at
traveline.com
before you head out.
4. Glynde to Seaford
[Firle Beacon view by Nick Rowland (CC BY-ND 2.0)]
I hesitated over adding this walk since the section between Seaford and Cuckmere Haven is the same as the Seaford to Eastbourne walk. However, I included it because this walk takes you over the Downs eastwards from Lewes, visiting Firle Beacon. This Firle Beacon section is well worth doing; it's a glorious ridge walk and the views are panoramic. This is a much better walk than the other possible Time Out Firle Beacon walk, Volume 2's 'Lewes via West Firle circular', which involves a seemingly endless trudge along the boring (sorry!) river Ouse to return to Lewes. Alfriston is a lovely little village to pass through, and there are lots of great places to stop for refreshments such as Exceat at Cuckmere Haven.
(Time Out Book of Country Walks, Volume 1)
Top tip
If you've already done the Seaford to Eastbourne walk, consider doing THIS walk backwards (i.e. ending in Glynde). That way, you'll save the 'new' bit (Firle Beacon) to the end.
---
Sponsors
Escape London - click here now!
Welcome! Do you live in London and love walking? I help frustrated London-based hikers to get out on the hills by providing inspiration, ideas, practical advice and encouragement. Satisfy your hill walking cravings! Read more here

Latest Updates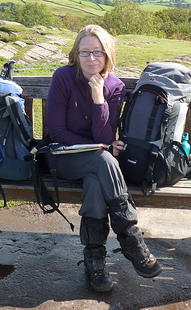 As Seen In: