6 reasons to walk in Osterley Park
Osterley Park is a National Trust run Georgian country estate in West London.
It's well worth a trip, and here's 6 reasons why!
---
1. It's only about 30 minutes away
Situated in the Borough of Hounslow, the Park can be reached in about 30 minutes from central London.
Train: Waterloo to Isleworth, 35 minutes. 1.5 miles from Osterley Park; zone 4
Tube: Earls Court to Osterley, 25 minutes. 1 mile from Osterley Park; zone 4.
2. The parkland is one of the largest open spaces in west London.
There are many walks and paths taking you around the estate past the lakes, long walk and great meadow.
You can also camp in the parkland each July!
There's also a natural play trail for children in the park.
Many combine their visit to Osterley park with a walk which also passes the Hounslow flight of locks on the Grand Union Canal.
Some walks that include Ostlerley Park:
3. There are also beautiful formal gardens to explore.
As well as the mansion, if you can be persuaded to venture indoors!
4. In Spring, Osterley is famous for its bluebells.
"I went to Osterley because it's bluebell season, and I'm a bit of a bluebell fan. Not the kind of bluebell that grows all over my garden, and probably yours too. That's the Spanish or hybrid bluebell, which stands up straight with flowers evenly arranged around the stalk and has very little smell. No, I was after the elusive English bluebell, delicate and deep blue with flowers growing on one side of the stalk so it droops over at the top, and with the characteristic bluebell smell of my childhood." Bluebells and Wisteria in Osterley Park: Sequins and Cherry Blossom
5. You'll wonder if all this is really in Zone 4…
6. And of course it's nice to know there's a National Trust cafe nearby…
Find out more
---
Sponsors
Escape London - click here now!
Welcome! Do you live in London and love walking? I help frustrated London-based hikers to get out on the hills by providing inspiration, ideas, practical advice and encouragement. Satisfy your hill walking cravings! Read more here

Latest Updates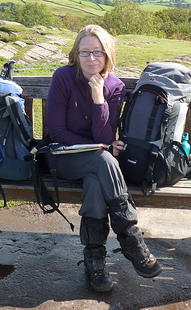 As Seen In: